Hell's Backbone Grill is located in Boulder, Utah, population 180 - one of the most remote towns in the United States! The chef-owners, Jen Castle and Blake Spalding operate their restaurant following Buddhist principles, with a commitment to sustainability, environmental ethics, and social and community responsibility. They serve organic, locally produced, regionally and seasonally appropriate cusine and grow many of their own vegetables organically in the restaurants two gardens and on their six-acre farm! They feature dishes made with fruit from Boulder's heirloom orchards and rely largely on local ranchers for the natural meats. Every cup of coffee is served in a handmade mug, by (you guessed it) Deneen Pottery!
Now in their 9th season, their mission and passion have not gone unrecognized. Hell's Backbone Grill enjoys one of the highest Zagat ratings in Utah and was selected as a Fodor's Choice 2006 recipient. The restaurant was also named Salt Lake Magazine's "Best Restaurant in Southern Utah" for 2007 and was awarded the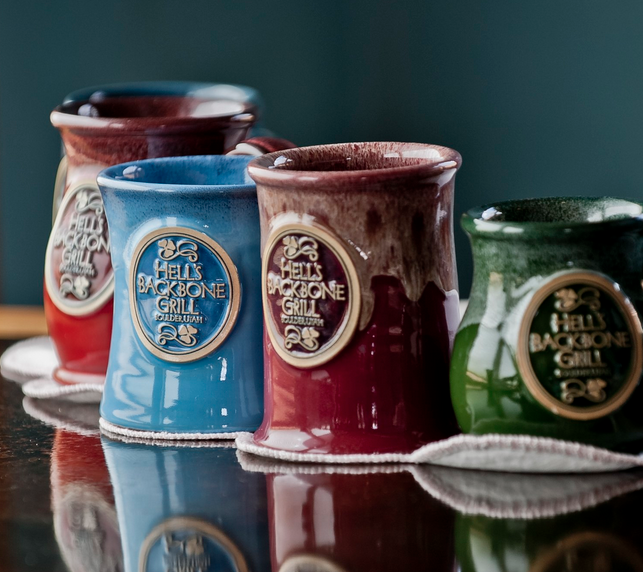 prestigious Utah Governor's Mansion Award for Culinary Artistry in 2006, presented by Governor Jon Huntsman. In 2005, Blake and Jen received an award from the Museum of Northern Arizona and the Center for Sustainable Environments for being "Culture Bearers of Sustainability in the Four Corners Region." Additionally, Hell's Backbone Grill was chosen as one of four restaurants representing Utah's Slow Food movement in an exhibit in the Smithsonian Museum in Washington, D.C. The restaurant has been featured in
O, the Oprah Magazine, The New York Times, Sunset Magazine, Bon Appetit, Organic Gardening, Outside Traveler, Travel and Leisure, Washington Post, Men's Journal
, and
National Geographic Traveler.