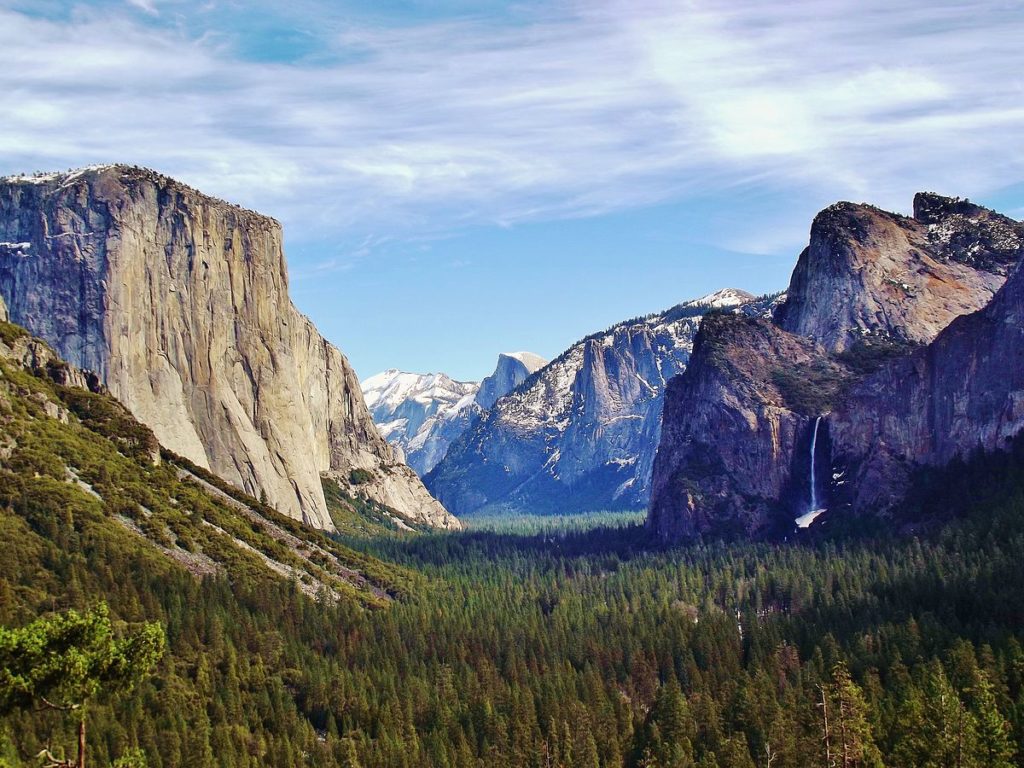 Yosemite is one of the U.S.'s most popular parks, and for good reason. The combination of mountains and forests creates picturesque landscapes for miles around. Fans of the outdoors should recognize the park's three main centerpieces: El Capitan, Half Dome, and Yosemite Falls. In Yosemite you'll see the strength of granite, the power of glaciers, an abundance of life and gorgeous views no matter where you turn.
Should you ever find yourself in Yosemite, make sure that you stop by Tunnel View, the parks most famous scenic viewpoint, where you can see how towering El Capitan and Half Dome truly are. Animals that you may see out on the trails and near the rivers include: black bears, coyotes, bobcats, river otters, red foxes, spotted owls, and cougars.
 What not to miss: El Capitan, Half Dome, Yosemite Falls
 Best time of year to visit: Springtime if you want to see the waterfalls in full force, fall for     
 backpacking
 Best time of year to avoid the crowds: Spring and fall
 Busiest Time of year: Like most National Parks, Yosemite is busy whenever school is out – but  
 the peak time of year is definitely July and August.
 Helpful Hint: Obey all posted signs.
 Caution: Hike in groups when possible and never feed the wildlife!
Yosemite Mugs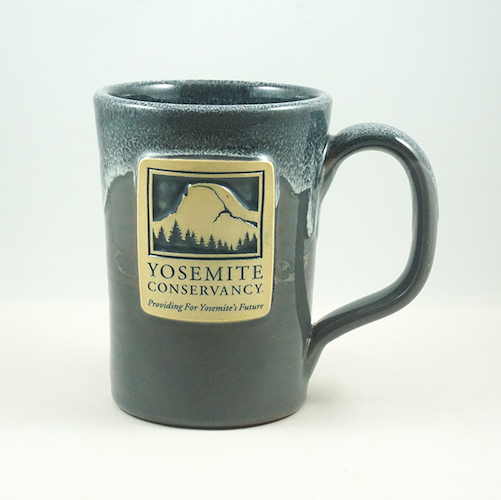 Yosemite Conservancy – Half dome
The good people down at the Yosemite Conservancy help ensure that the park stays in tip-top shape, and their mug featuring Half Dome is the perfect addition to your mug collection.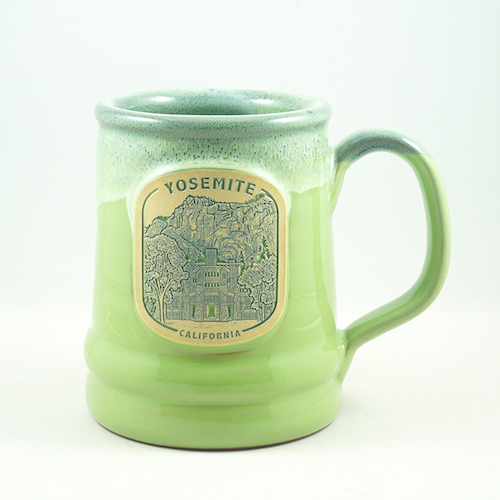 Majestic Hotel This slender mug portrays the Majestic Yosemite Hotel, against the backdrop of the looming mountainous cliffs that the park is known for.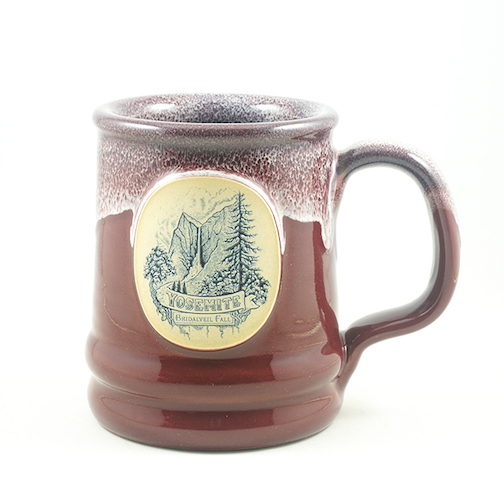 Bridalveil Falls Another famous waterfall in Yosemite, Bridalveil falls makes for the perfect design on this mug. A great mug to help you reflect on your trip to this wonderful park.
Where to Buy Mugs
There are currently two mugs available from the Yosemite Conservancy online here.
For purchasing mugs inside the park, visit the following locations:
Valley Visitor Center
9035 Village Drive
YNP, CA  95389
Wawona Visitor Center at Hill's Studio
8308 Wawona Road
Fishcamp, CA  93623
Big Oak Flat Information Center
Hwy. 120, North West Entrance
YNP, CA  95389
Tuolumne Meadows Visitor Center
Hwy. 120 (Follow the signs)
YNP, CA  95389
Mariposa Grove Depot
9219 Wawona Rd.
Yosemite National Park, CA  95389
Looking for custom handmade in the U.S. logo mugs for your park, museum or business?