National Park Week – Custom Mug Recap
Glaze:
Industry: (We work with many different industries)
Pack a picnic basket, pitch the tent, and pull on your hiking boots — In honor of National Park Week, held each Spring in late April, we have some splendid images and stories to share and many are connected to custom mugs that we have created. National Park Week celebrates our nation's 400+ parks and inspires everyone to discover our iconic landscapes, amazing wildlife, and rich history.
We have been honored to collaborate with a growing number of national parks through the years and highlighted a selection of them last week on Instagram. It's hard to walk the studio floor and not see a national park order in the works. Let us walk through the following images as we traverse the country – custom medallions have been applied and toothpick holders (shot glasses) are ready to be glazed for Organ Pipe Cactus National Monument. These minis are an adorable addition to the park's growing collection of Deneen Pottery mugs and we know they're going to thrive in the Sonoran Desert.
Head north and we find the majestic Needles District of Canyonlands National Park. The beautiful canyons and spires of Canyonlands provide us with limitless creative inspiration for their custom mugs. The rugged landscape is also an ideal spot for the outdoor enthusiast in your life! Auto touring, biking, hiking, and climbing are just a few of the ways you can explore Canyonlands National Park.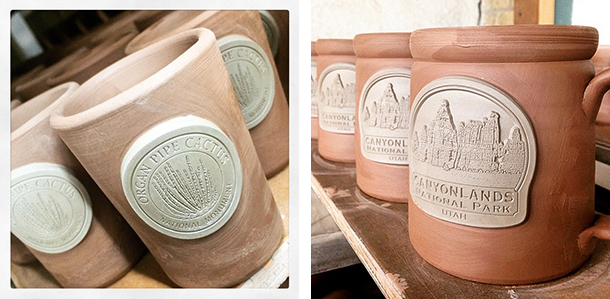 If you enjoy the thrilling landscape of Canyonlands National Park, then the extreme terrain of El Malpais is sure to excite. El Malpais National Monument is a unique park, and we've created handmade mugs to match. Our Red with Black White glaze is a nod to the park's rich volcanic history. During special evenings in the Summer, you can witness thousands of bats emerge from the lava tube caves in search for food. If the Bat Outflight Tour sounds too close to nature for comfort, just stick with the illustrated encounter on our handmade mugs instead!
Hydration is important in the National Parks, especially during the Summer months in Nevada and Arizona. Typically it is our mugs that you'll see on the shelves, but when the Chief of Intrepretation at Lake Mead inquired about a larger piece we were very happy to oblige. The Deneen Pottery Norg Tankard holds 18oz. of your refreshment of choice and this custom medallion highlights the beauty of Lake Mead National Recreation Area. Whether your relaxing on the beach or out on the boat, the sunshine is always in abundance on here. Don't forget that our handmade mugs and tankards are freezer safe. Be sure to get them frosty before you set sail!
Escaping the desert heat, we climb in elevation to the complex ecosystem of Mount Rainier. Ascending to 14,410 feet above sea level, Mount Rainier stands as an icon in the Washington landscape (source: National Park Service). Although weather on Mount Rainier changes with the elevation, the climate is generally cool and rainy, making these stunning Kiwi with Blue White Abby's ideal for your favorite hot chocolate or coffee drink. Dense forests line the base of the glaciated peak and an abundance of wildlife can be seen at any elevation. Most roads in the park open in late May, so start planning your adventure soon!
Hot off the kiln! A set of Great Smoky Mountain Tall Belly's wrapped up just in time for National Park Week AND Earth Day this year. The beautiful illustration on their custom medallion couldn't have been paired with a more perfect glaze than Hunter with Blue White. We are grateful for the opportunity to work with the Great Smoky Mountains Association on a variety of hand-thrown mugs throughout the year.
P.S. Don't miss your chance to own one of their limited release, Spring 2015 Tall Belly's in rich Wisteria with Plum glaze. It is sure to look great in anyone's collection!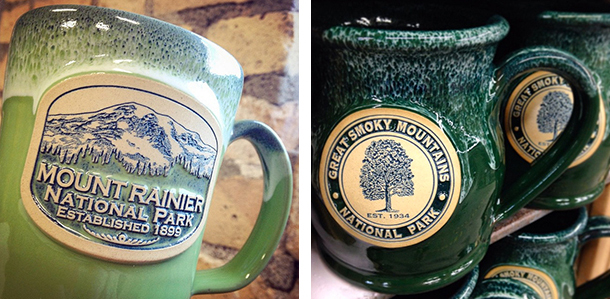 With our tour of the National Parks winding down, we settle in for some R&R at the grand and historic hotels of Yellowstone National Park. Celebrating 125 years, the Lake Yellowstone Hotel is one of the parks oldest accommodations and is proudly recognized on the national register of historic places (source: Lake Yellowstone Hotel). Our Midnight glaze pairs well with a Flare mug in Sunshine, which complements the Hotel's vibrant yellow exterior. We were ecstatic to create these special edition anniversary mugs for such an iconic and elegant hotel.
Be sure to break up your visit to Yellowstone National Park with a couple nights stay at Old Faithful Inn, the largest log hotel in the world and one of only a few still standing in the U.S. (source: Old Faithful Inn). A national historic landmark, the Inn offers amazing views of Old Faithful Geyser. It is easy to be inspired by the rustic architecture of the Inn and we relished the challenge of capturing it's grandeur on a custom medallion. We watched the mugs come to life on the studio floor and we're eager to see them hit the shelves in Yellowstone National Park and know they'll find great homes with families from all over the world as this season unfolds.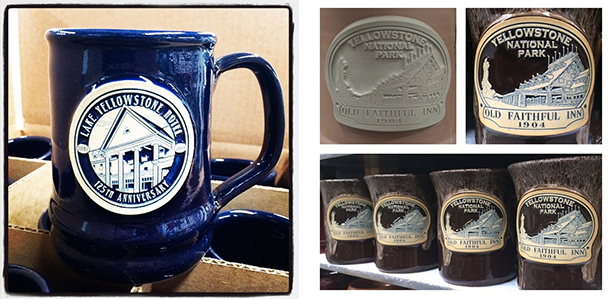 So, what are you waiting for? Get up, get out there, and find your park!
Thanks for reading our blog!
Niles Deneen – CEO