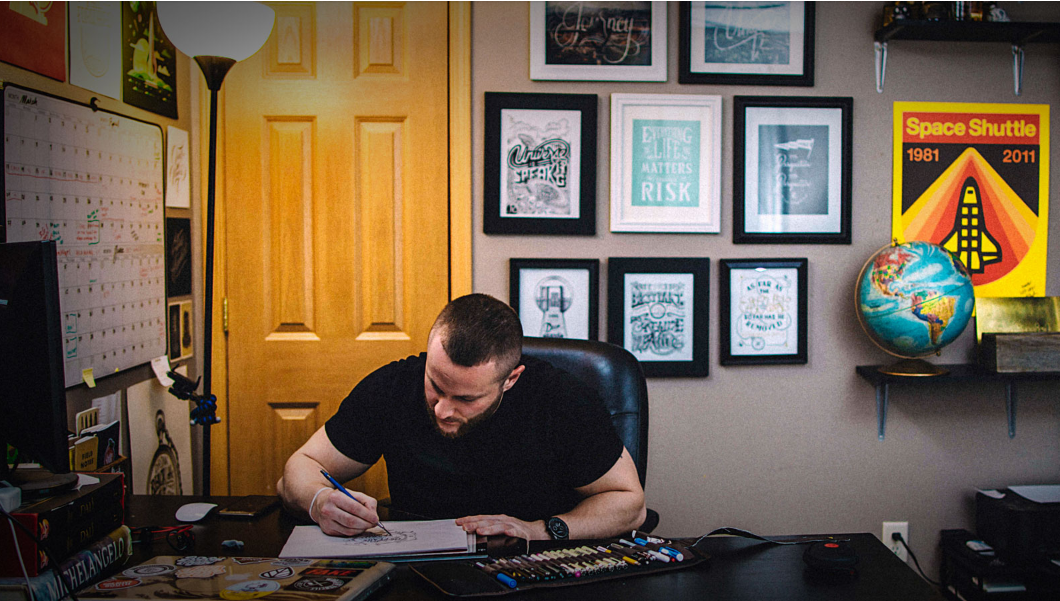 Illustrator Mug #4 – Scotty Russell
Glaze:
Industry: (We work with many different industries)
The ongoing success of our Illustrator Mug series – and the added open editions – gave us some time to find the perfect person to collaborate with for our next Illustrator Mug (#4 woo hoo!) and I'm stoked to introduce that artist to YOU.
Drum roll please!
Deneen Pottery is pleased to announce that #4 will feature the awesome artist Scotty Russell! And, it seems fitting that we are working on this project now – because if Scotty was a season, he would definitely be spring. This dude is just blowing up with creativity and his growth as an artist is palpable.
Besides being a freelance lettering artist and illustrator, Scotty also heads up his own studio: Perspective-Collective which is based in Cedar Falls, Iowa. On this platform you'll find a comprehensive, well organized treasure trove of work, blog posts and even a monthly podcast. Take a listen and you will be privy to his blossoming idea-centered world flourishing as he focuses on encouraging his peers! The last guest on the Perspective Podcast was Brooke Robinson – the creator of the global type powerhouse Goodtype.
How WE discovered Scotty Russell
On December 12, 2016 (at 8:23 PM), Scotty did his first and only Instagram live broadcast. Annie (my amazing wife and our Controller here at Deneen) and I were in Mexico for Joe and Sammy's wedding (who are Joe & Sammy you ask? Joe is Annie's brother), our two kids had just gone to bed and I was just checking out my IG feed. I'd never watched a LIVE video, but decided to see what was up with Scotty. If there's one thing you need to know about him it is this: Scotty is passionate about PIZZA. So, I suppose it'd be easy to guess what he was drawing that night, but what was even cooler was what he was drawing on. A pizza sketch on a pizza box!
The Real Deal!
I watched him sketching and listened to him answer the comments that were coming in. What struck me was how approachable he was, and although the comments were coming in at a steady clip, he kept his pencil moving and kept up a very cool conversation with the viewers. It didn't take too long before I realized that Scotty would be fun to collaborate with and that he was passionate about sharing his work.
Although I did take a quick screen shot, what I forgot to do was FOLLOW his official feed. I had no idea what Scotty's handle was, so for weeks (actually, make that months), I was at a loss of how to find him. Finally one day I decided to put some effort into locating this pizza loving illustrator that was from Iowa. Luckily, Google knew what I needed after literally punching in "Illustrator + Iowa + Pizza" Scotty Russell (@prspctv_cllctv) • Instagram photos and videos popped up! Thank you Google!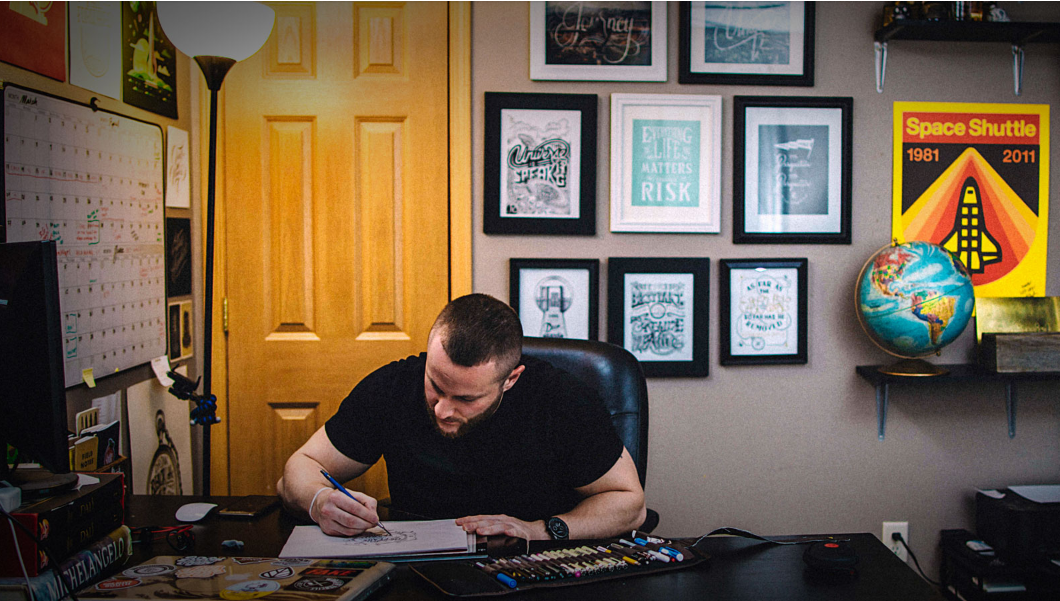 Here's a cool picture of Scotty sourced from his site. Of course he's got a cool work space and, as you can see from his super organized desk and Benny Gold Creative Roll, you get a sense that pizza is not his only passion – it's creating!
Suspicions Confirmed = Awesomeness
After finally finding Scotty, the next step was for our team to check out his body of work and see if any of his current designs both resonated with us and would also look GOOD on a handcrafted Deneen mug. It wasn't hard to find four favorites, so I send Scotty a brief message through the perspective-collective.com website contact form. It was early April and after reading the blog: The Do's & Don'ts of Attending Creative South (From My Perspective) I didn't think I'd hear back for a few days since clearly he was was attending Creative South in Columbus, Georgia.
Before too long – my email was answered and Scotty was down to collaborate! Instead of finding a time to talk on the phone, he suggested we connect with Skype or Google Hangout "as it's nice to talk to a person" – I couldn't agree more! While it's so easy to text or email – finding time to actually have a conversation seems like an old-fashioned way to connect, but it was a good reminder that expressions and nuances matter! Needless to say, we hit it off and just as I suspected, Scotty was as cool and genuine as I thought he would be.
Selecting the Design
Our conversation moved fluidly and, after no time at all, we agreed on one of the designs shown below. This might be a surprise (since Olive the Shop Dog dominates our Instagram feed) but I grew up with cats! If Annie wasn't allergic, I'm sure Scotty and I would have been swapping kitty-love stories since he's got a favorite feline. So obviously, the image that we landed on was the awesome Space Cat Pizza!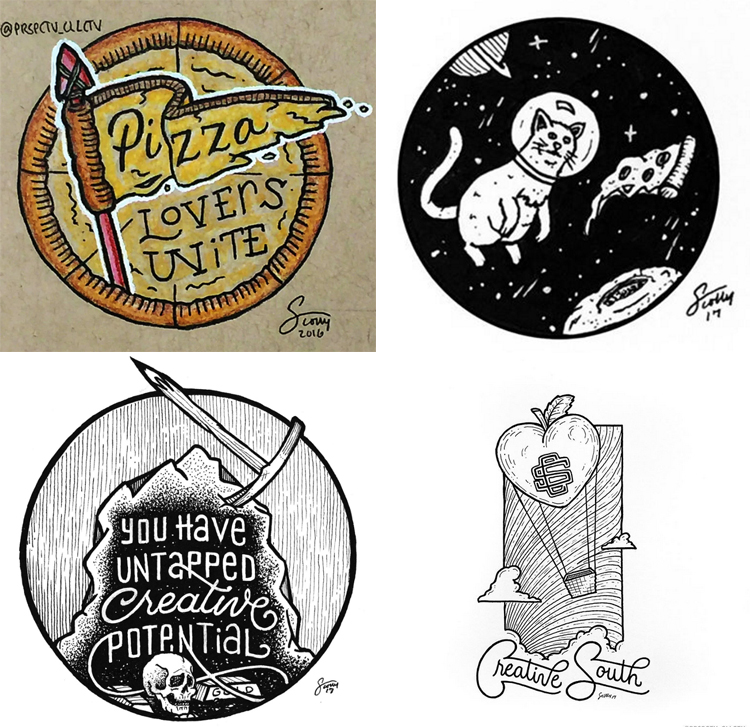 The mugs are in the works!
For this special run we decided to go with Black w/Kiwi white on the Camper Mug. This color combination was made famous last year because the National Park Service used it on their LTD centennial celebration mugs. We loved the glaze option and think it totally matches the planetary and galactic feel of this design.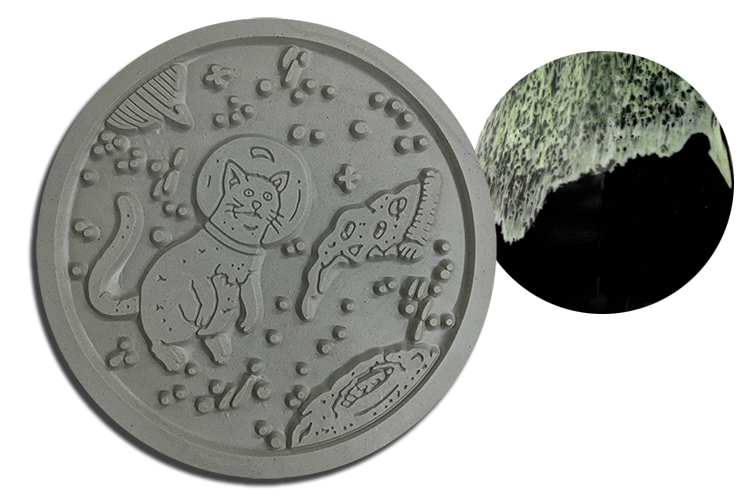 This limited edition run of handmade mugs will be available, on our website, in early June. Only 200 will be made – AND each will be numbered – so once they're gone, they'll be gone forever! Stay tuned to our social channels, especially Instagram, at the end of May as we'll announce the actual SALE DATE when they are ready to fly out the door!
Thanks for reading our Blog!
Niles Deneen – President
Deneen Pottery