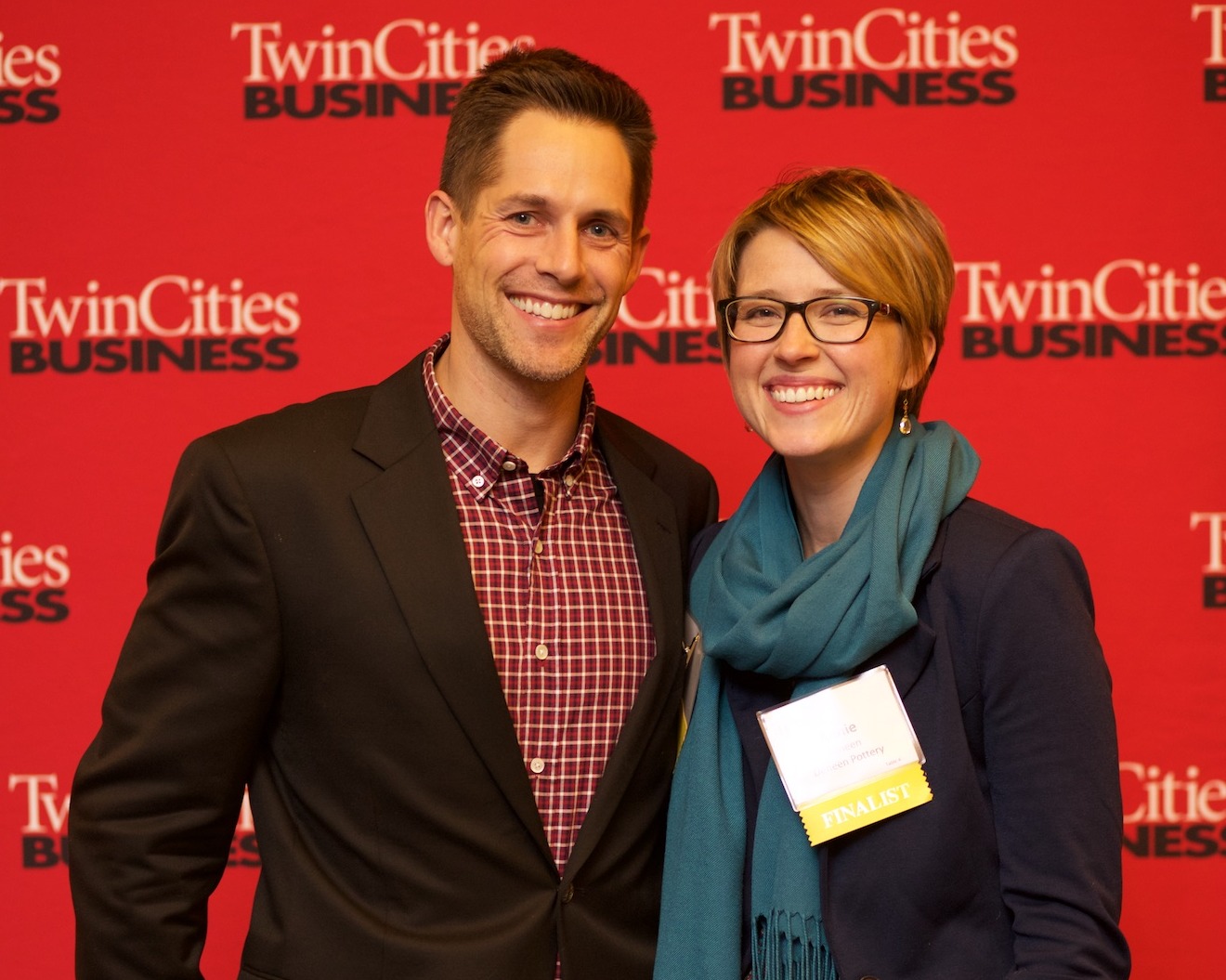 Minnesota Family Business Awards
Glaze:
Industry: (We work with many different industries)
When your family business began with college sweethearts throwing and decorating pots in a garage, the idea of receiving an award for being a top Minnesota company is somewhat unreal. But then again, we have sprinkled in a lifetime of sacrifice while adding a second generation that's fueled by determination and a love for family…so perhaps it's fairly easy to see that anything is possible.
2014 was an all-around incredible year, but this was truly the feather in our cap…so to speak!

Let me rewind a bit, back in April I received a surprise email message from Sara Swenson, the St. Paul Marketing & Public Relations Manager, saying that she had nominated our handmade mug company for an award and that if we accepted the nomination we would need to submit an application. "Let me know too if you've already received this award in the past." Sara wrote. Us? Won the award before – no way – we definitely had not, but after filling out the paperwork online I crossed my fingers as I hit the send button.
I remember receiving a letter just after the 4th of July indicating that Deneen Pottery, "has been selected as a 2014 Minnesota Family Business Award finalist and will be recognized as such." How flipping cool was this!? With the official letter in hand, I headed over to share the news with Dad and (as he was only half paying attention to me reading aloud) he asked, "What other companies are in this thing?" So I rattled off the names of the other finalists: Crew2, Discount Steel, INc., Grazzini Brothers & Company, and JNBA Advisors, he nodded. I then read the names of the honorees: Bailey Nurseries, Inc. Mathiowetz Construction Company, Maud Borup, Inc., Nordic Ware – Dad broke in and said "Ha, we'll never win this." Luckily our General Manager, Sara, was there to politely interject, "Actually Peter, you basically did win – Deneen Pottery is an Award Finalist."
"Oh, wow – that is pretty cool." Dad replied – so I kept reading the letter:
The Minnesota Family Business Award is presented annually by Twin Cities Business, in association with Hubler for Business Families, to those who do an outstanding job of combining family values and traditions with solid business principles and best family-business practice – including training and development of the next generation – while growing and managing strong, resilient companies. Honorees are selected by a panel of judges who look for specific criteria to be met by each nominee.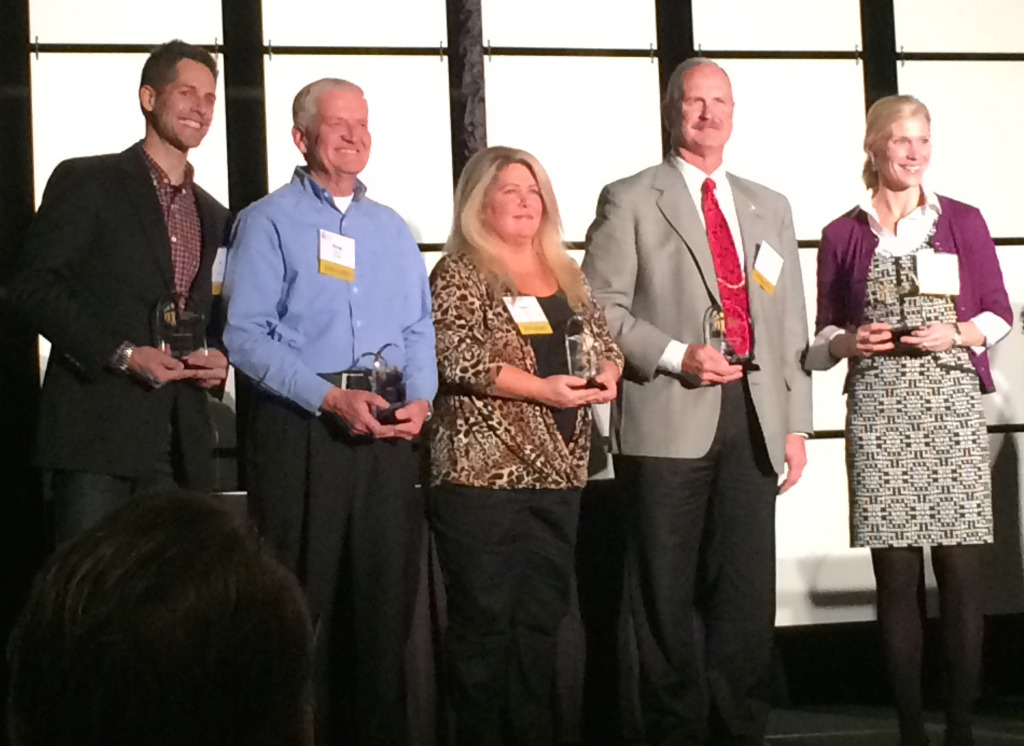 Unfortunately, November 12th conflicted with both Mom and Dad's schedule as they had a meeting that could not be missed since Dad is now the Church Council president. So I went with my amazing wife, Annie Deneen, who holds the position of Controller. But Peter was able to provide some 'fun facts' which we shared with the wonderful staff at Twin Cities Business magazine, which included:
• Niles' dog Olive, comes to work everyday and is our greeter.
• Our oldest grandson (Sam Deneen) is our official document shredder.
• We hired our first Hmong employee in 1977.
• The business was started in a friend's garage, where Mary and I were living in 1972 on East River Terrace in Minneapolis.
• We rented retail space in Park Square Court and our first lease was signed by Norman Mears himself.
• Garrison Keillor started his morning show upstairs in that building around the same time.)
The actual event was a delight and also a chance to hob-nob with some great local companies. We are so focused on producing the highest quality handmade mugs for our clients that sometimes we forget to toot our own horn. Now we have this beautiful award in our office that highlights our ongoing achievements.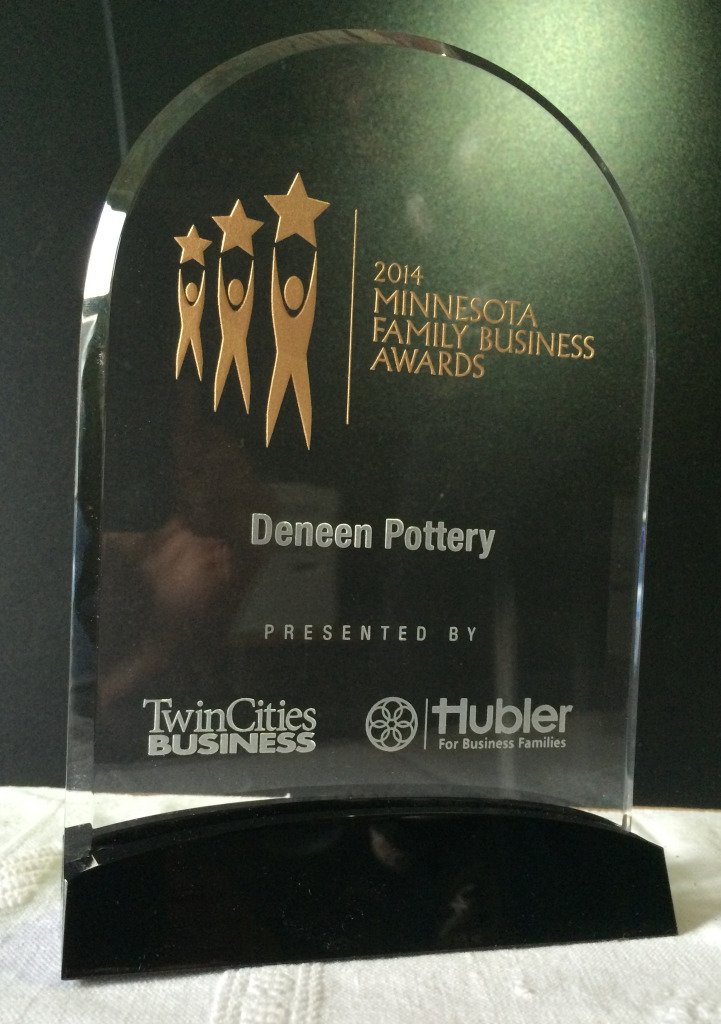 Thank you for reading our blog.
Niles Deneen – CEO, Marketing