Announcing a striking new glaze for handmade mugs
Glaze:
Industry: (We work with many different industries)
Crafting beautiful handmade mugs is what we LOVE to do, but since we started creating our new satin & matte glazes we are now even more inspired about the finish. After our initial launch of that new category we have narrowed the offer to 4 solid glazes and one new marble glaze option. With that said, here is our latest and greatest: Matte Black w/Sand White, pictured on our sleek and modern 12 oz. Abby Mug.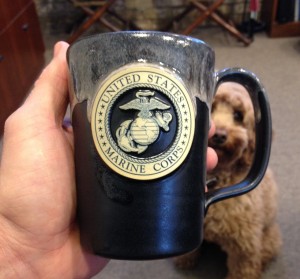 With this masterpiece we combine both the illustrious and muted texture of a matte, while highlighting the top with a smooth and sultry finish of our traditional Sand White marble top. I am positive that this winning combination will be gaining popularity and might, just might, become one of our MOST POPULAR marble glazes ever.
This handmade logo mug is currently available for retail from the
Marine Corps Heritage Foundation located in Triangle, VA.
Olive was patiently waiting for me to hurry this along since it was just before lunch when I got my hands on this mug to take this picture.
Here is a professionally taken picture that omits our shop dog and is in our 12+ oz. Patriot Mug Style.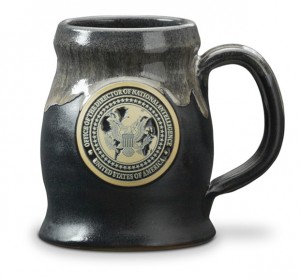 We look forward to seeing many of our Innkeeping Customers at the fast approaching Innkeeping Conference & Trade Show in Las Vegas, January 28-31.
Thank you for reading our blog!