Illustrator Mug – 5 Things We've Learned!
Glaze:
Industry: (We work with many different industries)
First things first, we need to send out a big THANK YOU to our collaborating Illustrators and our Mug Collectors! It is because of your time, energy and participation that our Illustrator Mug series continues to be a success. The spark of creativity that started with Nathan Yoder in early 2016 has now become a real fire. Here's the original post and the collection so far.

In this post we'll share 5 things that we have learned so far, but first…
Without further adieu we are super excited to announce that Illustrator Mug #5 will feature a second collaboration with the superstar Scotty Russell! This new mug will be released on Monday, October 2nd and instead of 200 we are making 400 with 2 different release times: 200 mugs will go on sale at 12:00pm CDT followed by the second 200 at 5:00pm CDT.
We are calling this mug 'UFO Pizza Cat' and here is the original drawing:
We will be posting progress pics on our Instagram and FB ongoing, along with a reminder about the release times near the end of the September. I'm sure that you'll see some additional posts on the Perspective Collective site as well, so stay tuned! Official unveiling of the finished mug will come from Scotty, so if you haven't already followed his IG, do so here.
1. This is real.
"Find a job you enjoy, and you'll never work a day in your life" – Confucious
The enjoyment and inspiration our staff gets from seeing awesome pieces of art is almost tangible. With each Illustrator mug that we've done, especially with Space Pizza Cat, the buzz on the production floor and in the office brought a sense of fun. Each coffee mug we make can have that effect but there is something different for this series. When we started this crazy idea we had no idea what would happen.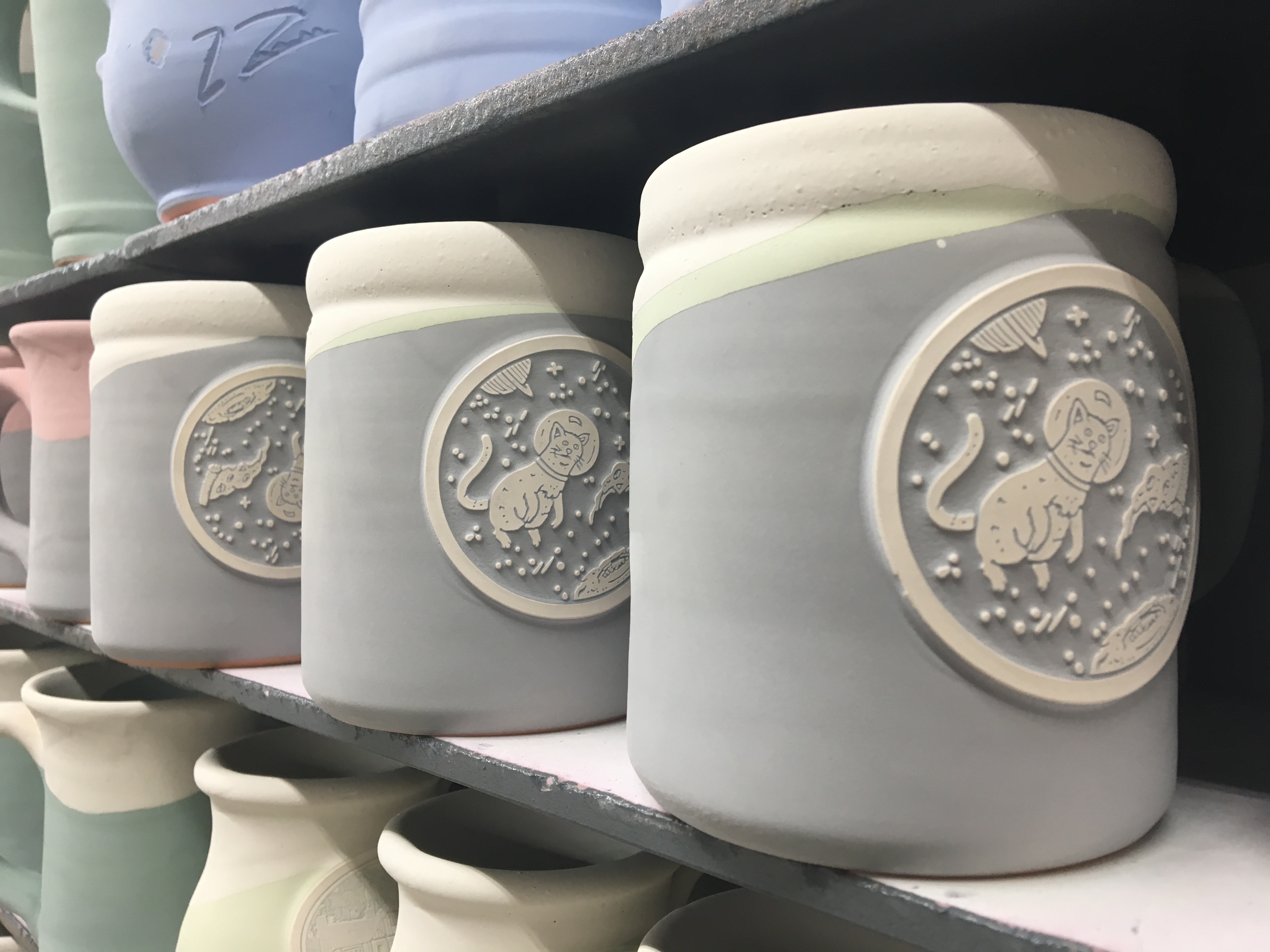 I remember explaining the idea to Dad and his puzzled look. "We are going pay an illustrator for mugs that we are going to sell on our webpage – have I taught you anything?"
Yes you have Dad, but the thing is – collaborating and celebrating creativity with the goal of making something beautiful is within our mission. Our core values are woven through the heart of this project so even if the mugs took months to sell it wouldn't matter. We create beautiful and useful objects and I knew that bringing in guest illustrators would at least be fun and at best we would be creating a collection that we would be proud of.
2. 200 is not enough.
"If you build it they will come" ~ Field of Dreams
I didn't intend to bring in quotes for this post but I feel like I just heard that booming voice in Kevin Costner's baseball film! Who knows, maybe the super fast sell out of Space Pizza Cat was an anomaly, a one-time lucky shot? One thing is for sure, when Space Pizza Cat went on sale June 9th it was as if every baseball great from the past walked out of the corn fields and wanted to play. Field of dreams reference…
We apologize that our server spit out error messages! Our traffic is typically 1/8 of what was witnessed on launch day and without upgrading to a completely new service we can only ask that you understand it might happen again. Our hope is that since we have 2 release times, and twice as many mugs, the sale will go smoother for everyone.
Plain and simple, I know how I'd feel in that situation — waking up in the afterlife and returning to a ball field only to watch on the sidelines. Judging from some of the comments and feedback after the mug sale concluded, others felt the same. Thank you for your understanding and know that we are doing our best!

3. Cats are better than dogs?
"Cat's motto: No matter what you've done wrong, always try to make it look like the dog did it."~ Unknown
Olive cover your ears. Are cat's better than dogs? I really can't say since both four legged creatures bring joy and silly-ness to our lives! But honestly how many times do dogs get the blame? I know I never used the excuse that my dog ate my homework. How could I? Olive came into my life when I was 31 — long past the time when homework was required.
With Illustrator Mug #4 selling out in just 15 minutes, we had to wonder whether cats might be more popular than dogs. We certainly hope that UFO Pizza Cat will be as popular with you as he is with the aliens above.

4. Mistakes can be beneficial.
This was the coolest, most unexpected, and amazing development!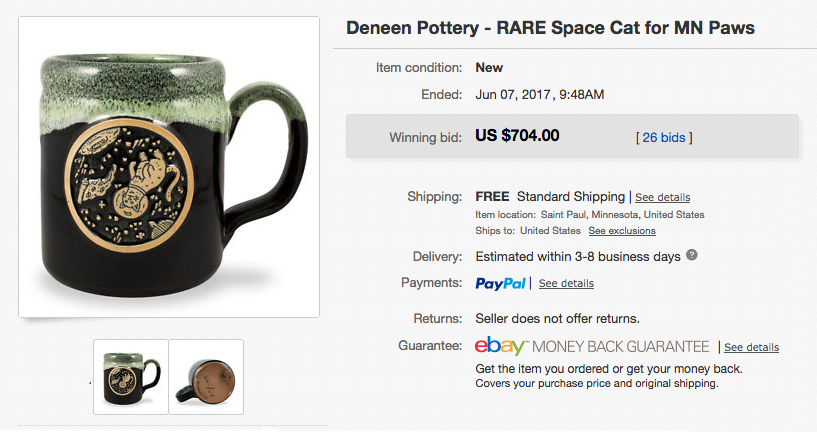 Somehow during production of Space Pizza Cat, one of the medallions was applied upside down. This is not a common mistake and it was so mind boggling that it took us some time to realize the opportunity it could offer. Thanks to the brilliance of our customer service team member Nicole, we decided the best thing to do was to put it up for auction with all proceeds going to Minnesota Paws!
MINNESOTA PAWS is a nonprofit animal advocacy group focused on the rescue and re-homing of shelter dogs from targeted communities around the country.
We set up our Ebay account on a Friday and made our sales predictions. As the weekend moved on and the bidding continued, all of our predictions were blown out of the water. What a surprise it was to see $704.00 as the final bid on Monday! Never in a million years did we ever think a happy mistake mug would fetch such an outstanding amount. It was a joy to present the check to Melissa Dewoskin and Andrea Craig (and puppy Leon!) of Minnesota Paws just a few weeks later.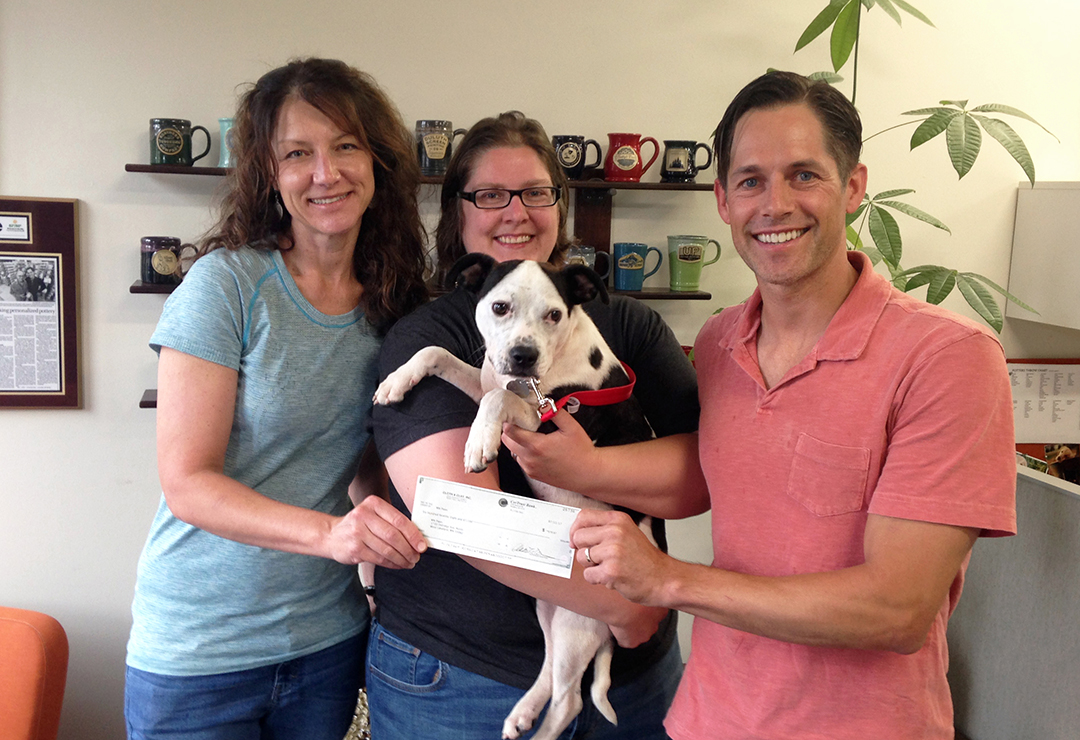 5. Multiple release times!
I know this was mentioned above, but we wanted to conclude the post by reminding everyone of this change in our upcoming release. We hope that by having 2 release times, UFO Pizza Cat will be more available to you, our loyal mug collectors!
UFO Pizza Cat release date is set for Monday, October 2nd. 200 mugs will become available at 12:00pm CDT and the remaining 200 will become available at 5:00pm CDT. Set your reminders and we look foward to connecting you to these limited edition beauties!
Mugs Up!
Niles Deneen