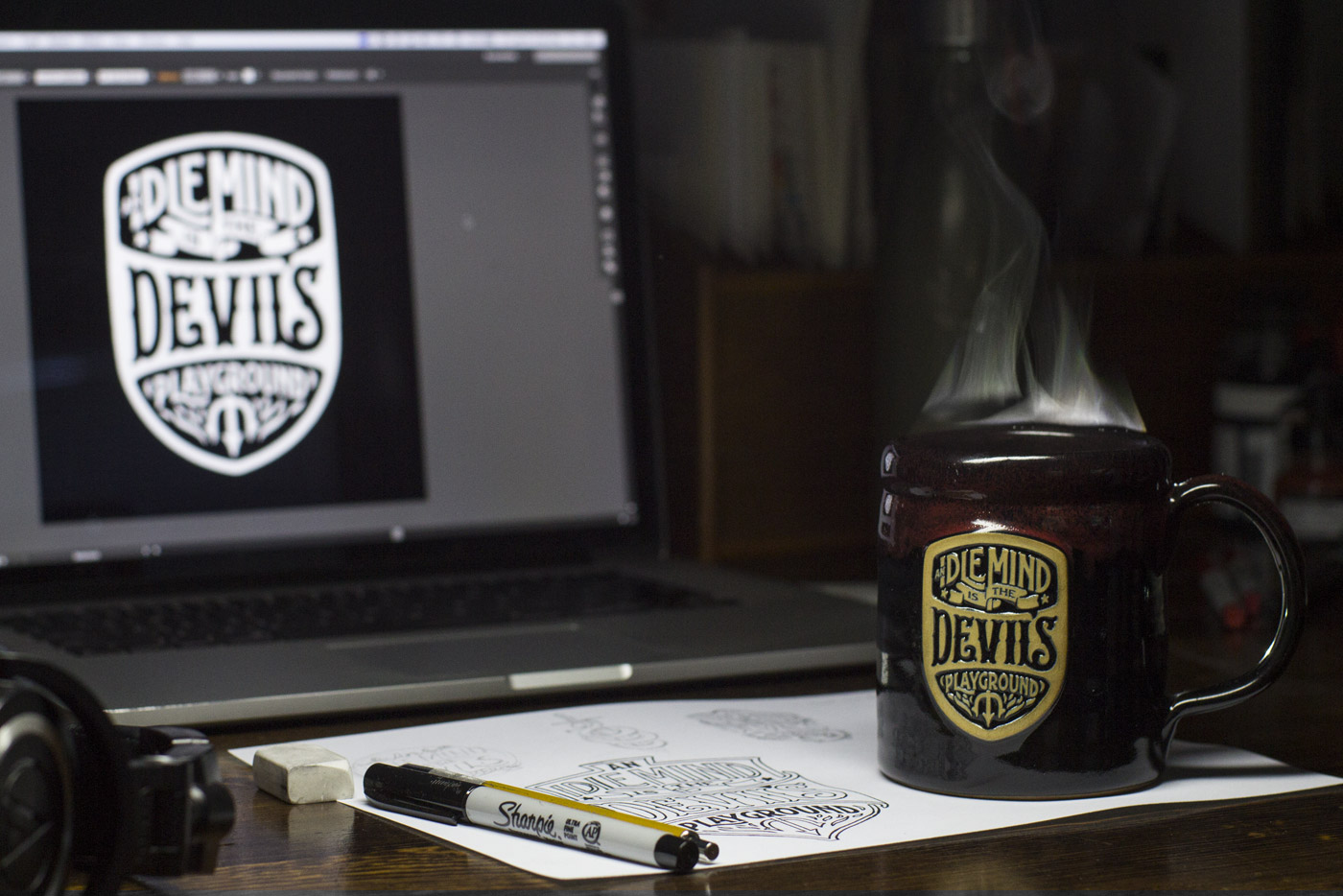 Illustrator Mug Series – Nathan Yoder #1
Glaze:
Industry: (We work with many different industries)
We are delighted to announce that for our first Illustrator Mug Series we are collaborating with Illustrator and Designer, Nathan Yoder! It was exactly one year ago that I had the idea to partner with an illustrator in order to open up the capabilities of our pottery and to offer the opportunity to create in clay without becoming a customer. Since we are a collection of artists and makers, a partnership that would allow us to produce and sell the mugs, with a percentage of the sales going back to the artist, made perfect sense.
Strangely enough, at the same time we were talking about this unique idea, I happened to stumble upon Nathan's work. We quickly realized that he would be a great inaugural artist…but how to convince him to partner with us? Here's a short film (that hooked us on Nathan) called Enjoy the Process:
It was not only Nathan's aesthetics, but also many of his statements that resonated with myself and our staff, especially: "Enjoy the work, be where you are" and "Don't look too far down the road." I emailed him right away to inquire about purchasing a copy of one of his illustrations and to see if he would be interested in partnering with us.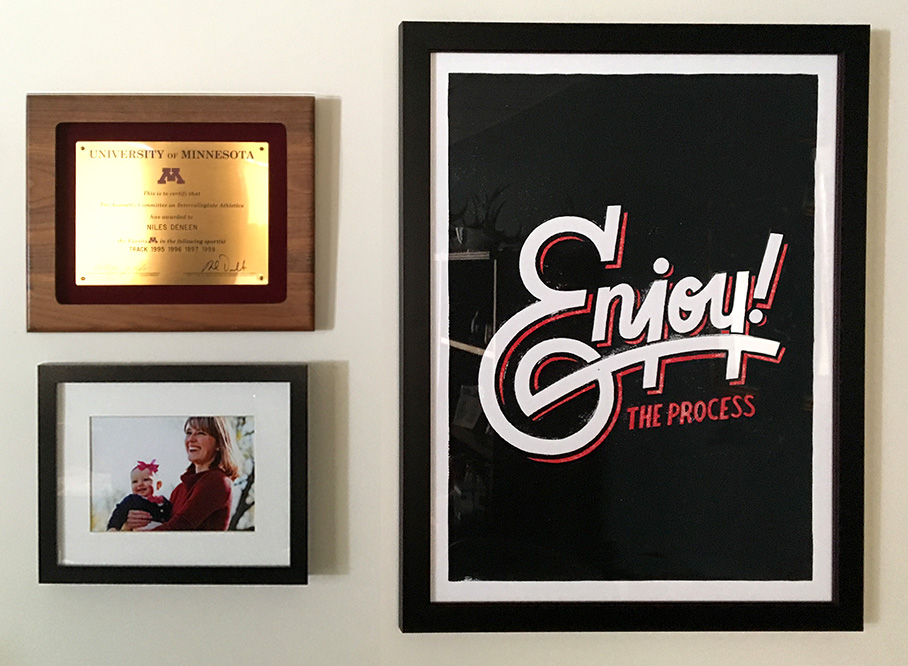 Luck was on our side as he not only had prints readily available for sale, but he was also interested in collaborating! After some fun email exchanges on the direction of the illustration, the quote we focused on was "An Idle Mind is a Devil's Playground." Here is an inside look at Nathan's creative process as he worked on the mug design.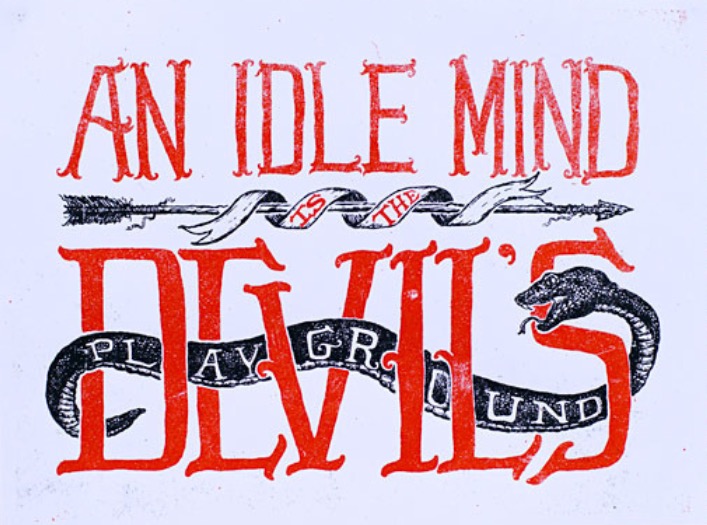 Nathan did not want to simply adapt this original piece that he had done – instead he wanted to create a new illustration specifically to be used on our handmade mugs. There was absolutely no objections from our team and not long after he sent us this beautiful shield shaped emblem. As you can see with the approach Nathan took by alternating the type he created a perfect balance of positive and negative space. Our favorite detail is the inverted trident that begins in the M and runs through the center of the design – not so subtle but then again this is not a subtle message for a mug.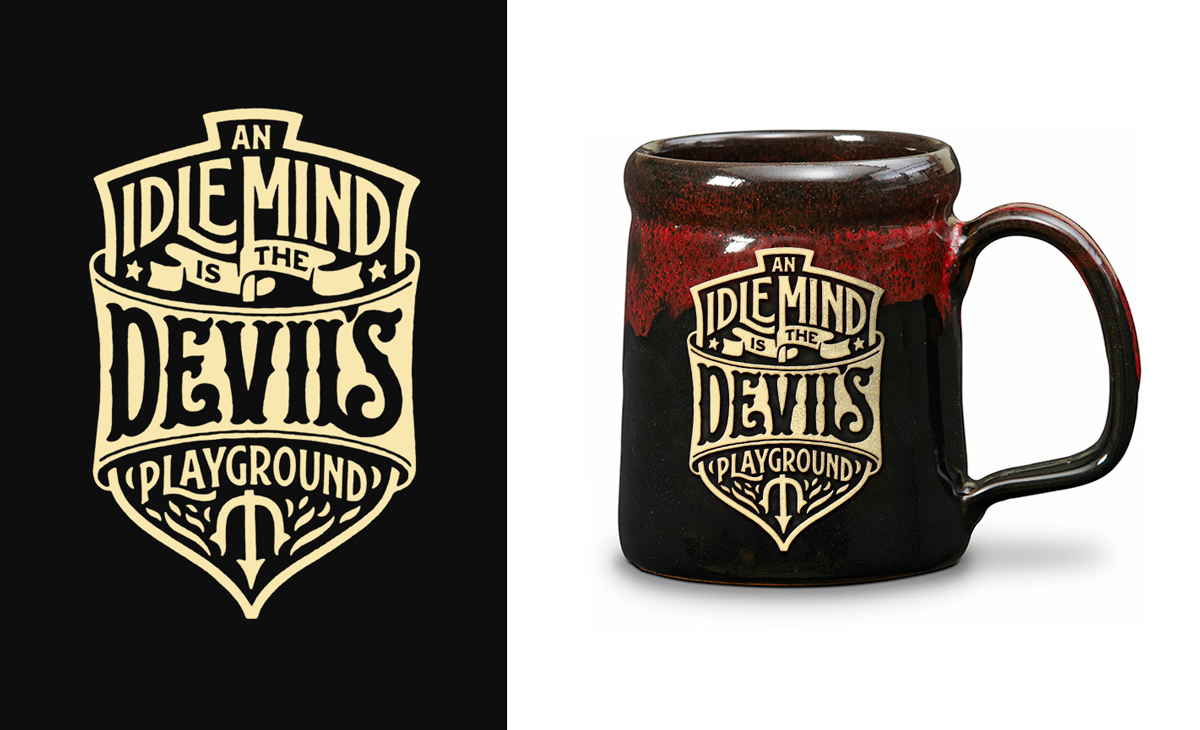 We had a few minor adjustments on our side and (…drumroll…) the first mug in our Illustrator Mug Series was born. A lovely Camper mug, glazed in black with a red top.
Right now, Nathan actually has a contest going on his Instagram page to win three of these for FREE:
HOW TO ENTER:
Keeping in theme with the phrase "An Idle Mind is the Devil's Playground" and using the hashtag #yondrpassion, share a drawing or photo on Instagram of the thing that represents your passion and the story behind it.

WINNERS
(3) winners will be chosen and mailed (1) hand thrown @Deneen_Pottery mug as shown here. Shipping to the U.S. only.
DEADLINE
February 8th is the deadline to post your submission with the winners announced Tuesday, February 9th.

PRIVATE PROFILES
Nathan won't be able to see your entry unless your account is public!
If you are interested in purchasing your own mug – here's the link.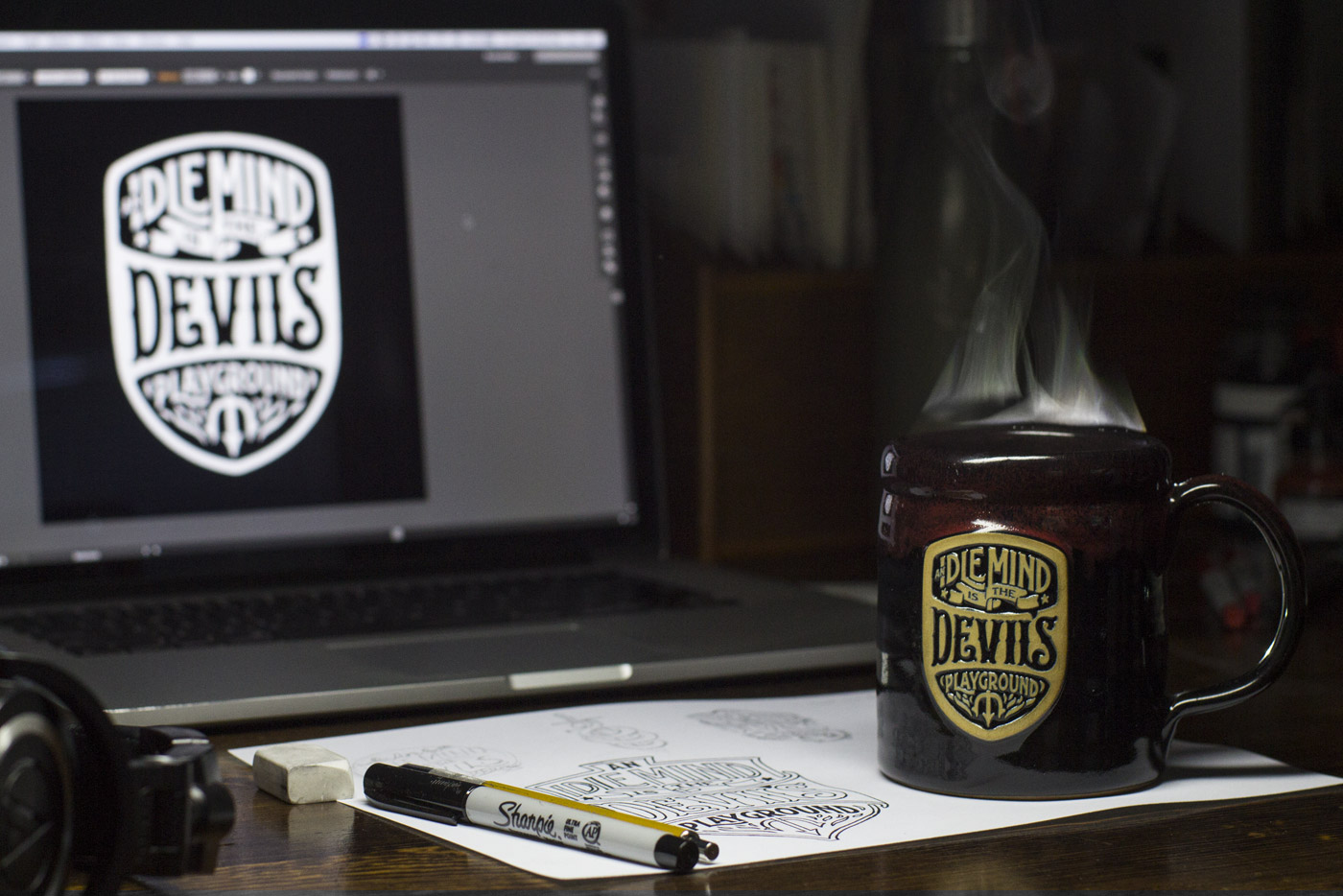 These American made mugs will go on sale later today, with a first run limited quantity of 100. We love how they turned out and look forward to seeing what response they receive. The beautiful thing about this project, besides being the way that the mugs came out, is that this is the first in a series and it marks just the beginning. We can't wait to see were this project takes us!
Niles Deneen – CEO