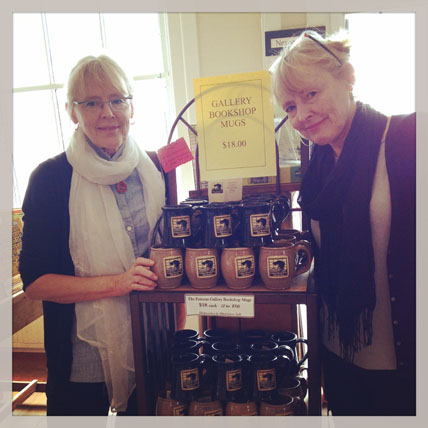 Gallery Bookshop – handmade stoneware mugs
Glaze:
Industry: (We work with many different industries)
We have been creating custom handmade stoneware mugs for the Gallery Bookshop in Mendocino, CA since…forever. Ok, maybe not for that long, but for a good number of years.
According to their webpage the "Gallery Bookshop was established in 1962 in Mendocino's historic Jarvis-Nichols Building. At that time, the shop featured paintings and prints by local artists along with its fine selection of books. Original owner Marvel Glynn sold the store to Betty Goodman, a local actress and patron of the arts, who in 1980 sold it to Tony Miksak. In 1988, Tony opened Bookwinkle's Children's Books, the first children's bookstore in Mendocino County, at the corner of Albion and Kasten streets in Mendocino.
When the Gallery Bookshop expanded into its current space in 1993, Bookwinkle's moved too, to share the new location and the store name. In 2006, the store was purchased by current owner Christie Olson Day. Today, Gallery Bookshop & Bookwinkle's Children's Books serves local residents and visitors from around the world with an extensive inventory of current and relevant titles, plus a large selection of eclectic volumes not likely to be found online or at any urban mega-store. Honoring our local heritage on California's north coast, Gallery Bookshop and Bookwinkle's Children's Books prominently features sections on local history, logging, ocean life, wine country, mushrooms, marijuana culture, the arts, and books and gift items by local authors and artists.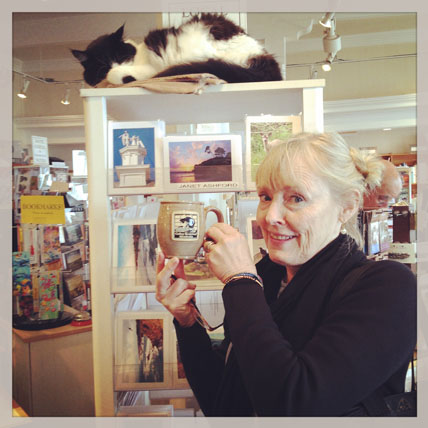 For more than 25 years visitors to Gallery Bookshop were greeted by the store's feline mascot, first Leander, and then Collette, a friendly, longhaired charmer born in the courtyard behind the shop. Draped gracefully across a shelf of best-selling novels or promenading elegantly through the store each morning, Collette purred her greeting to our many visitors for 20 years. Collette passed away in 2004, but lives on in our memories."
Just recently, a new Shop Cat has assumed the mantel – an enormous long-haired cat with big black & white holstein-style splotches and a very appropriate name: the Great Catsby.  Since my twin mom's (Mary Deneen and Martha Winter) are both cat lovers and avid readers, they just had to stop in while on a day trip to Mendocino when visiting California last week. They found beautiful custom handmade Deneen mugs on display right inside the door and loved visiting with the Great Catsby! What a fantastic and friendly shop, it doesn't get any better than this!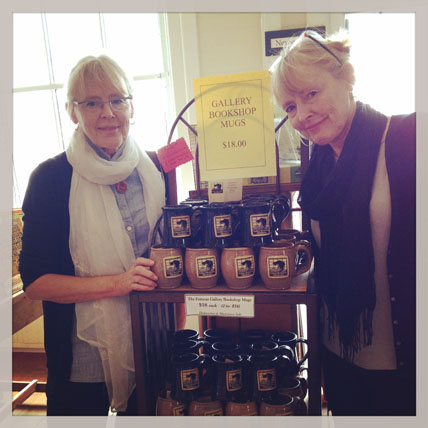 With the proximity to the beach, and after sitting the car for 3 hours, Mom wanted to do some additional exploring. Windswept and slightly overcast, with the smell of salt in the air, they had an incredible time investigating the craggy beach while the tide was out. My aunt Martha, being an avid family photojournalist, took this action shot of my mom holding up some seaweed…or what I think is seaweed!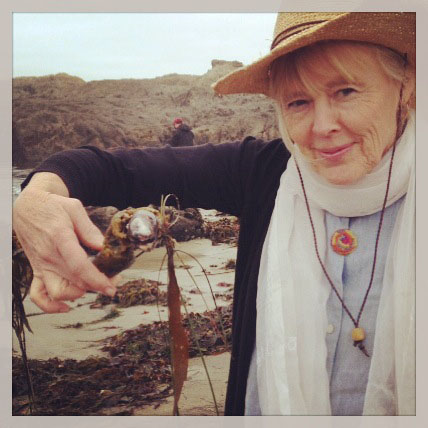 If you love books, cats or handmade stoneware mugs the Gallery Bookshop is the place for you.
Thanks for reading our blog!
Niles Deneen – CEO, Marketing