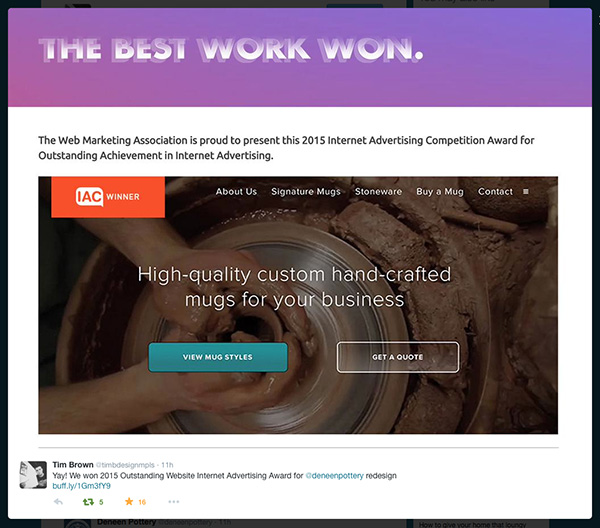 Award Winning Website – Snap Agency
Glaze:
Industry: (We work with many different industries)
We just found out from our friends at SNAP that their amazing work on redesigning our website, which focuses on our handmade pottery mugs, is now officially award winning thanks to the Internet Advertising Awards. We think the picture below says it all – The Best Work Won!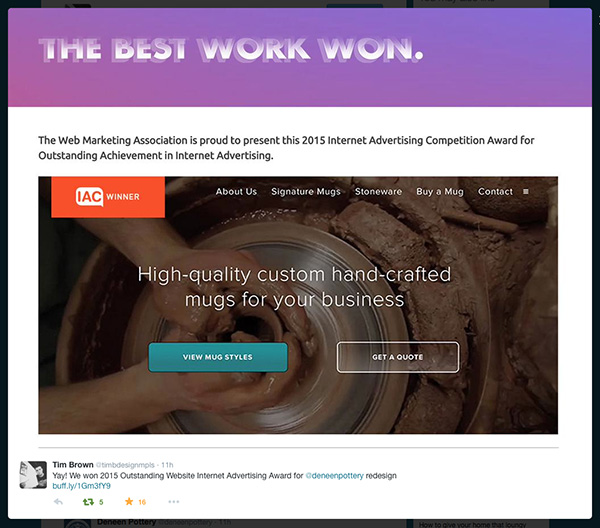 I checked in with my buddy (and the lead designer on the project) Tim Brown, according to Tim: "I found out that we had won the award from an e-mail; I had entered the site in a couple different competitions. I honestly was fairly confident we'd win one or a couple, because the site never fails to get people's interest and attention when I share it with them in person."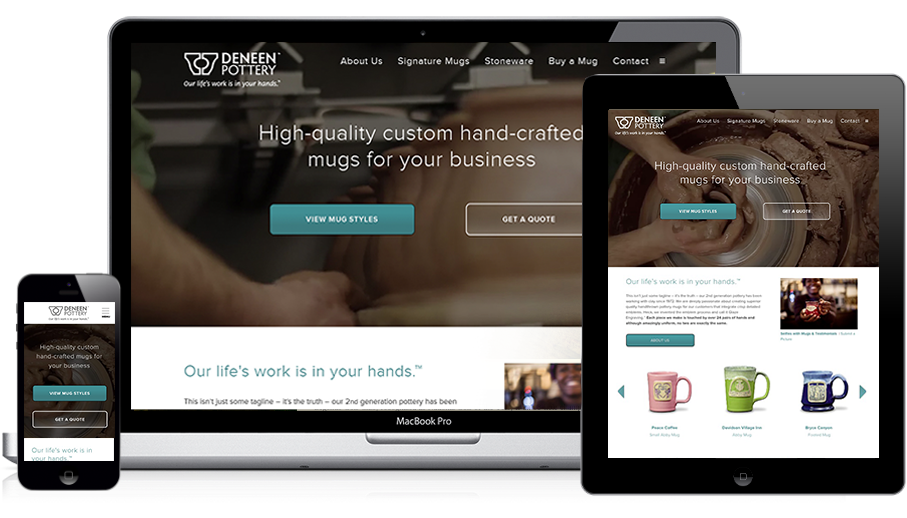 We at Deneen Pottery couldn't agree more and are so proud of what Tim and the gang have done!
From initial discovery to the final launch – working with Snap Agency was just an incredible experience. Our first meeting with Jake Butzer and Morgan Molitor really set the stage for success, as they listened to our wants, understood our needs and put forth a very convincing proposal. The tough part was getting my dad, Peter Deneen, to sign off – he was firmly in the "there isn't anything wrong with our old site and the mugs sell themselves," camp. I guess when you are a Master Potter (declared so by Marguerite Wildenhain) you would have an air of confidence! Lucky for him, I am strong-headed, have a great team to help me run our company AKA work on convincing him, and had some very valid logistical reasons we needed to make this upgrade. So after a few meetings, we finally convinced him.
Now he's thrilled and is practically taking credit for the idea, often heard saying: "We needed to have the site work on our phones, mobile ready, didn't I tell you that before?" Gotta love love the charm of dad, our Chairman of the Board and fearless leader! It definitely didn't hurt that Snap decided to order mugs as gifts for their clients.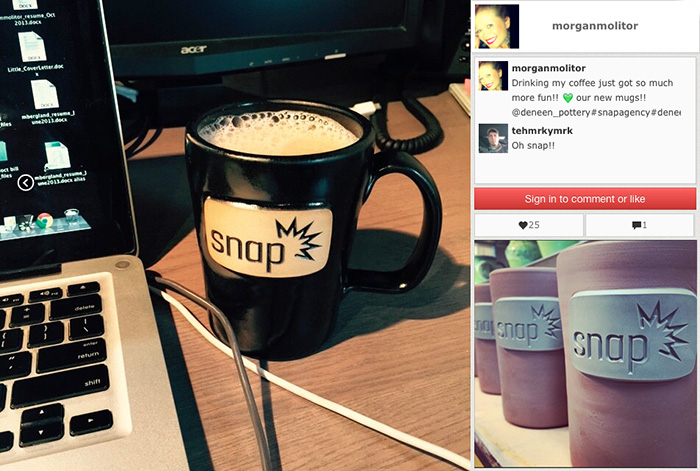 And it was great to see that Tim was having fun with our project as well as understanding our vision for the site. It might be said that we began to expect the unexpected, especially when we saw how cool the streaming video on our homepage looked. The video itself highlighted our desire to convey the 'handmade' aspect of our process and all the work that goes into creating our custom pottery mugs. To read more on the case study by SNAP follow this link.
We hope that the website gives you a better understanding of the artistry that goes into our custom mugs…and of course we hope you like it as much as we do!
Have a wonderful weekend!
Niles Deneen – CEO