Spring into Autumn – Planning your handmade mug orders
Glaze:
Industry: (We work with many different industries)
We are finally seeing a return to the way that things were before the onset of the great recession. The combination of positive economic growth, the early coming of spring (and mild winter), and a renewed desire for AMERICAN MADE STONEWARE are what we attribute our rebound to.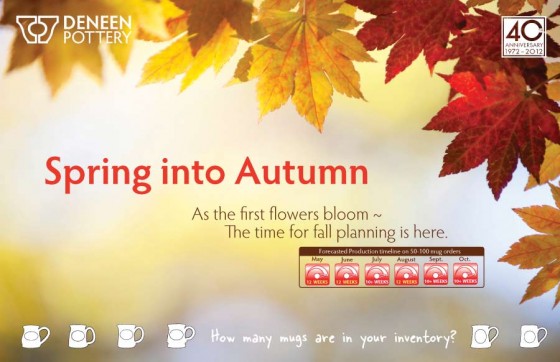 That being said, with the blessing of more orders also comes longer lead times, or as Dad says, "the problems that you pray for." The production time for an order of 50-100 handmade mugs is 12 weeks right now. We have increased our production 20% over last year and have been able to hire on 5 new employees in the last 6 months – two of which are potters! I recently snapped a picture of one, which is posted on facebook, as he is learning how much fun the curves of the round belly can be. Typically a new potter needs to throw about 1000 mugs before any meet the standards to be stamped with Deneen Pottery.
Keeping busy, working hard, and setting clear expectations is what we are focused on. As we strive to ship within 7-10 days of our projected ship dates, we thank you for your patience and can be reached anytime (888-646-0238) to give updates on your order. We hope that the sales of your custom handmade mugs and businesses are doing well, and look forward to hearing from you in the coming weeks.
Now is the perfect time to place your Autumn or Holiday mug orders.
Thank you for reading our blog.
Niles Deneen – CEO, Deneen Pottery