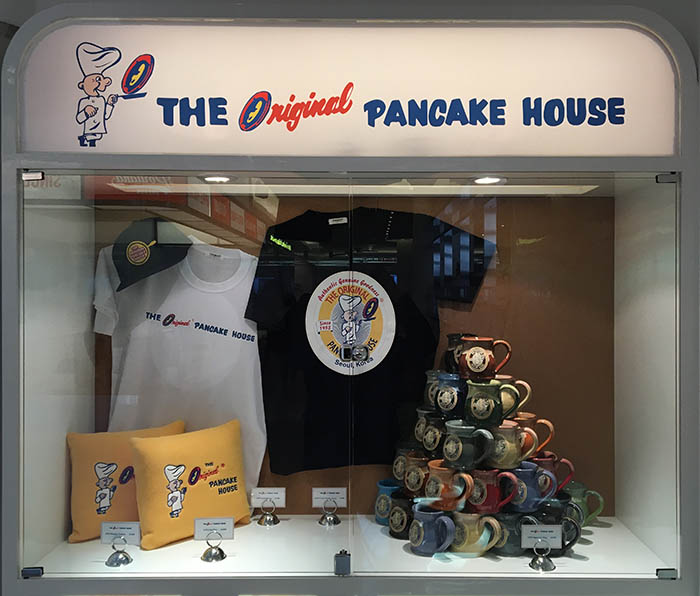 Seoul has Soul – and Handmade Mugs
Glaze:
Industry: (We work with many different industries)
We love making handmade mugs and we especially love making handmade mugs for folks that use them. As it turns out, a growing number of breakfast/lunch restaurants have found our hand crafted mugs so durable that, when used for service and made available for sale, they actually allow restauranteurs to turn a profit.
Now that was a bit of a run-on. The real focus of today's post is about a recent trip that I took to the Grand Opening of an Original Pancake House in Seoul, Korea at the start of this year. This was a once-in-a-lifetime trip that allowed me to get to know the largest international importer of our handmade mugs and Jon Liss from the Original Pancake House.
Never in a million years did I think that the initial order of round belly mugs for Original Pancake House [OPH] in Eden Prairie would turn into a trip to visit our 63rd OPH in Seoul, Korea – but that is exactly what happened. It all started on August 16, 2009 when I met up with friends to celebrate my 34th birthday over breakfast at OPH in Eden Prairie. As the son of a Master Potter and Entrepreneur, I've learned that everyone is a potential customer and you should always keep your eyes open… even on your birthday! Here's a picture of what Eden Prairie looked like when I visited – notice the plain white mugs on the tables?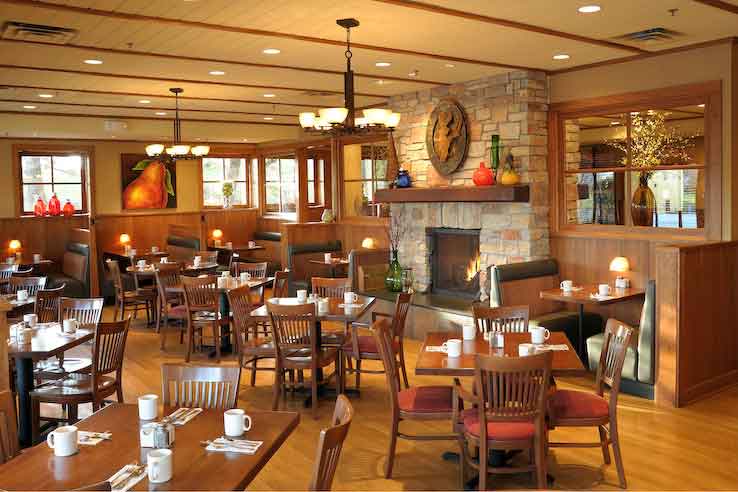 As I looked around at the happy guests, eating fluffy buttermilk pancakes, dutch babies, and souffléd omelets, I realized that our handmade pottery mugs needed to be there. Before we left I was able to get the manager's name and over the next 4 months I tirelessly followed-up with him until a retail order was placed for the holiday season.
Long story short, which means the story is too long already, by October of 2010 our mugs were brought in to use for service at both the Eden Prairie and Edina locations! And it was right about at this time when Annie and I had Eloise – here she is with Jake Smalkoski, the GM for Eden Prairie in May of 2011.
We were then contacted by Gordon Manus, the owner/operator of an OPH in St. Louis, Missouri who had seen our mugs in Edina. Although he originally started the mugs for retail, I begged him every week to give them a shot on the table. Eventually he made the switch and, as a surprise, I flew down and joined him for a delicious breakfast at his table in Chesterfield.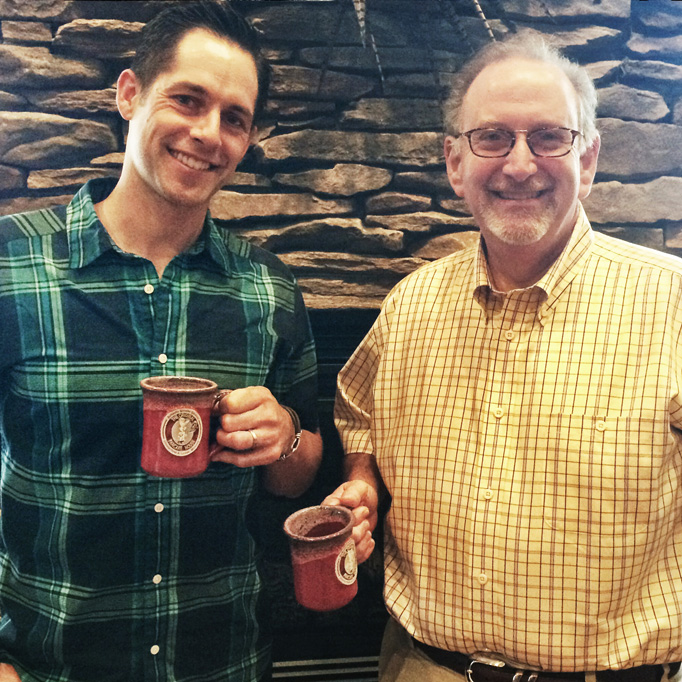 Shortly afterwards, we received calls from both Pittsburgh, PA and Maple Grove, MN. When this 5th OPH came aboard, Dad discovered that there were over 100 locations throughout the US. Peter suggested we contact the family that runs the franchise to see if they would be interested in having us work with more of their OPH restaurants. I'll admit, I was a bit apprehensive and nervous when I picked up the phone to call the ORIGINAL OPH in Portland with the goal of making contact with Jon Liss. Thinking I'd be leaving a message, I was surprised when he answered with a pleasant, "Hello this is Jon." I'm not sure how I got the words out, but somehow I managed to state, "Hi Jon, this is Niles Deneen from Deneen Pottery." I was bowled over to hear him say, "I'm looking at one of your mugs right now… I know why you're calling and the answer is YES."
Jon and I have been friends since that day and when he sent a text about traveling over to South Korea for the Grand Opening, I knew I wanted to join him – especially since there was going to be a media event and I might get to say a few words on behalf of my family's pottery company!!! Here is Jon and me holding our international round belly mugs in the Seoul location.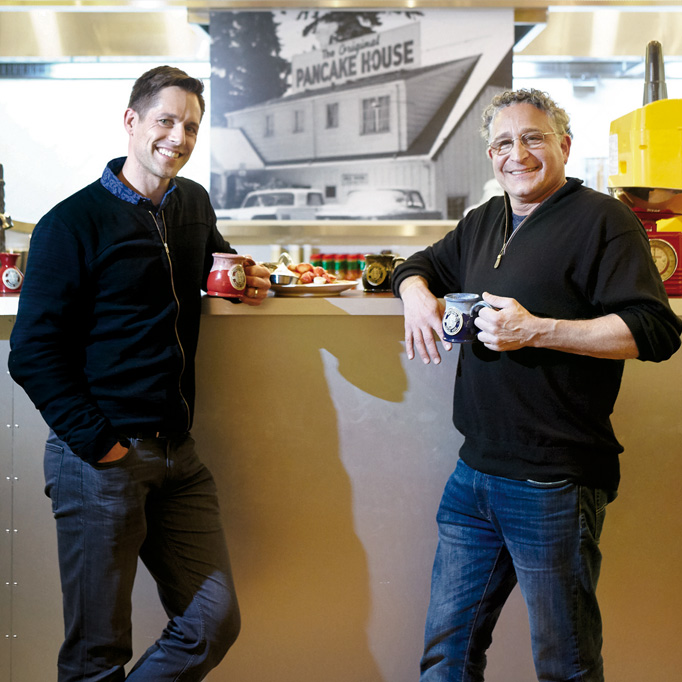 Travel was arranged, hotel confirmations were made by our gracious hosts MJ and HJ, and off we flew into yesterday, landing the same day the flight took off (except the plane was in the air for 13 hours). The first breakfast at the new Itaewon location was just incredible! It was as though I was back at the Eden Prairie location, drinking Boyd's coffee, savoring the same thick cut bacon, and devouring the basted eggs and buttermilk pancakes.
Here's my favorite picture from the trip that was taken just after the media event on January 5th. While Jon and MJ did all of the talking, HJ and I added value by throwing up a quick display which was a great backdrop. Yes that is real butter, fresh oranges for juice, our handmade mugs and in the covered soup pot is the sour starter which is why their buttermilk pancakes are so light, fluffy and fantastic!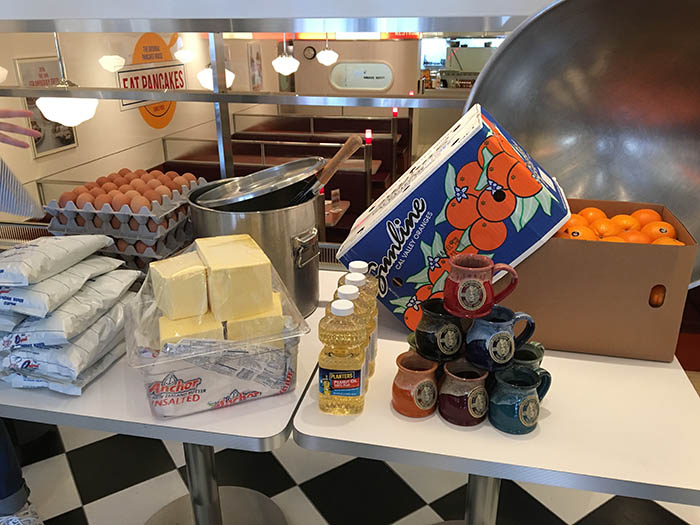 Jon and I also found time to get out and see some sights! Within walking distance of our hotel was the War Memorial of Korea which, although closed when we first attempted a visit on Monday, was open for our trip on Thursday. It was very impressive to see the story of the war depicted through various galleries, artifacts, displays and interactive maps.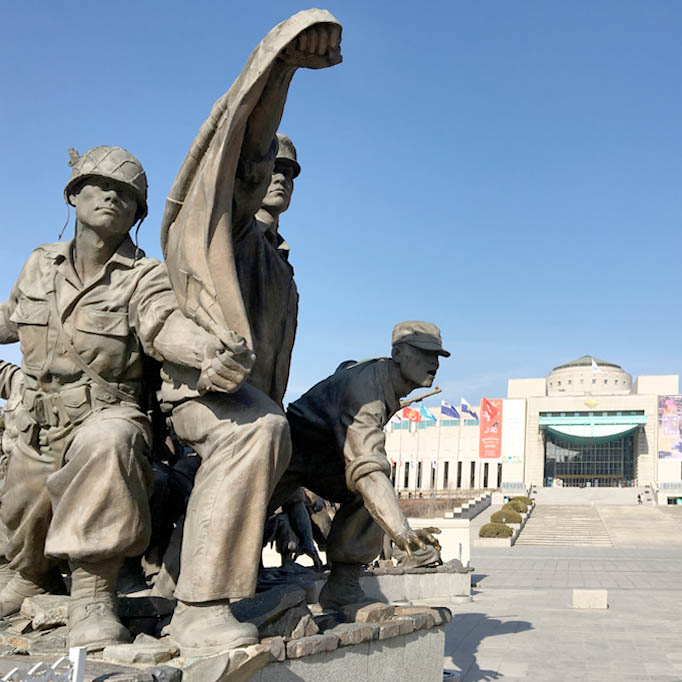 On the morning of the media event, HJ, Jon and I made the decision to check out the DMZ. Because we did not have the entire day, which is what is needed to do an organized 'tourist' excursion, HJ had a place in mind that would work for the time we had available – Mt. Ohdu Unification Observatory. According to their website "the observatory was established to inform the tragic reality of the division of the peninsula, which is the only remnant of the Cold War, and promote our wish and will for peaceful unification which guarantees Liberal Democracy."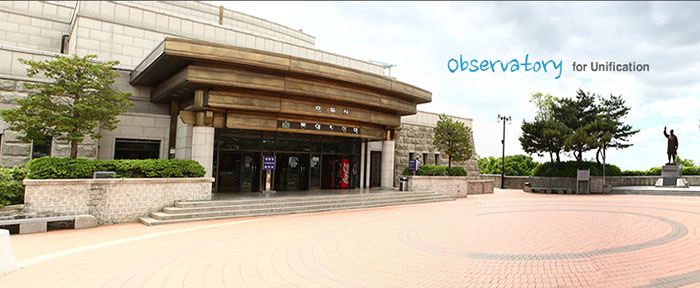 As we gazed into the (FREE!) binoculars, taking in the sweeping views of the Han River, we came to the realization that we were looking into North Korea.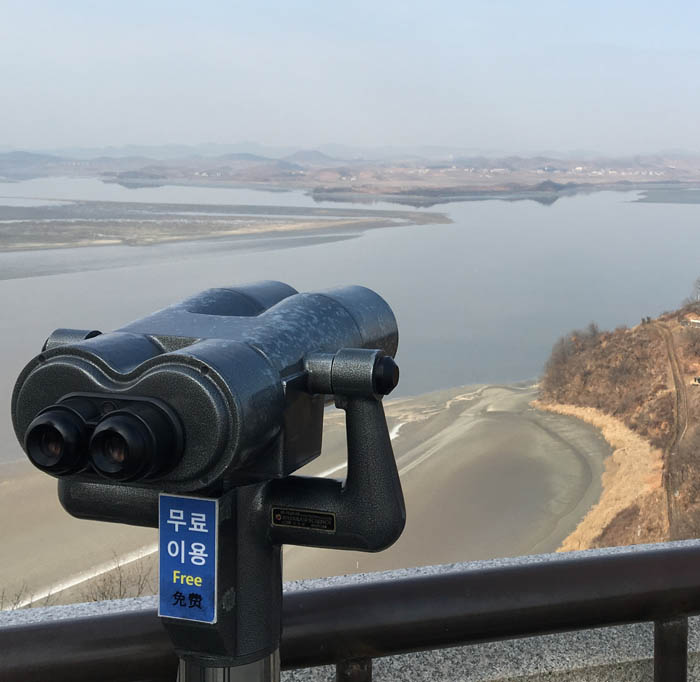 When I held my iPhone up to the lens I was able to capture a few images of exactly what we were seeing… and what we weren't. No motorcycles, cars, trucks or any gasoline powered vehicles. We did see a collection of white buildings that are supposedly used for the housing of farming families. Yes, this is a communist country so there is no single ownership – everything is communal or cooperative.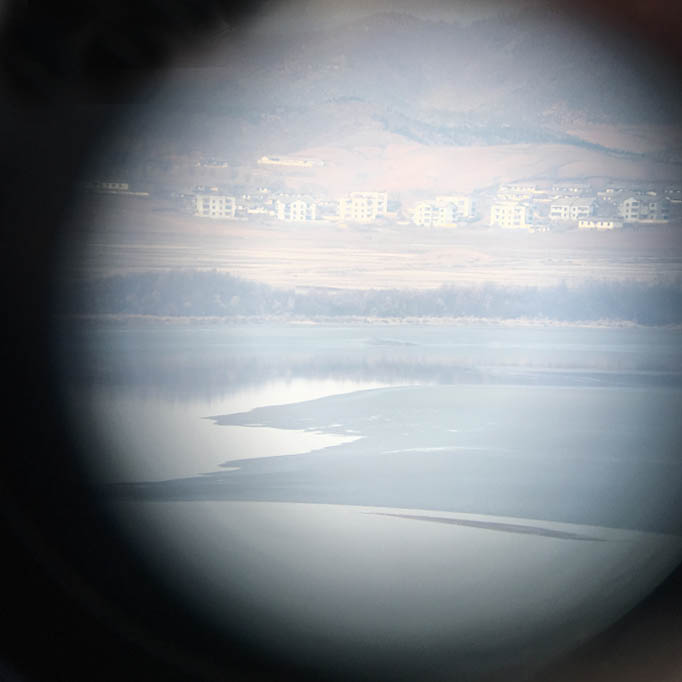 What happened next was both amazing and shocking. Thanks to Jon, I signed up for a data package that would allow me to be connected to home and, as a result (at that exact moment), I got a push notification from the New York Times: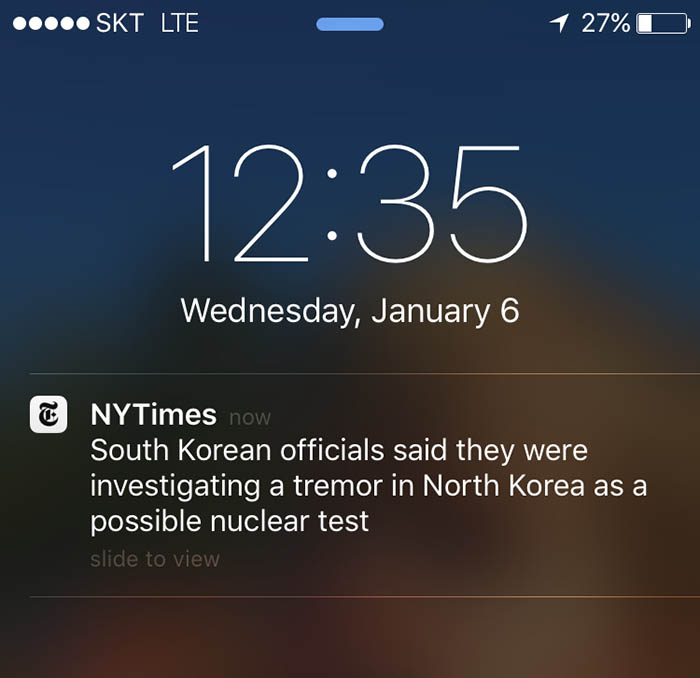 It took me a second to realize that we were standing just 2100M away from a country that might have just set off a nuclear explosion! Before I could really freak out, HJ made a comment that put my mind to rest, "oh yea, they do stuff like that." My fears were lifted and everything was okay. Jon and I spent the rest of our time at the Observatory hearing more about what it was like for HJ to grow up with a northern neighbor that could, at any time, continue to fight a war that long ago ended. Actually, North and South Korea have not signed a peace treaty and are still technically 'at war'.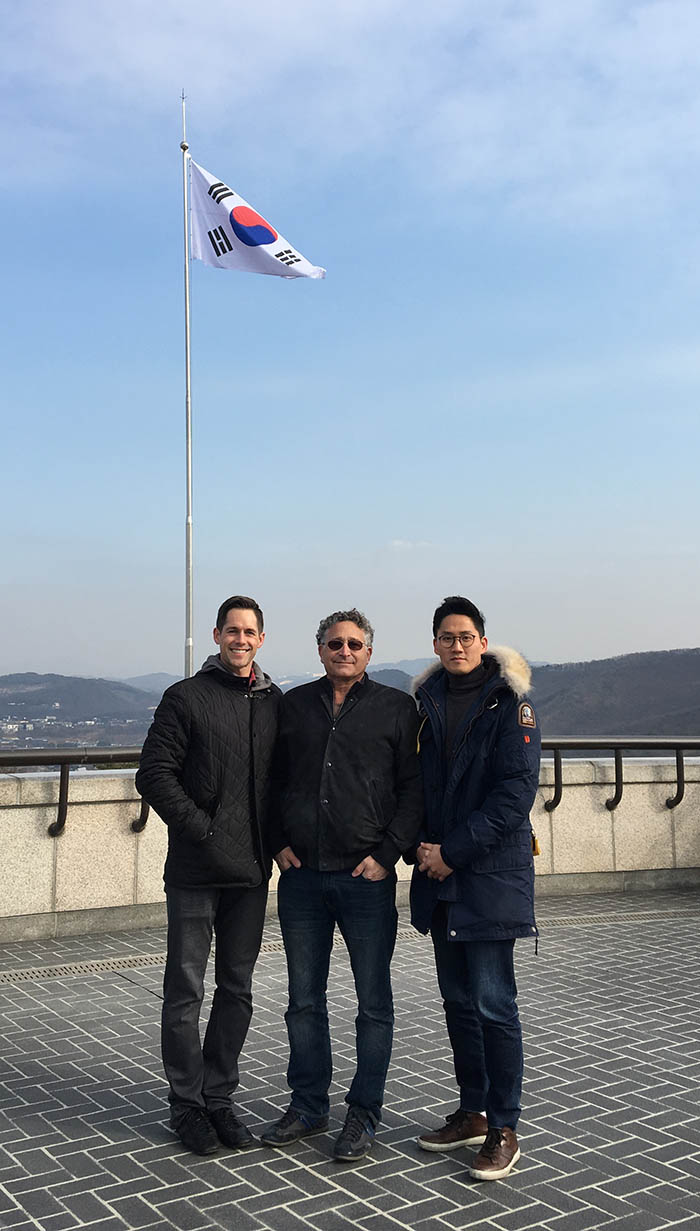 As you can see from this last image, there is no look of concern on our faces – the Cold War is just a reality that exists and as South Korea continues to innovate and expand, North Korea can only play at developing weapons. While we hold out hope for peace that will reunite the North and the South, it is pancakes and mugs that will keep us connected.
Thank you for reading our blog.
Niles Deneen – CEO