Proud of your handmade mugs?
Glaze:
Industry: (We work with many different industries)
When we introduced our new site, showing off all of our handmade mugs, some pages from the old site were left behind. One of those pages was a 'links' page that had these little .gif files with our Deneen Pottery logo and the words 'we love our Deneen Pottery mugs'. There was some instruction on how you could download them and insert some code that would link your site back to ours.
While I attempt to locate that code I will post the new links that I've just designed here.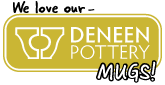 From the research that I have done, and the advice that I have received from my super smart SEO friends, setting up links to and from sites that you do business with makes google happy. If google is happy, then chances are your site will be happy too.
As always we are here to help with any questions and look forward to hearing from you.
Thanks for reading our blog,
Niles Deneen – CEO, Marketing