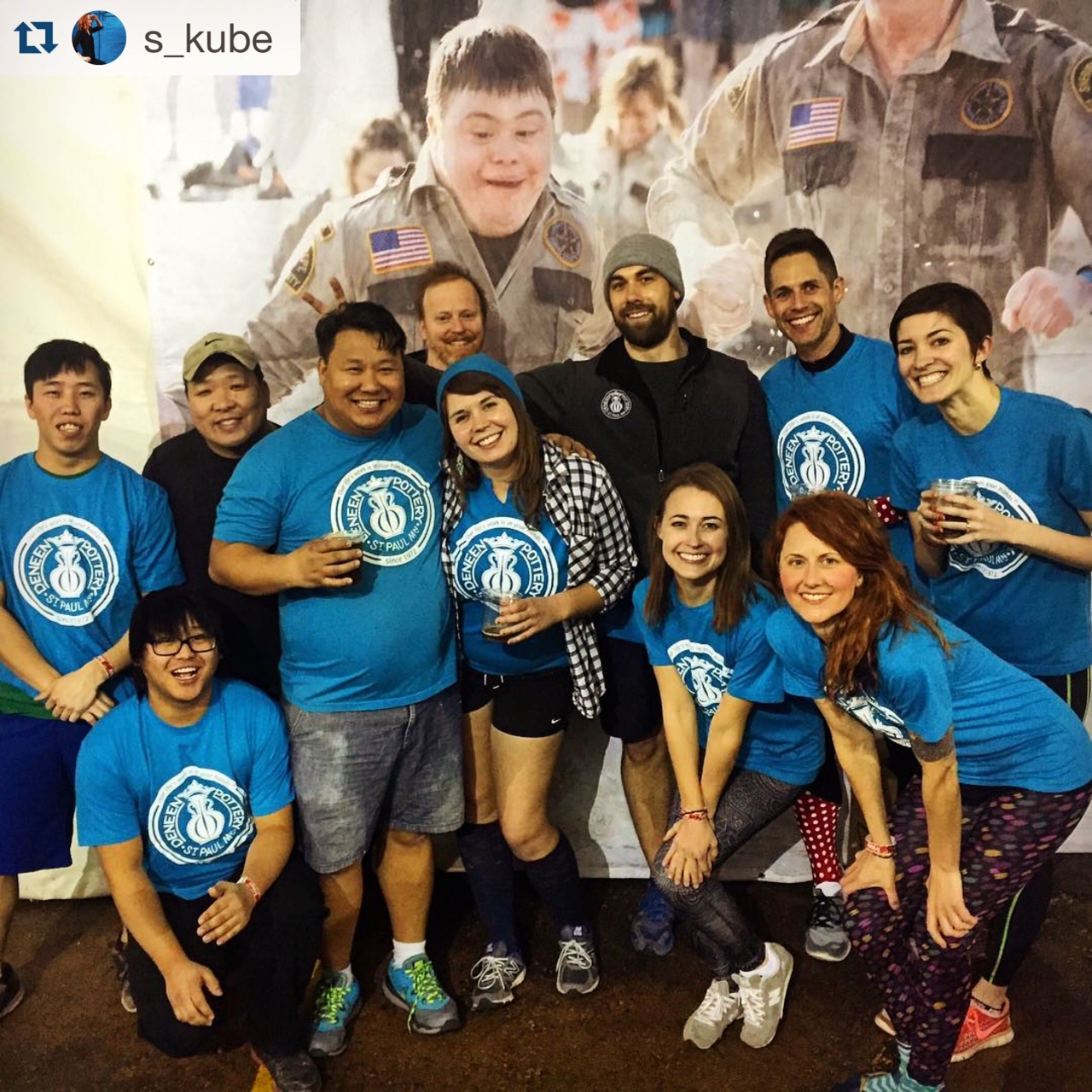 Polar Plunge – Special Olympics Minnesota Mugs are Here
Glaze:
Industry: (We work with many different industries)
When we began talking with Special Olympics Minnesota [SOMN] last summer about a custom mug for their Polar Plunge, our (frequently) ice covered lakes were but a vague memory. Yes, I am fully aware that when people think of Minnesota, one of the first things to pop into their minds is how bad our winters can be. And yes, our winters can be pretty gnarly so the idea of doing a plunge into a frozen lake…in the middle of winter…might seem crazy, but not that out of the question on a sunny, lovely and hot June day! "We'll do the plunge!" was the battle cry from our front office when Sara (our GM), Mary Deneen and I returned from the SOMN office in Minneapolis. To be honest, I was 100% up for the challenge but 90% freaked out and actually 10% afraid of the absolute COLD I would be feeling. Luckily as word spread through the shop (and our sign up sheet hit 10) – I knew that the 100% commitment of our staff would carry me through.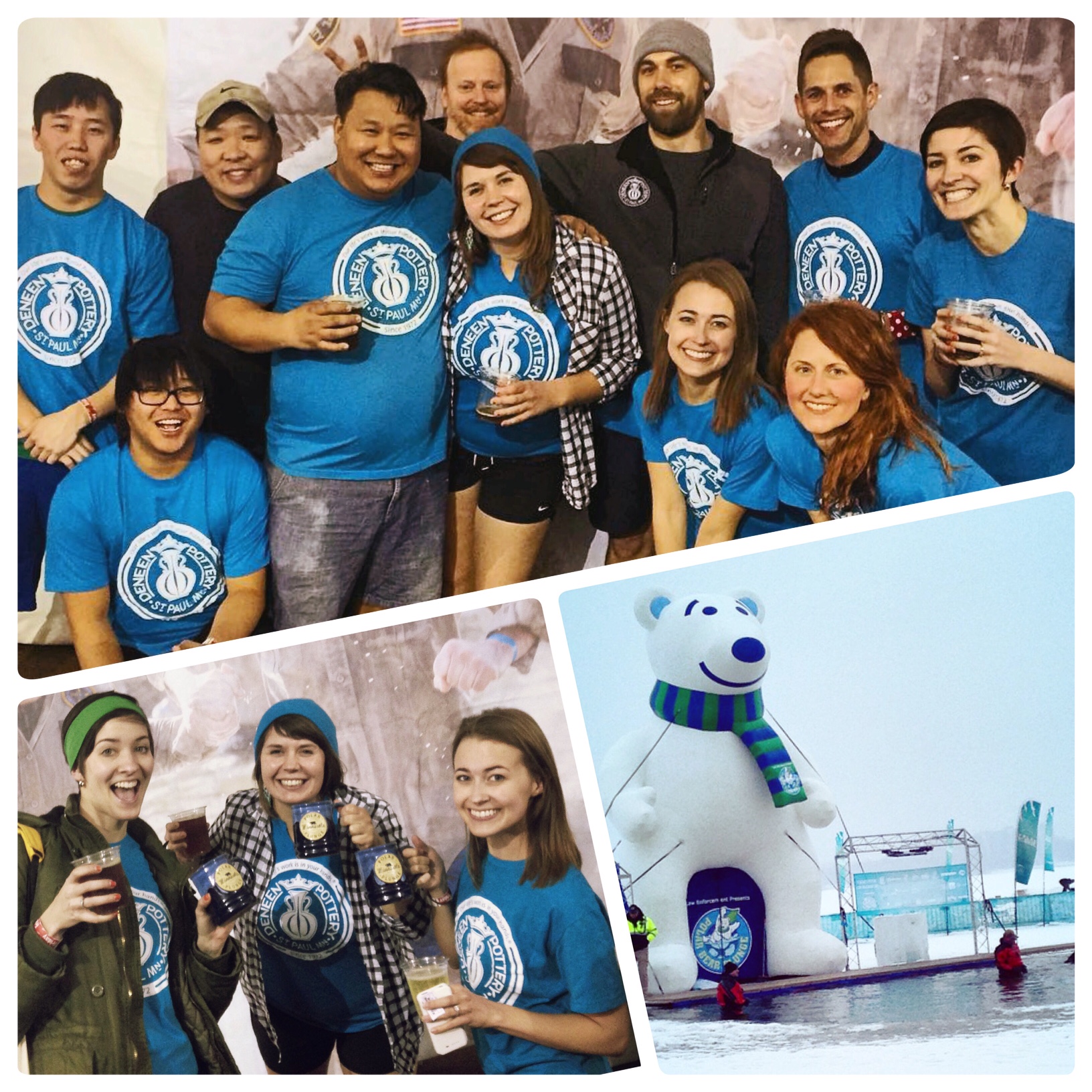 Working with SOMN was a dream come true for me, since my mom has always talked about those with disabilities as 'special' and that whenever we had opportunity to help, assist, or just have a conversation arise, we should embrace it. Because I was a kid, when Mom mentioned 'special' I felt that she meant like how special it was to have a big bowl of fresh popcorn with melted butter just in time to watch the Dukes of Hazzard on a Friday night. I learned that my mom was using the dictionary definition of the word special: better, greater, or otherwise different from what is usual. As a stand-out Track & Field participant, MN State Meet winner and U of Minnesota four time letter winner, I have a profound appreciation for sport, training, goal setting and personal accomplishment. After reading the philosophy of SOMN I was absolutely hooked and knew that jumping in a lake to raise awareness and money for SOMN would be easy.
Philosophy
Special Olympics Minnesota is founded on the belief that people with intellectual disabilities can, with proper instruction and encouragement, learn, enjoy and benefit from participation in individual and team sports, adapted as necessary to meet the needs of those with intellectual and physical disabilities.
Special Olympics Minnesota believes that consistent training is essential to the development of sports skills, and that competition among those of equal abilities is the most appropriate means of testing these skills, measuring progress and providing incentives for personal growth.
Special Olympics Minnesota believes that through sports training and competition, people with intellectual disabilities benefit physically, mentally and socially; families are strengthened; and the community at large, both through participation and observation, is united in understanding people with intellectual disabilities in an environment of equality, respect and acceptance.
The Big Day
March 4th, 2016. Our team was buzzing with excitement before heading over to Thomas Beach at Lake Calhoun in Minneapolis. As this was our innagural plunge – there were so many unknowns with one very clear known: we'd all be jumping into a frozen lake! Upon arrival for the Corporate Hour jump slots, we moved through check-in super quickly and found ourselves in the reception tent with a DJ playing great music, free pizza & popcorn and a beverage tent serving Surly, cider and wine. It was such an awesome highlight to see our mugs available for sale at the souvenir tent and the bar.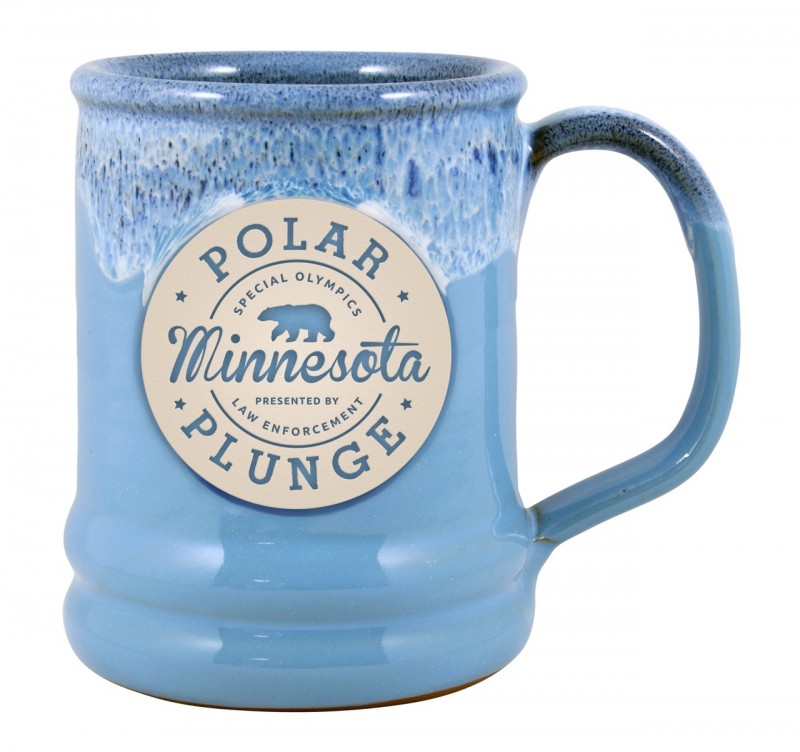 Once the our team was all present and accounted for, we posed for a few pictures and then headed into the changing tents. No turning back now! As if fueled by pure adrenaline, we were shepherded out onto a dock next to the OPEN WATER. As you can see we were all dancing around like little kids (see the last sentence about adrenaline!):
If moving toward the dock went quick, the actual moments right before plunging went even quicker. Yes, the water was cold, but with the excitement of the emcee and the energy of the event, it was so easy to jump right in as if it was a warm June day. The still shots really capture a collective mix of terror, joy, and fun on our faces.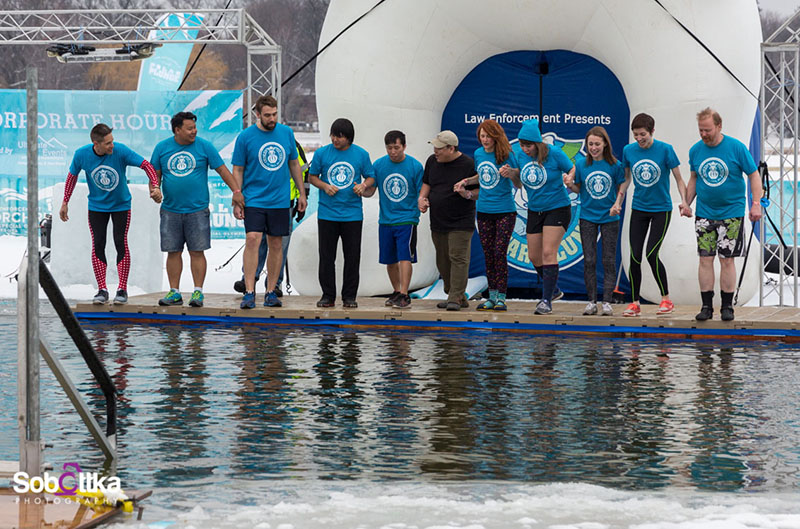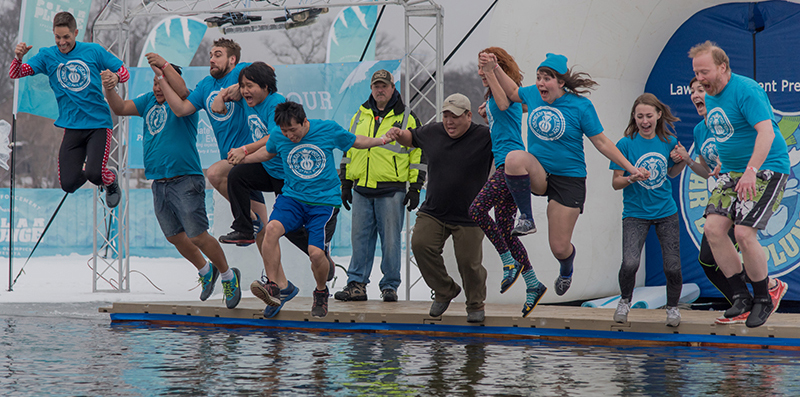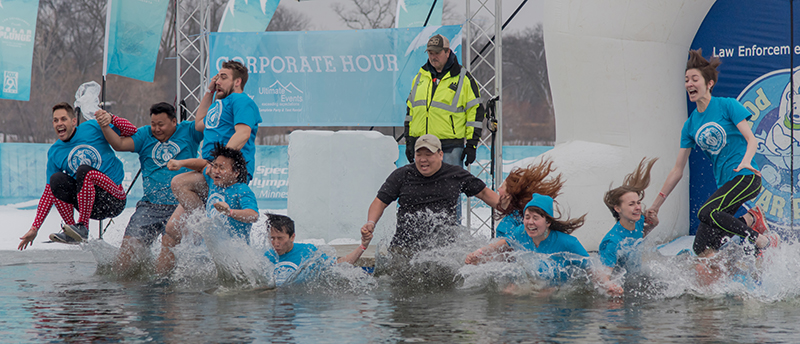 Thankfully, after getting out of the VERY cold water, we were all reunited in a 90ºF warming tent which kinda took the chill away. The enthusiasm for the event and a wonderful sense of accomplishment washed over us. What a cool thing we all just did! Believe it or not everyone in this picture has committed to doing it again in 2017 and we'll definitely be bringing more folks from Deneen Pottery to join in the fun!
SOMA is such a top notch organization and our collaboration on mugs opened the door for an experience like no other. We all had such a blast and, in doing so, were able to raise money for Special Olympics – what a win/win!
Directly from the Plungers and Pledgers
"I couldn't plunge with my Deneen co-workers, so I pledged online – so easy! And a fun way to be connected to the event." Kristen
"As you can see from the photographs, I was petrified! I had no idea we'd be jumping into the lake so quickly and I was still in shock as I fell off the dock. That being said it was SO MUCH FUN!! I loved the energy of the event and had a blast bonding with my co-workers. Ready to do it again next year!" Emily
"I dunked, I danced, and I might have swallowed some lake water! Next year I'll remember an extra pair of socks! Great people!" Sara
"I loved all of the energy and excitement at the Polar Plunge! It was such a fun event for an amazing cause!" Kim
"It wasn't the first time I'd jumped into a frozen lake…but usually I'd be in a sauna for a few hours prior. Plunging cold-turky is another story! Yikes! Great fun! Great cause! I'll be back next year!" Ina
Thank you for reading our blog.
Niles Deneen – CEO