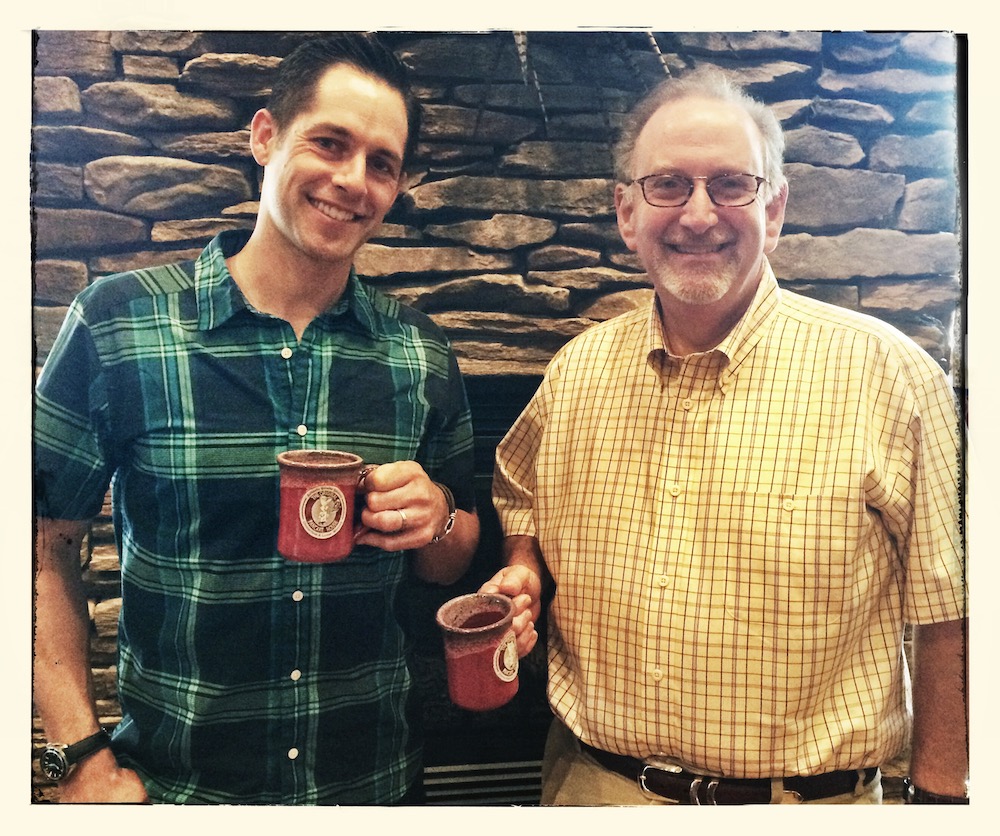 Customer Spotlight: Original Pancake House
Glaze:
Industry: (We work with many different industries)
The term, "hall of fame," is synonymous with excellence. Those lucky enough to call themselves a "Hall of Famer" — whether it's for the Rock & Roll, the National Baseball, or Pro Football Hall of Fame, has influenced their sport or respective industry considerably.
Now, there isn't a hall of fame for breakfast, but if there was one, The Original Pancake House would certainly be a first-ballot inductee.
Since 1953, The Original Pancake House (OPH) has served up some of the best, authentic, homemade breakfast you'll ever taste. We're proud to have worked alongside many of their locations across the country and have provided them with our own handmade, high-quality mugs for them to use and sell in their restaurant.
It's the perfect pairing — their homestyle, expertly-crafted breakfast dishes and our handcrafted mugs. It just makes sense that we should work together and we have been for a number of years.
Today, we're highlighting OPH in our customer spotlight. So, to kick things off let's talk about the history of OPH and what makes them one of the top breakfast stops in the country.
The History of the Original Pancake House
The first-ever Original Pancake House was founded in Portland, Oregon in 1953 by breakfast aficionados Les Highet and Erma Hueneke (we like to imagine that the lumberjacks and loggers of Oregon flocked to the OPH prior to starting a long day of work in the forests of Oregon).
Drawing upon their many years of experience in cooking and extensive knowledge of both national and ethnic pancake recipes, Highet and Hueneke were able to create one of the most unique and original breakfast menus which has since gained national acclaim and praise. Today, OPH has more than one hundred franchises scattered throughout the country, from coast to coast.
Of course, if you truly want to be successful in the restaurant business these days, it's important that you use high-quality ingredients that don't compromise taste. OPH is well-versed in this, however, as their recipes demand only the very finest of ingredients (i.e. a 93 score butter, pure 36% whipping cream, fresh grade AA eggs, hard wheat unbleached flour, and their own recipe sourdough starter).
OPH also has a fantastic signature item, as their Apple Pancake is one of the best flapjacks you'll ever taste. Smothered in sautéed apples and cinnamon sugar baked to perfection, the Apple Pancake possesses a deliciously rich cinnamon-sugar glaze.
Oh, and not to mention all their syrups — including maple, blueberry, mixed berry, apple cinnamon, and tropical — are all created daily in their kitchen.
Is it just me or is your mouth watering too?
Menu items like this are what sets OPH apart from other breakfast oriented-restaurants.
Original Pancake House Deneen Pottery Mugs
As mentioned before, teaming up with OPH was a no-brainer, as both ourselves and OPH are family-owned businesses that pride themselves on delivering the best possible product to their customers.
When choosing a logo for the mugs, the decision was fairly obvious. OPH has a historic and awesome logo that fit perfectly with our mugs
Having your own personalized mug for your restaurant is one of those small details that can have big implications for your business.
So, if you're still using generic mugs for your restaurant we're here to help you upgrade not only your look but also your customer's experience. It's true what they say – coffee does taste better out of a mug made by hand!
The durability question answered by Gordon Manus.
Here's where I'd like more on visiting Gordon's two locations in Chesterfield and Ladue… In 2014 I made a surprise trip down to meet Gordon, unannounced. His manager at the time said that he is always in for a Saturday meet up with a group of friends so I booked a ticket down the Friday night before and walked in to meet him for the first time on May 31st.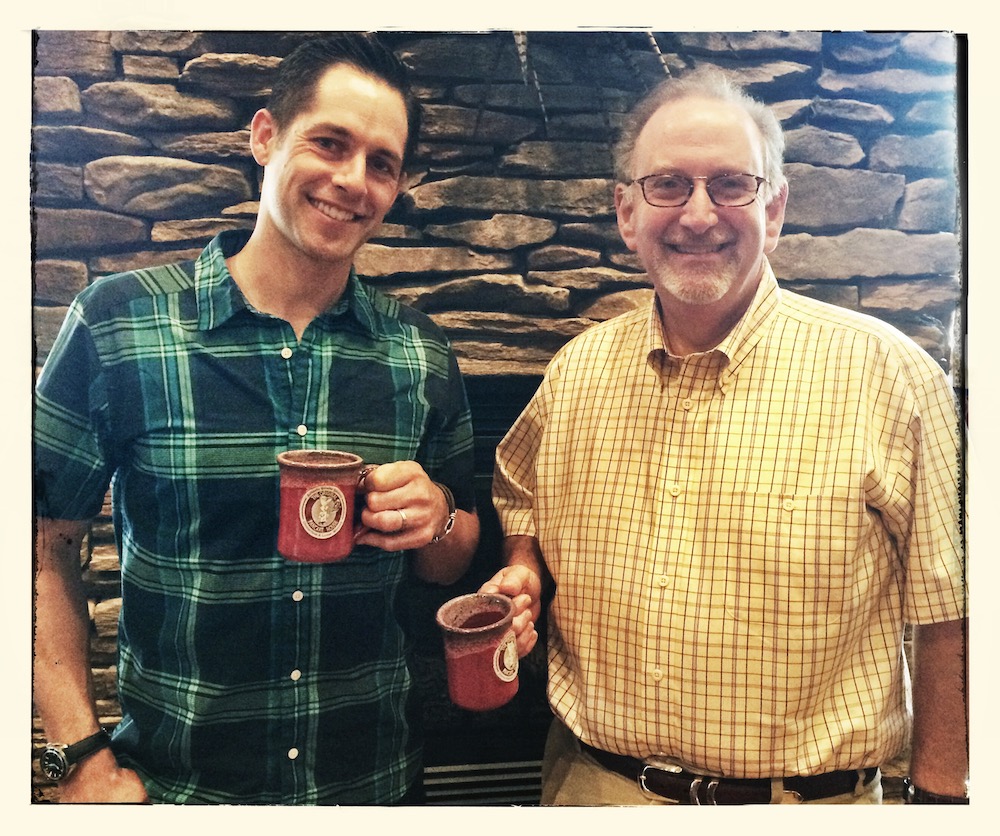 It was astonishing how much his restaurant had in common with our pottery. "Take care of your people and your people will take care of you," is something that I seem to remember Gordon saying. You have an opportunity to share your quality with each guest resonated with something my dad has been saying for years – we're only as good as the last mug we ship. It's a daily dedication to perfection that is the heartbeat of our companies.
In a recent call with Gordon I asked him how the mugs were holding up, "they're great, as I've told you before we break WAY WAY WAY less than the inexpensive mugs we had before we started using yours." Because we stamp the year each mug was made on the bottom, Gordon and I thought it would be fun to see what the oldest mug he had in use.
Here's the picture – one of these is from 2019 and the other is from 2012. Can you guess which is which?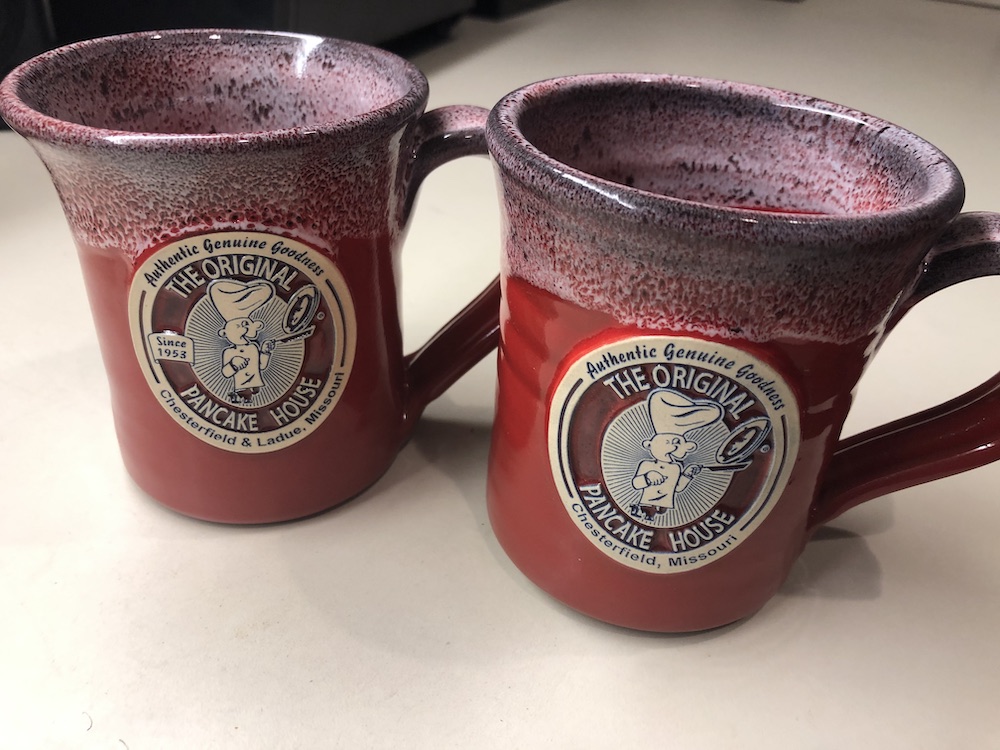 "Your mugs are extremely durable and I love seeing them on our tables. Our guests love using them and I sell more than enough to cover the costs of shrinkage or breakage… And you know the saying – in restaurants, if you're not breaking you not busy!"
Looking to Add Some New Mugs to Your Restaurant or Business?
If you noticed that your plain old white mugs aren't cutting it anymore at your restaurant, then it's time to upgrade to a Deneen Pottery mug today.
In addition to adding some color, personality, and originality to your tables, your new mugs will make for an excellent item to sell to patrons as well. That way, they can take a little piece of their favorite restaurant home with them.
Make sure to check out all of our available mug styles to see which colors and glazes you like best and we'll work with you to find the perfect emblem or logo to fit onto your new mugs.
And, don't forget to look at our specialty mug styles as well as our tankards if you're looking for something a little different.
Contact us today to get started!
We look forward to hearing from you and helping you craft the perfect mug for your business!