Mayor Chris Coleman at Deneen Pottery
Glaze:
Industry: (We work with many different industries)
We've been saying that our mugs are touched by 24 pairs of hands and now we can say that our company was touched by greatness. On Tuesday, Mayor Chris Coleman (and three key members of his staff) stopped by for a tour and conversation.
As our family business continues to grow, we now occupy 16,000 square feet and have 52 employees, our place within the community is also changing. Instead of just a mom and pop shop that makes hand thrown mugs, we are embracing our role as a noteworthy and successful manufacturing company based in lovely Saint Paul, Minnesota.
As tours go, we start in the mold shop and move through the production process following the mugs through the bays of our building. We budget the most time at the potters area since this is where the most dramatic and dynamic change happens as lumps of clay are turned into pots. Potters can be a chatty bunch, especially my uncle John, as he usually asks, "Wanna give it a try?"
Guess who said YES…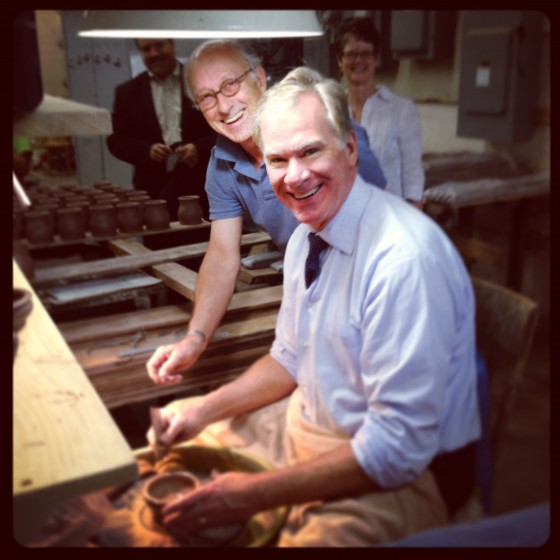 John was surprised at Mayor Coleman's response and immediately got up after just throwing down his next lump of clay. Being the 'helpster' that I am, I sat down and centered the clay. One thing that I know for sure is that you will have NO CHANCE at making a pot if your clay isn't centered!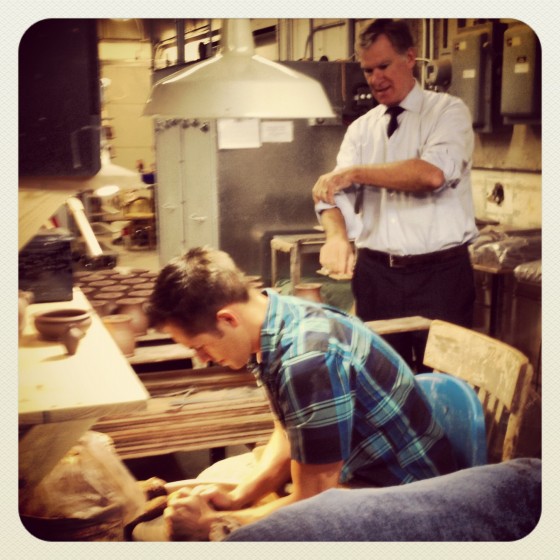 Jacket back on and more things to see, and try. Here Mayor Coleman is back in action as he gets a 'handle' on another area of production!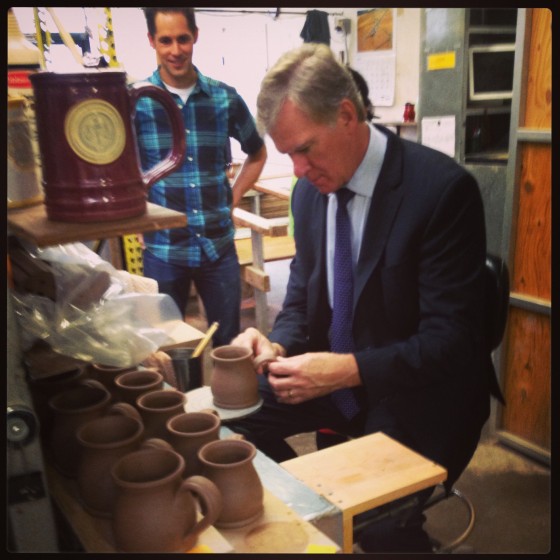 The tour ended with a wonderful question and answer session in our conference room. Watching Dad rap with the Mayor of Saint Paul made me realize that he is more than just a potter, he truly is an amazing entrepreneur, and that OUR business really is something special.
Thank you for reading our blog!