Making Mugs – Makes the Papers!
Glaze:
Industry: (We work with many different industries)
For second chance, St. Paul potter aimed small

By Nick Woltman of the Saint Paul Pioneer Press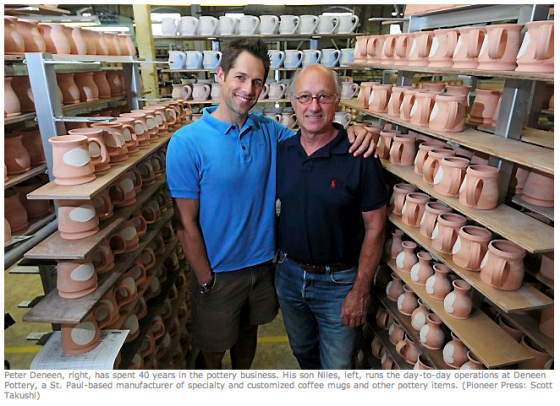 Peter Deneen says bankruptcy was the best thing that ever happened to him.
After building Deneen Pottery — a $1 million-a-year business — from scratch, Deneen lost the company to his bank in 1988. But he got a second chance in the early 1990s and determined to keep it small and safe.
With the help of his wife, Mary, and his son Niles, Peter Deneen's new Deneen Pottery brings in triple the revenue of its precursor.
"Without the bankruptcy, I wouldn't be where I am today," Peter Deneen said. "It took me many years to look back and realize that."
Deneen started throwing pottery as a student at Luther College in Decorah, Iowa, in the late 1960s. When he moved back to his native St. Paul in 1971 after graduating with a master's degree in pottery, he decided to open up a small pottery shop on Park Square Court in St. Paul's Lowertown.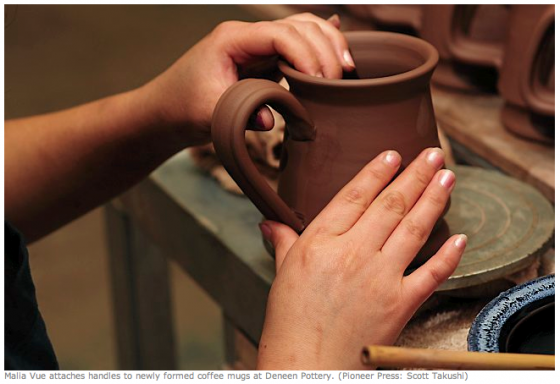 Although he had no business experience, his skill at the potter's wheel propelled Deneen Pottery to early success. After about 15 years in business, he oversaw 40 employees and his company was doing about $1 million in annual revenue.
The bulk of that revenue depended on a handful of large, corporate clients. Companies would order thousands of units of clay goods emblazoned with their corporate logos.
Deneen's signature invention — an innovative plastic molding technique that allowed him to stamp custom art into clay — made it easy for the company to imprint a logo or a photo onto clay medallions that could be attached to a number of vessels.
The company even filled bulk orders for other pottery companies that would sell Deneen goods alongside their own.
One of these pottery companies defaulted on a $50,000 payment in 1988 — only a couple of years after Deneen made an expensive move into a new building. This sent Deneen's company into bankruptcy.
"We didn't have the cash to pay the rent or meet payroll," Peter Deneen said. "We had just gotten that place rolling when they turned the lights out on us."
After Deneen Pottery was seized by the bank, its assets were sold. The new owner moved the business to Hayward, Minn., and reopened it under the name Heritage Designs. When he offered Deneen a job, Deneen gladly accepted.
"I was excited at the opportunity," Deneen said. "When you don't know where your mortgage payment is going to come from and someone offers you a job, that's a good thing."
But that also put Deneen in the position of working for the person who bought the company he built.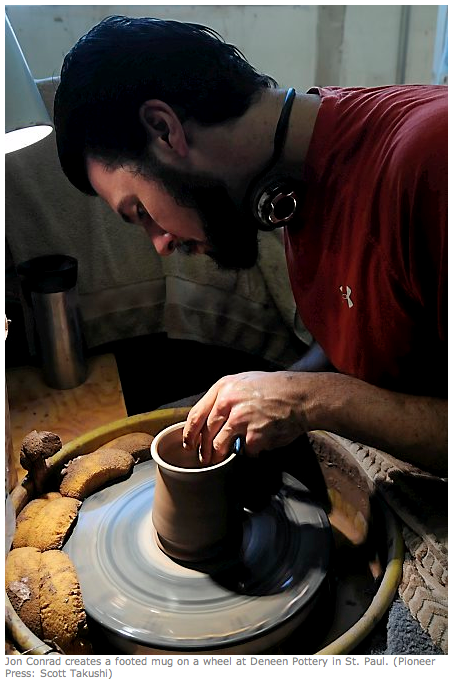 Things changed in 1991, when an acquaintance of Deneen's, Dave Krech, put his kiln up for sale. Deneen's boss asked him to travel to South St. Paul to negotiate its purchase on behalf of Heritage Designs.
Deneen did negotiate the sale of the kiln — but it wasn't for Heritage Designs.
"The day I went to go negotiate the purchase, I decided to quit," Peter Deneen recalled. "I said: 'Dave, will you sell me this kiln? I want to start over.' I told him I couldn't pay him right away, and he said: 'Sure. You take it and I won't have to pay to store it.' "
With his new kiln and little else, Peter Deneen was back in the pottery business. But this time, he was determined to keep it small.
"I'd rather spin pots and sweep the floor than be president of a big company," he told the Pioneer Press in 1991.
Deneen did $150,000 in revenue that first year. In 1992, he moved the company from University Avenue into less than 5,000 square feet at the corner of Endicott and Bradford streets, where it is now.
The business did well, relying on small orders from hundreds of clients — avoiding the trap that Deneen fell into in the late 1980s. It wasn't until his son Niles came on board in about 2005 that the business really started to grow, Peter Deneen said.
The company's mugs were already popular with bed-and-breakfasts, which had their photos emblazoned on them using Peter Deneen's stamping technique. But Niles began marketing Deneen Pottery's wares to other industries dominated similarly by small businesses.
With Niles in charge of sales, the business enjoyed about 20 percent annual growth until 2009.
The most recent recession hit their small-business customers particularly hard. Peter and Mary Deneen were forced to sell their house to keep the company afloat.
"Our phone just stopped ringing," Niles Deneen said. "It was really lean."
Business picked up again by 2010. So much so that Peter Deneen — eschewing his earlier philosophy of keeping things small — began looking for a way to increase their production capacity to keep up with demand.
It came down to the kiln. The kiln he'd bought from Krech in the early 1990s was too small to handle the company's needs.
"Dad was seeing that this was the bottleneck," Niles Deneen said. "Unless we got another kiln, the business wasn't going to grow."
The next year, Deneen plunked down nearly $200,000 for a new kiln.
The company now turns out roughly 5,000 mugs a week. These mugs, which come in a dozen varieties, are its most popular offering. Each one passes through 24 pairs of hands.
The company's employees work at stations that were custom designed by Peter Deneen. Only the kilns come direct from a factory.
The volume of orders is still keeping them busy. If a customer called in an order today, Niles Deneen said, it would take the company 10 to 12 weeks to ship the mugs.
And they're quickly running out of space. As other tenants have moved out of their building, Deneen Pottery has snapped up the surplus space. The company now rents about 16,000 square feet of space. They've made more than $200,000 worth of improvements over the past year alone.
Although a new building seems like an easy answer, Peter Deneen is wary of the cost involved with moving the company again.
"He doesn't like the idea of moving," Niles Deneen said. "But if we continue to see the growth we've seen over the past three years, then a move is inevitable. There just is not enough space here."
And as Peter Deneen begins to scale back his role in the business, these decisions will increasingly fall to his son, who is determined to keep the company forward-looking.
"As Dad is slowly stepping down, I'm starting to realize that you can't just watch your feet as you're walking," Niles Deneen said. "You have to look up sometimes, too."
___________________________________________________________
Learning from your mistakes can provide the best of lessons. I have heard some of the tales of our great fall in the late 80's but working with Nick and Dad on this story painted a much more detailed picture. Watching Dad smile through this, and his calm though the Bankruptcy was unbelievable. He is an inspiration and wonderful leader, I feel privileged to work with him each and everyday.
Thanks for reading our blog!
Niles Deneen