Logo Mugs recognized in Austin, Texas
Glaze:
Industry: (We work with many different industries)
Logo mugs are what we love making, and hearing from friends when they see our work is a highlight. On November 1st I received an email from a good friend named Herb Dickson after he and his wife, Sandra, ate breakfast at Another Broken Egg in Austin, TX. "When the waitress brought our coffee at breakfast Saturday, Sandra and I both looked up and said 'Deneen Pottery' at the same time."  I first met Herb four or five years ago when I attended the Texas Bed and Breakfast Association conference. At that time Herb was the Corporate Administrator who recognized the importance of his vendor partners. Although Herb is retiring on January 31st, I am sure we'll be hearing from him again sometime soon.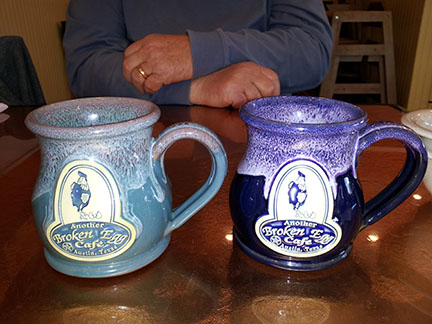 "The waitress was surprised and wanted to know how we knew about the cups and we told her of the B&B world." It is true that making mugs for B&B is the backbone of our company. In fact the first customer that my dad had after we restructured in the mid 80s was the Rosewood Inn, in Hastings, MN. The innkeeper, Pam Thorson, is still ordering mugs from us and her last order was shipping in August of this year.
As pictured the round belly mug is not only a favorite of our B&B customers, this 10 oz style has become very popular with our restaurant clients as well. The compact size, tapered top, and perfect design make this mug durable and keeps coffee hot or as Herb stated, "Coffee never tasted better".
We'll miss you Herb at the next TBBA conference, thanks for sending the picture and good luck in your future endeavors!
Thank you for reading our blog,
Niles Deneen – CEO, Marketing
Deneen Pottery