Logo Mug Surprise for a Special Collector
Glaze:
Industry: (We work with many different industries)
As our family business (of making logo mugs) continues to grow, stories from innkeepers about 'mug collectors' are happening more often. Typically 'mug collectors' remain mostly anonymous to us as they visit properties and purchase mugs. Dad, from the beginning, has always hoped that because of our quality, attention to detail, and our love for our work, that our logo mugs 'could' be collectable.
With this blog it is now clear that in one household for sure, my dad's dream is a reality, and for that I would first like thank Lauri Kapusta and her family. Your collection and appreciation for our handmade mugs is simply AMAZING. It is a privilege and an honor to have you as a collector of our work, and as an ambassador of our company!
—————————————————————————–
It was in February of this year that we were first contacted by Gary, Lauri's husband, who was interested in coming up with a special order of handmade logo mugs.
"We have our 25th wedding anniversary coming up in 2012 (October 17th) and I'd like to surprise [my wife] by buying her mugs for the event that she can share with our friends and families.  It appears from your website that you might be able to accommodate such a request" Gary wrote in an email. Typically we shy away from such orders since the possibility of a reorder is low and the costs to create the artwork and mold are quite high. Gary included this bit which had us wholeheartedly jumping at the chance to work with him. " My wife may well be one of your biggest fans."
Gary continued by qualifying what a "biggest fan" Lauri was.  "Thus far, she has collected ~70 of your coffee mugs from ~15 different states (see below) and she uses them on a daily basis (different ones each day).  Every time we go on vacation, she makes me or our children pull up the "Find Your Next Mug" website, and she'll often make us go miles out of our way to either stay at a bed & breakfast that carries your handmade mugs, or just stop in to take a picture and buy a mug."
(Thank you for patiently going miles out of your way on your family vacations!)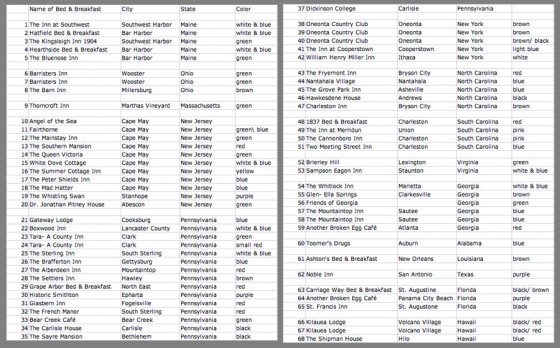 We worked on an idea for the design and confirmed the order when, out of the blue, Lauri contacted us separately about having an order made up for a completely different family event, "our party is Memorial Day weekend. It is actually a graduation party with 5 graduates in the class of 2012 from our family!"
Oh how difficult it was to keep this a secret especially when Lauri, for the first time, told us directly about her passion for our mugs "I really am one of your company's biggest fans. I purchased my first mugs from (The Settler's Inn) in PA to give as favors for my son's first birthday 14 years ago. I was so impressed with your product I sought them out with a catalog you folks sent me. I now use the Internet whenever I travel our family goes "mugging" to explore B&B's and get a mug as a keepsake."
I wanted to blog about this back then, just to talk about Lauri and this new term, "mugging", but felt so wrong especially since I had to reply with a message that basically read "our production is far too backed up and that the timeframe would make it impossible on such short notice." The least that I could do was to send her one of our 40th Anniversary mugs… A week later Lauri sent this message and picture:
"Niles, thank you ever so much for the 40th Anniversary mug!  Attached is a picture of my collection. They are stacked two deep but handy and a conversation piece in my kitchen. We are finishing the wine and coffee bar and I will send another picture when we are done. You should be very proud of the company your family has grown and the simple joys it gives to others!  Hopefully I will inspire others to go mugging too!"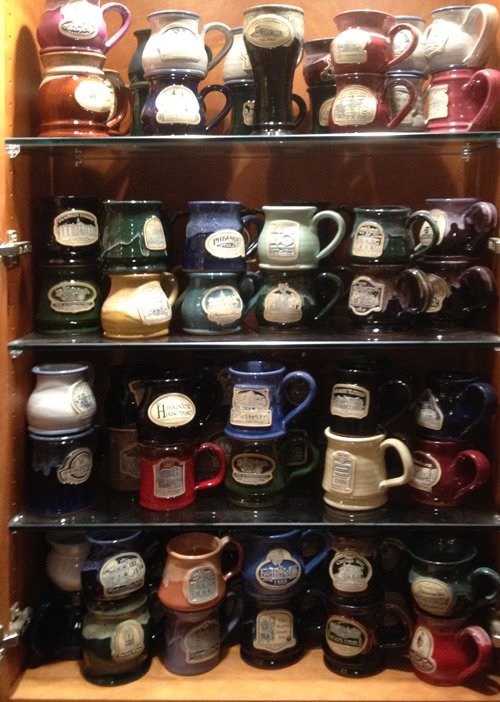 To keep Gary in the loop I forwarded Lauri's email to him. "I'm sorry to have gotten you both in the middle of this – I told you that she very well may be your biggest fan!" Gary wrote back and asked if we could move up his Anniversary order from October to Memorial Day. YOU BET – we all agreed.
"She'd like to give them out as party favors to the relatives that are coming in from out-of-town. We're finishing off our basement as our 25th wedding anniversary gift to each other and, hopefully it will be completed by Memorial Day. She is putting in a coffee bar in the basement with display space for her 'mug collection' so this could work out perfectly."
The order was completed on time and to safeguard our subterfuge we shipped the mugs to a neighbor just a few days ahead of time and Gary made sure that the boxes were NOT LEFT OUT IN THE OPEN. We hoped for the best and didn't hear back until July 31st when Lauri sent this email:
"Dear Niles and entire Deneen Co Family,
A heartfelt thanks for making our graduation/wedding anniversary party a HUGE success. Our customized mugs and my extensive collection were so well received and the hit of the party!  I hold your company in the highest esteem and am an avid ambassador whenever I travel!  My husband got the 'most thoughtful, useful, and romantic' party favor and I was so excited to have my very own personalized mug!  The picture is of 3 of the graduates and the other picture is of Gary and I at the party with the mugs in the background. Sincere thanks to you all!"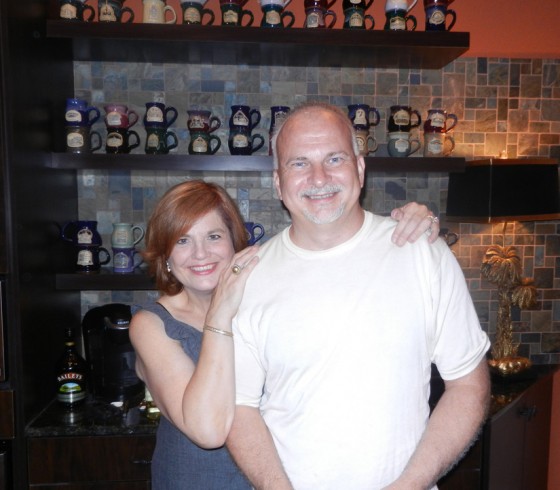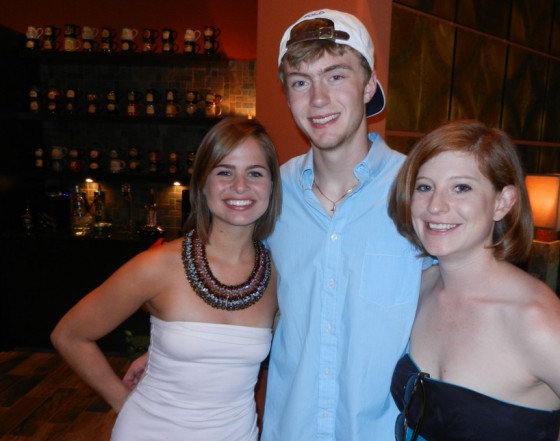 This marks the first time that we have ever worked in secret for such a special order. We recognize many of the mugs in this picture and look forward to hearing about the new additions as the Kapustas continue to 'go mugging'.
Congratulations on the graduation as well!!!
Thank you for reading our blog!
Niles Deneen – CEO, Marketing
Deneen Pottery