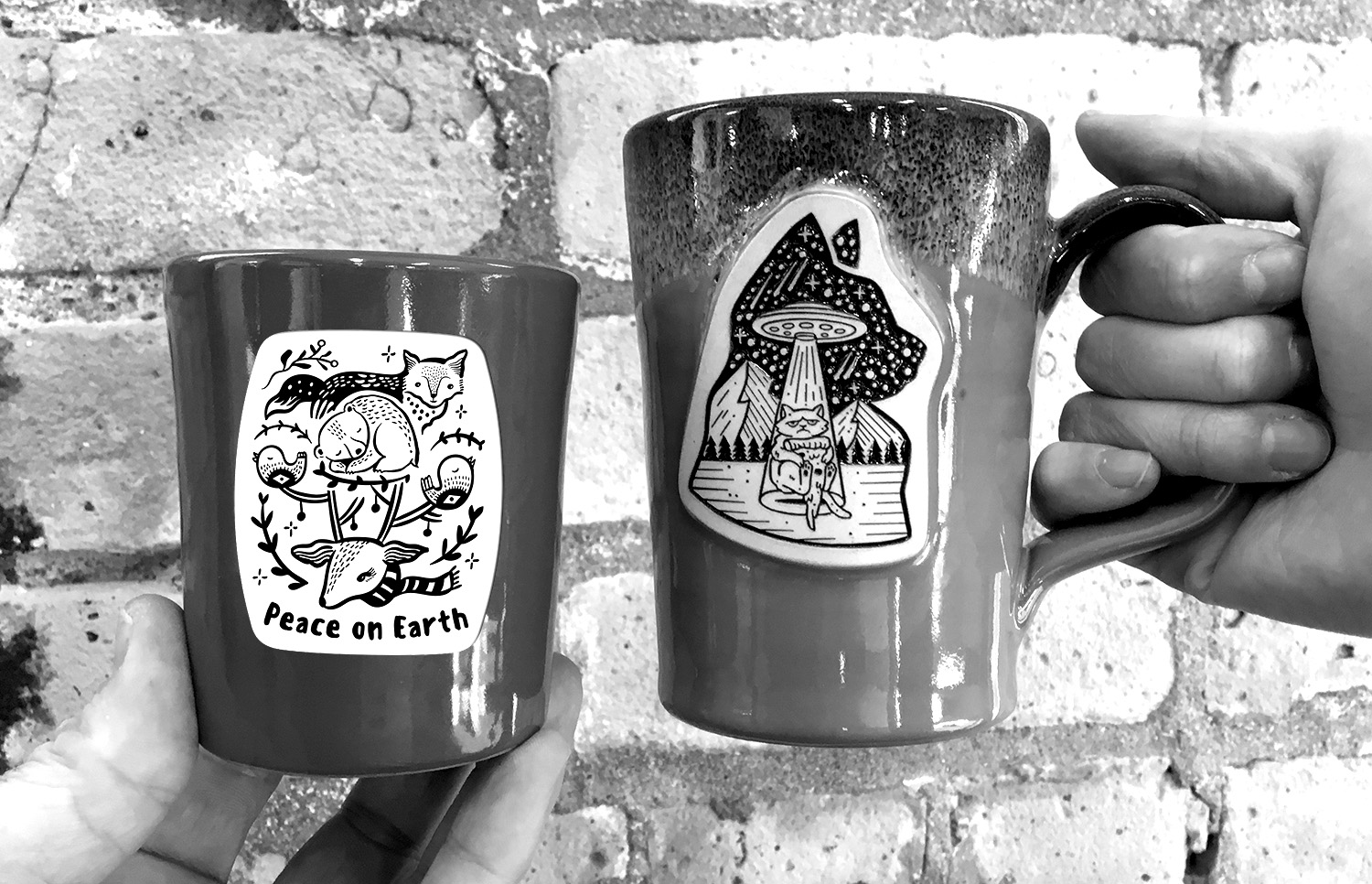 Illustrator Mug #6 – Wee Gallery
Glaze:
Industry: (We work with many different industries)
We are super excited to announce and share our next Illustrator Mug! For #6 we've decided to shift our direction just a bit as we introduce both a new artist and a new item! On December 6th we will be releasing our limited edition holiday inspired "Peace on Earth" design by Surya Sajnani from Wee Gallery on the Petite Tumbler!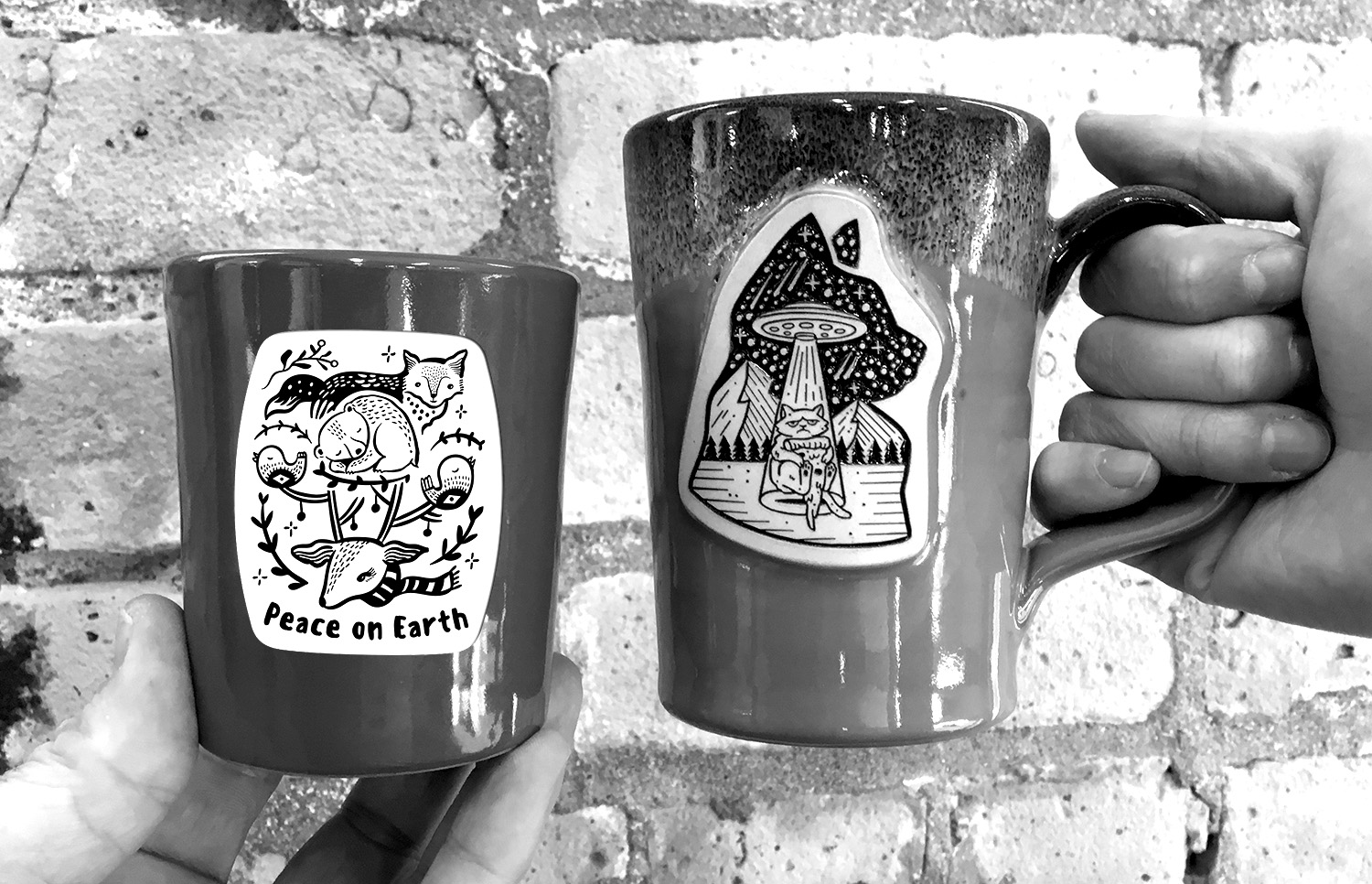 Discovering Wee Gallery
The two things that I find myself doing almost everyday:
1. Cleaning up after Theo and Eloise. 2. Looking at Instagram.
Like many households with kids we have our fair share of plastic. Ikea plastic plates and plastic 'reusable' Disney Star Wars and My Little Pony cups. What I like about these items is that they are indestructible. What my kids love about these items are the characters. What I don't like is that they are made from plastic! The more we wash them the less recognizable the characters are and the more the plastic starts to break down. For a while I thought of ditching the plastic for pottery, but without the right design I didn't think the kids would go for it.
So, when @weegallery came across my Instagram feed in May of this year, I was like – YES! Yes, these kid focused designs are brilliant, they are perfect for our process, and I know my kids will love them.
I immediately clicked through to the Wee Gallery website. The About Us page unfolded like a dream and I had a very good feeling that Surya, a graphic designer, and Dave, a teacher would be open to collaborating.
Surya was fantastic to connect with! Our first conversation bounced around between our love for our kids, what it is to be parents in today's world, and our love for things of beauty and quality. A connection was formed that quickly opened the door to exploring what a Wee Gallery • Deneen Pottery creation could look like.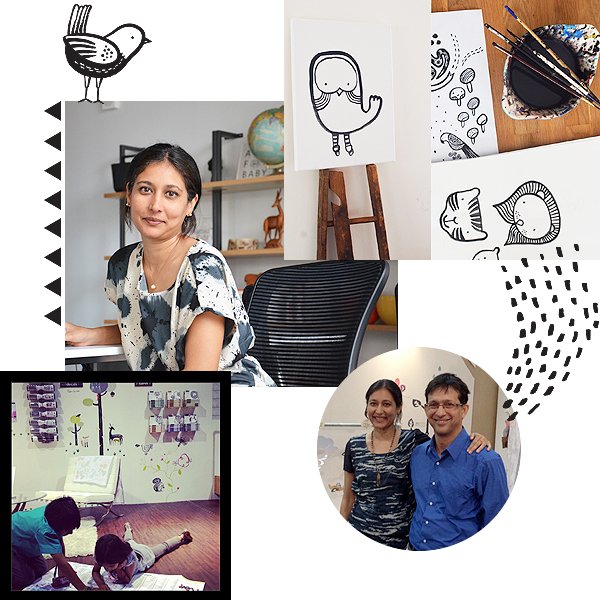 Here are the original concepts; the "Roaring" dinosaur and the "Believe in Magic" Unicorn.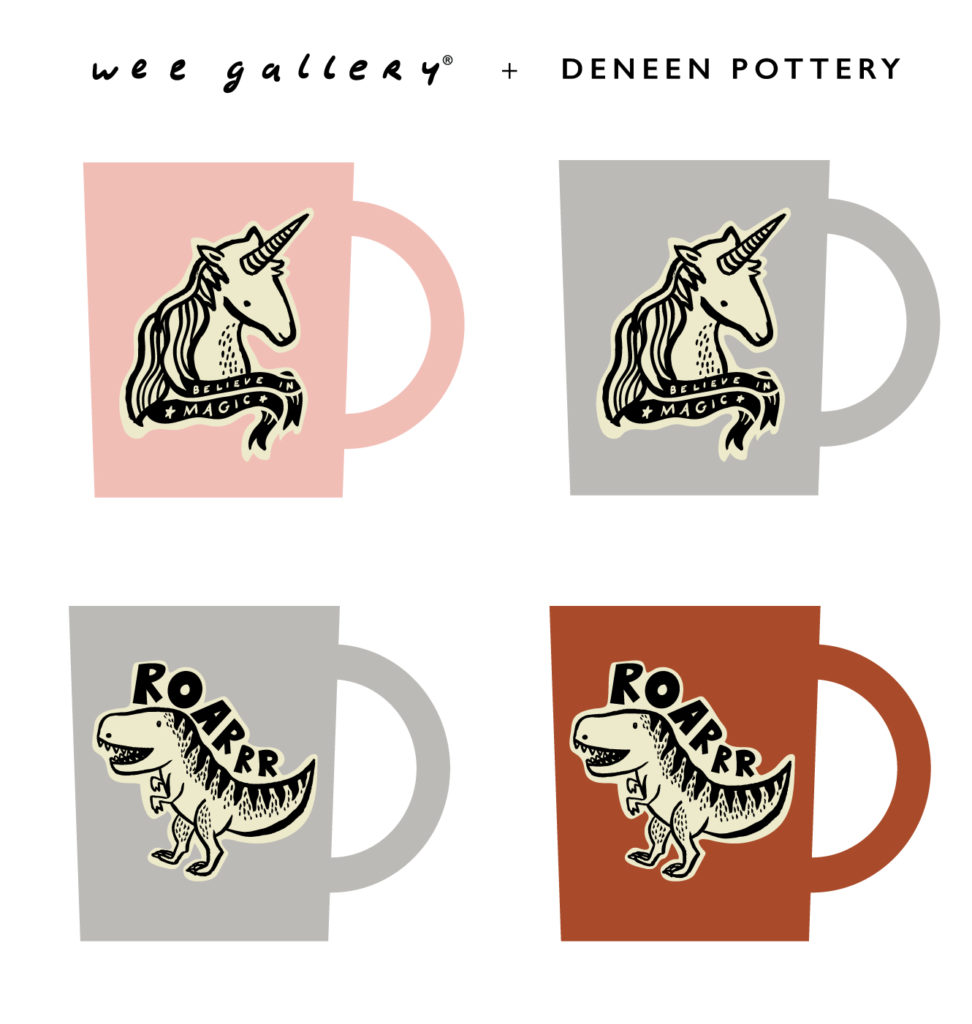 As soon as the first pieces came out of the kiln we were in LOVE with the result. Theo went mad for his T-Rex and carried it around for a week. Everyday, the Petite Tumbler traveled between school and home. "My dinosaur, my dinosaur – I need my dinosaur!"

We originally considered handles, but for durability we decided to move forward without them. Theo and Eloise have been using these prototypes for 5 months without either of the mugs breaking (knock on wood). We therefore feel confident to share them with the you. Cautionary message: these are high fired stoneware and, although they can take a beating, they are not indestructible. Lead free and food safe, each one is individually created by hand and with normal use they can last forever!
Peace on Earth
The timing and inspiration came naturally with the changing of the seasons. This is one of my favorite times of the year and it's even more magical to experience through the eyes of my children. While Thanksgiving isn't quite here, Christmas and Hanukkah are approaching fast. We thought more parents, like us, would LOVE to have a truly original keepsake to give the little ones in their lives this holiday season.
Toys for Tots
For each piece sold we will donate $1.00 to the Marine Toys for Tots in Minneapolis and Wee Gallery will be doing the same for Orlando's Toys for Tots! "When you donate to the Marine Toys for Tots Foundation, you are giving less fortunate children hope – and a reason to believe in their future." Know that with each tumbler purchased, you'll be contributing to those that are less fortunate. Thanks to your generous support, we'll have a donation of at least $1,000.00 for our local Toys for Tots this holiday season.
Release Date
The plan is to have 3 release times between 9am and 5pm on December 6th CST. The first 200 will be available in the morning, the second 200 around the lunch hour with the third and final release near the end of the day. Good news, we've made some upgrades to our store's bandwidth and we've finally created that cart!
More images coming soon
Over the next 3 weeks we'll continue to post in-process images as we follow the #weepeaceonearth Petite Tumblers through production. We look forward to sharing the joy that our work can bring and to celebrating this season focused on peace and harmony with you!
Sincerely,
Niles Deneen