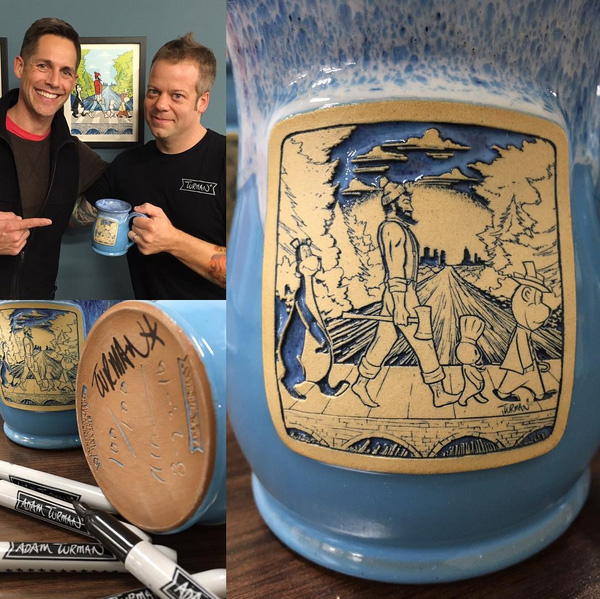 Illustrator Mug #3 – Adam Turman
Glaze:
Industry: (We work with many different industries)
For our #3 Illustrator Mug series we felt inspired to go local and almost immediately Adam Turman's name came up. If you are unfamiliar, please allow me to use the handle given to him by Minnesota Business Magazine from a 2014 article: "Turman is a captivating mash-up of dirty blonde Californian, tattooed badass, beefy mountain biker, and extroverted artist. He's like Dennis the Menace, grown up and gone good."
Adam is the epitome of a successful illustrator/artist/entrepreneur. I've actually been watching him create images since the late 1990s. Allow me to explain, Adam and I both attended the University of Minnesota where we studied Design Communications in the College of Human Ecology. Adam was a grade ahead of me in the program, a gifted juggernaut with just a touch more Dennis the Menace. He was easy to watch, inspiring to learn from and impossible to copy — which still rings true today.
Local Phenom

Since exiting college, Adam has literally been on a creative tear in the upper Midwest. It is almost impossible to live a day in the Twin Cities without bumping into his work.
His murals adorn local restaurants, buildings and brew pubs. Annually he produces numerous limited edition custom prints for everything from big events like "The Great Minnesota Get-Together" to smaller runs like Kramarczuk's annual sausage festival — one of our newest customers!
One of my favorites is the Butcher & the Boar's mural at the corner of 12th and Hennepin. I actually look forward to hitting a red light at that intersection simply for the fact that I get a chance to admire this ode to Minneapolis and the seasons of our great northern state. And let's not forget the super cool posters that he's done for concert venues like First Avenue in Minneapolis and the Excel Energy Center in Saint Paul.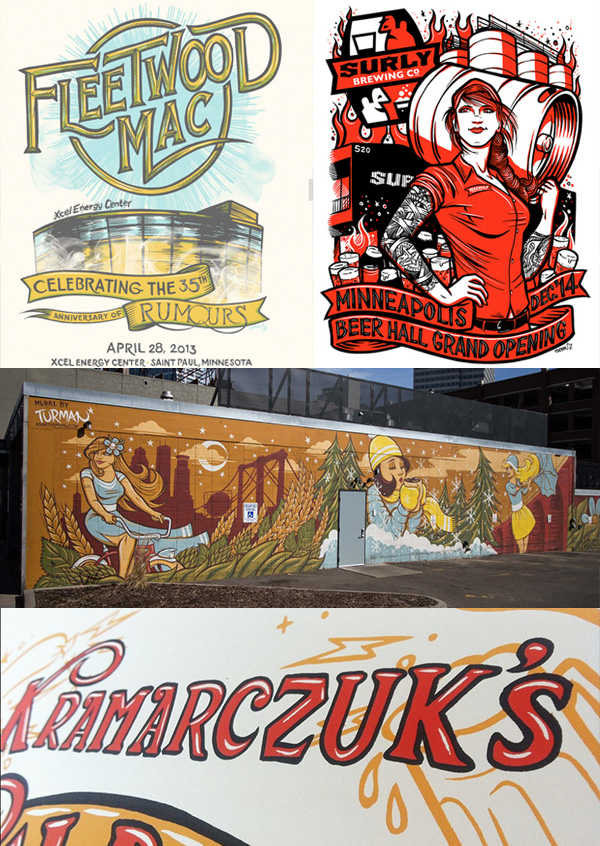 Adam also has a massive collection of prints that are sold throughout the cities and on his website. I specifically remember buying the print Enjoy the Ride and Eloise saying,"Minne Ha-Ha Falls, that's where we ride our bikes." "Yes we do Eloise, and daddy went to school with the artist that made this picture" I replied.
We often ride to Minnehaha Falls as they are just across the Mississippi river from our house. On our last visit, Theo did not want to return to the bike trailer and I found myself repeating – enjoy the ride, enjoy the ride, enjoy the ride. I realize now that part of what I love about Adam's work is his ability capture the precious moments of joy and color in our everyday lives. Enjoy the Ride is also very similar to Nathan Yoder's Enjoy the Process print which is what initially inspired the inaugural Illustrator Mug Series.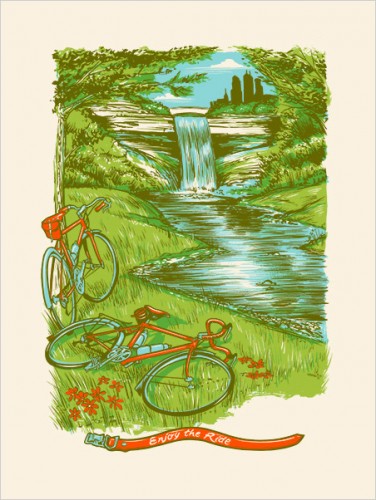 Obviously Adam was a perfect fit for #3.
Now how do we bring Adam into our world? The month was June and with a touch of nervousness I sent an email through Adam's site. I was brief and direct, letting him know of our shared past and that I had an idea to discuss. With his busy schedule I was astounded to receive these words back only a few days later.
"Hey Niles! Thanks for contacting us. Got your VM as well. Dude, your stuff is amazing. I love it. Beautiful, functional, etc. Awesome."
A few weeks later Adam arrived for a tour and the past fifteen years washed away in minutes. Along the tour we reconnected and reminisced about our fun times in McNeil Hall and our shared admiration for our work. What crazy paths we share in the business of handmade commercial art.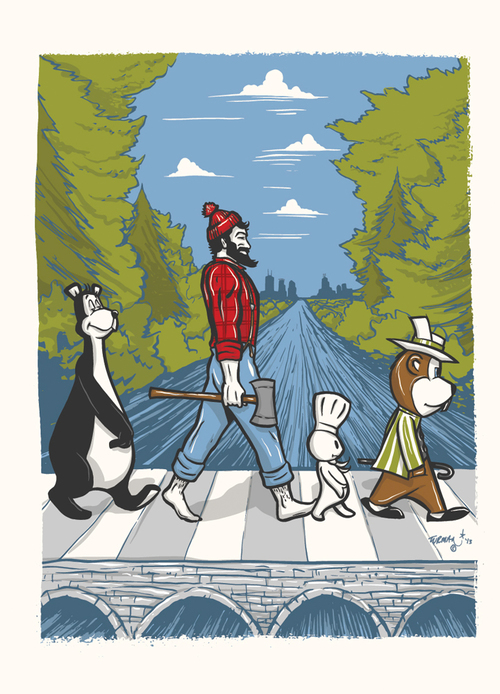 It was a tough decision to select the perfect image for run #3, especially considering the almost limitless options in Adam's portfolio. We knew we wanted to find a piece that would be popular with both his fans and ours, locally and abroad — so what better choice than the MN Abby Road. This print was originally done for the MN Beatle Project Vol. 5, a fantastic collection of Minnesota artists covering Beatles songs. Production went off without a hitch and the first limited edition numbered mugs were released for sale on Halloween.
The first 100 sold out in 5 days!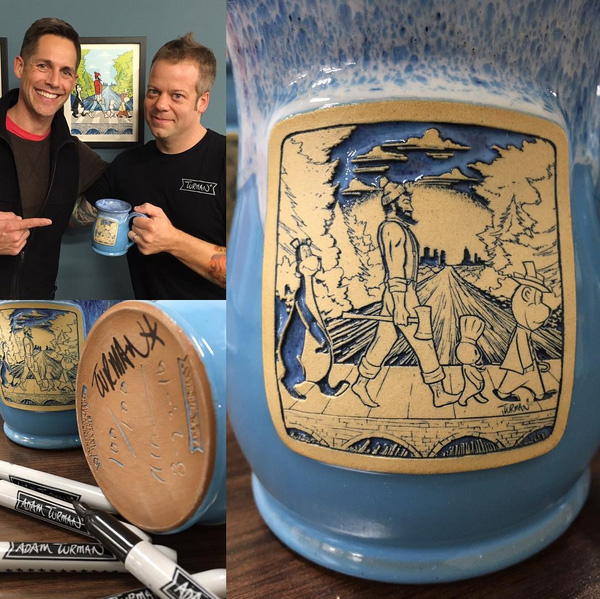 But wait, there's good news! With Adam's guidance and approval we are now offering an Open Edition run through the holidays. Can you say picture-perfect-stocking-stuffer five times fast? We are super excited about every aspect of this project, especially the time we got to share with Adam. Did we mention that he spent 2 hours with us signing the bottom of each mug? Yes, you heard right — the current mugs for sale are hand signed!!!
We are ever so thankful with the ongoing success of this series and hope you are too. Head on over to our web store and grab your signed mug while supplies last. The next run of this Open Edition will not have Adam's autograph.
Thanks again to Adam for working with us!
Niles Deneen