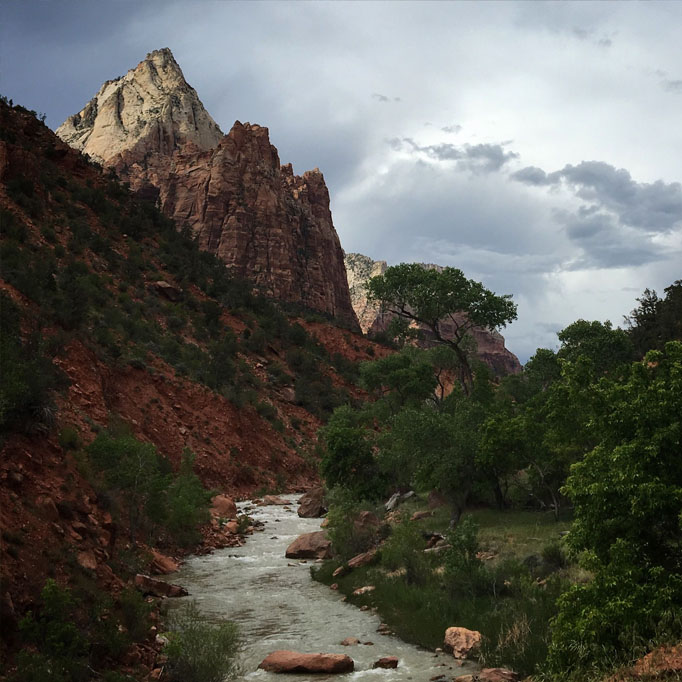 The Mighty Five National Parks of Utah – Zion
Glaze:
Industry: (We work with many different industries)
I'm super excited to share – with you – my journey on the trail to the Mighty Five National Parks of Utah (Zion, Bryce Canyon, Capitol Reef, Arches and Canyonlands) as well as show where you can find our handmade mugs at these awesome parks. Yes, that's right, you can find handmade Deneen Pottery mugs at each of these National Park Visitor Centers.
First off – happy birthday to our beloved National Park Service! 100 years! Wow! Inspired by this incredible milestone and feeling a desire to connect with some of our brilliant customers in Utah, I thought it was the perfect time to embark upon mission to visit the Mighty Five: Utah's National Parks. My whirlwind trip covered over 1,000 miles and allowed me to not only visit each of these amazing national treasures that we work with, but to also stop at a few other parks that we are hoping will have some Deneen mugs on their shelves in the very near future.
Why an interest in this particular journey to Utah? If you will allow me to digress…when I was in the 4th grade, my dad took me and my brother Owen for the "Deneen" version of a summer road trip. Instead of visiting and camping in National Parks, we went on a Renaissance Festival Tour. We would miss the last few days of school and head straight down to the Scarborough Faire in Waxahachie, TX for the final weekend in May. It was quite a bumpy ride in my grandpa's old VW Diesel Rabbit. Without a moment to goof around, we were put into service helping my Grandma Muriel (Dad's Mom) close up her Rock & Stone Shoppe and then pack up our pottery booth. Once the booth was packed up, Muriel would drive back up 35 to MN and we would take her Winnebago West and then North to Larkspur to finish out the run of the Colorado Renaissance Festival. Back in the day, a huge majority of our business was comprised of making and selling our handmade stoneware while wearing costumes. And actually it was only three years ago that we closed the books on our involvement at the Minnesota Renaissance Festival. Do I miss wearing the costume? No. Well, maybe just a little. Here's what I wore to both fairs back in the mid 80's.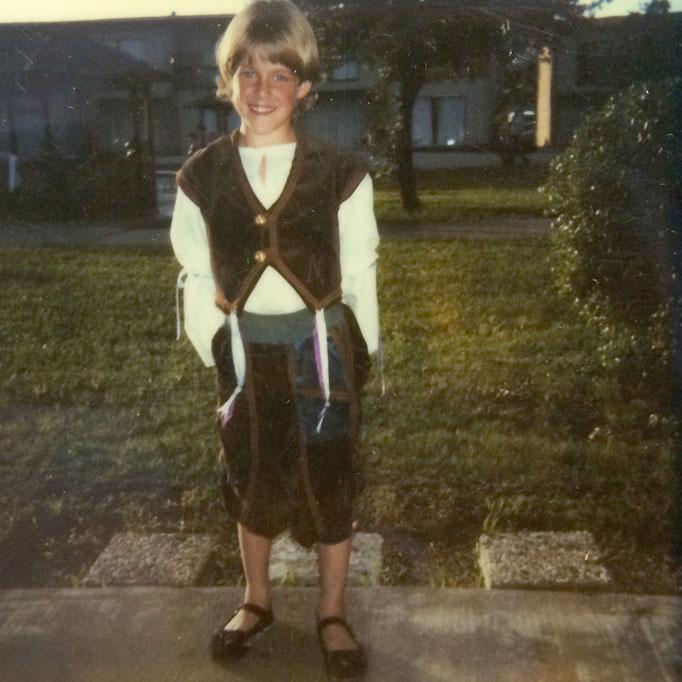 So when I had the opportunity to take this trip to Utah, it brought back a rush of memories from those renaissance festival circuit summers, especially the endless hours riding in the car and seeing a landscape of magnificence and diversity. Although when I was 10, we missed out on spending time in parks per se, we did get to see a ton of KOA's in that Winnebago (and yes, we did have our share of SPAM sandwiches). And this trip was a way to make good on a promise to my wife Annie. I told her that I would take time on this trip to do a little reconnaissance so that 'next time with the kids' we will have the absolute best trip ever! It might be a a few years until we are actually ready to recreate this trip, but I am sure that when we do the first three days will be in gorgeous ZION.
ZION
There are a number of great resources about visiting Zion, including this awesome site zionnationalpark.com that gives an overview of Springdale and Zion. To be honest, I went in with very little research and was following the address on my reservation at the Lodge at Zion for the address of Zion National Park. But once I arrived at the gate and presented my paperwork to the friendly Park Ranger, I was given directions to follow the shuttle buses into the park and took that opportunity to buy a park pass. Warning: if you are taking this trip, the road is reserved for guests of the Zion Lodge and the shuttle buses only.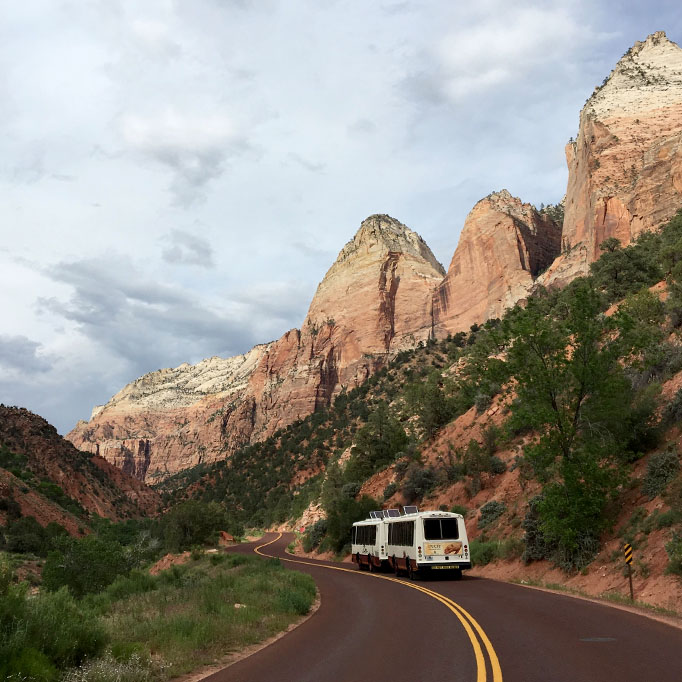 Almost immediately after entering Zion Canyon and seeing the towering cliffs on either side of the road, a feeling of deep calm and insignificance engulfed me. It's easy to understand how this magical place was established as Utah's first National Park in 1919.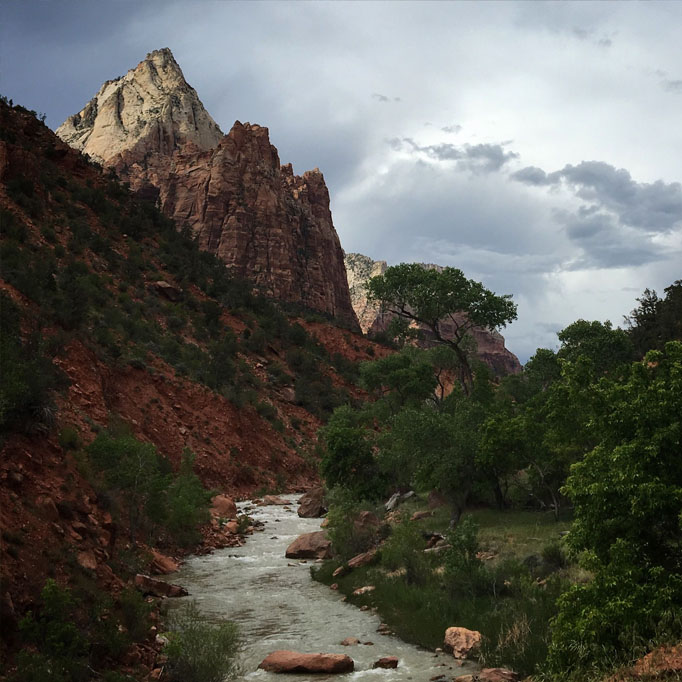 When I pulled into the parking lot and stepped out of the Dodge Pickup I rented (yeah, I've always wanted a truck…and this was a good excuse to pretend that I had one for a few days. Please don't ask my co-workers how many pictures I took of this truck.), I just kept turning around in circles while looking up at the massive walls of rock that seemed to stretch up thousands of feet above me. The air was still and the bird songs filled the air – this place felt very special.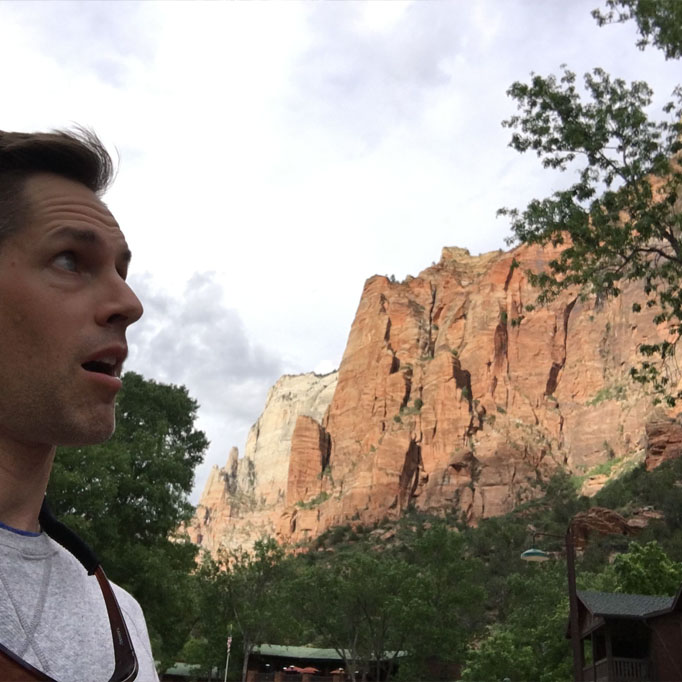 According to the Zion Lodge website, "The best place to enjoy a stay in the park is Zion Lodge. Listed on the National Register of Historic Places, Zion Lodge offers 76 hotel rooms, six suites, and 40 historic cabins, originally designed by Gilbert Stanley Underwood in the 1920s. After a fire in 1966, the lodge was rebuilt in 100 days with the top priority being to restore guest services. The lodge's original rustic design was sacrificed at the time but was restored to its original classic appearance in 1990."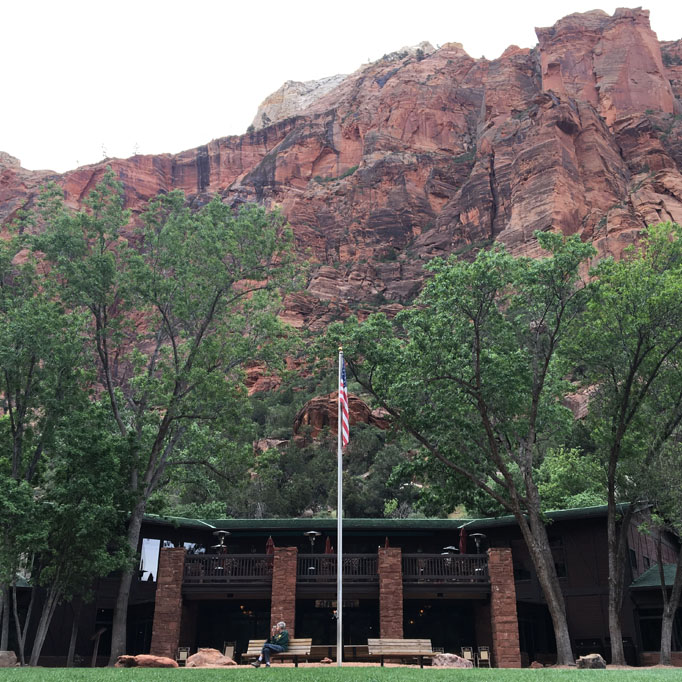 Without a doubt the Lodge was an amazing place to stay, especially since it was within the park. Below is a picture of the building I stayed in called the Sentinel. Luckily, it was right where I parked the truck and first stood tuning in circles! The accommodations were great and the only thing lacking was WIFI – but why would you ever want to connect with the outside world within such paradise?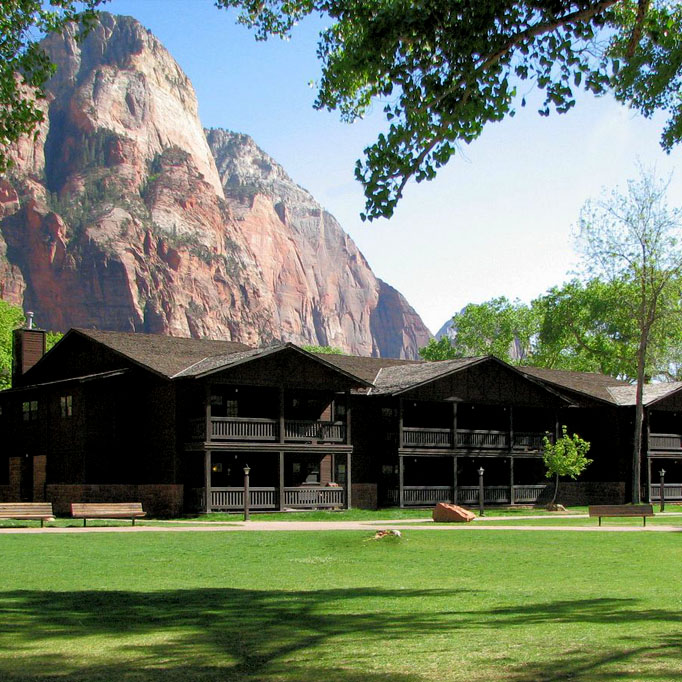 In the morning I had an hour to explore and knew I MUST take a hike. The kind and knowledgeable staff at the front desk suggested that I should see the Lower Emerald Pools and if I hurried I might have time to see the Upper ones as well. Since the round-trip time on this hike would be an 1 hour, with a total distance of 1.6 miles, I set down my coffee and off I went. The hike was incredible and in 50 minutes I was back at the Lodge and fueled up with a fresh cup of coffee for the road!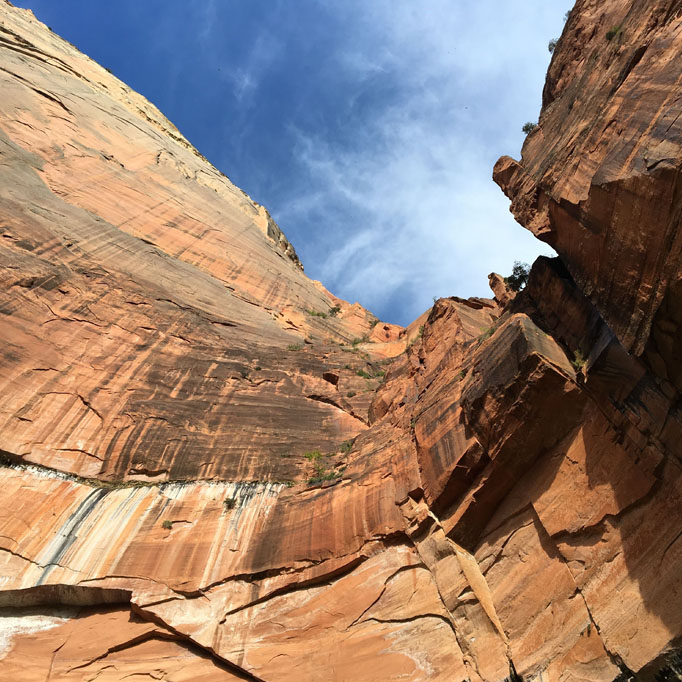 Feeling refreshed, recharged and albeit a little sweaty, I drove with the windows down over to the Zion Canyon Visitor Center to see the staff and check in on our collaborative handmade mugs. What a pleasant surprise to see them on the counter right inside the door! The Store Director, Operations Director – and a general force for good – met me just as I arrived. We did a tour of the store and had a moment to take a picture outside, with the Watchman in the background. Yes, the same Watchman that is pictured on the mug below.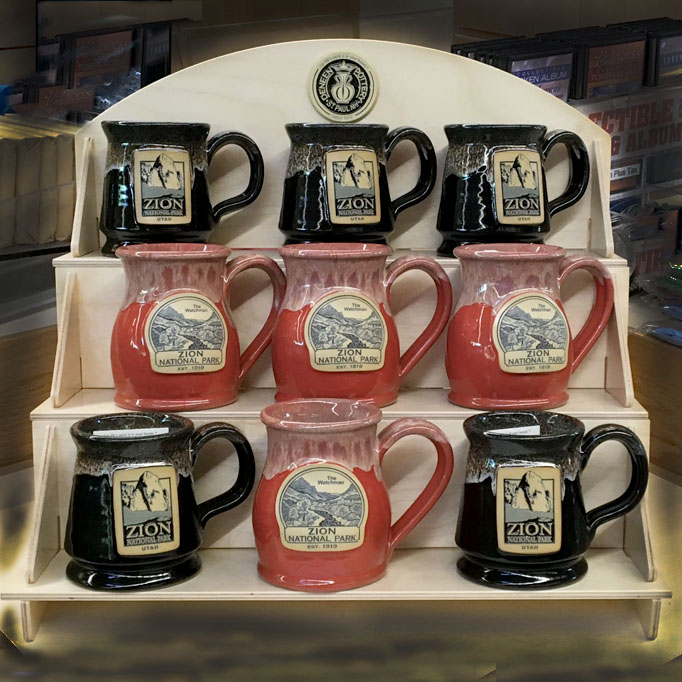 I had a quick meeting with the store staff and was able to tell them some of the fun facts about our family pottery company and our mugs. People enjoy hearing that not only is Deneen Pottery a family business started in 1972 by Mary and Peter Deneen in a two-car garage steps away from the mighty Mississippi River in Saint Paul, but that every single piece of stoneware that our skilled craftspeople make is entirely produced at our now large studio in St. Paul, MN. Our mugs start out as a lump of clay, which is then hand-thrown on a potter's wheel. Most amazingly, more than 24 pairs of hands touch each mug during the production process. While every piece is almost identical, because each is handmade, no two are exactly the same.
We absolutely love having a role in helping Zion Natural History Association in their mission to support Our National Parks and tell their stories. We believe that these parks are not only a tremendous resource, but an awesome global treasure that everyone should enjoy, learn from and visit! And of course, we hope that our products will be long-lasting keepsakes of the visits people make to these parks!
Stay tuned for my next stop (AKA blog post) along the Mighty Five National Parks of Utah.
Thank you for reading our blog!
Niles Deneen – CEO