First Snow of the Winter!
Glaze:
Industry: (We work with many different industries)
It's here, it's here!
The first snow of the year has fallen and as quickly as it came last Tuesday night it has already disappeared. But what a FLURRY of activity it's been inside the pottery: catalog #9 (featuring all of our handmade and wheel thrown stoneware) has been sent to all of our current customers, we scheduled a staff picture for our holiday card, and Dad is in Vermont at the PAII regional conference. If you were at this PAII show he was previewing our newest mug style – the Ramsey!!! Stay tuned for pictures and an official launch.
Until then, here's a quick picture from our newsletter (featuring my daughter Eloise) that was sent out yesterday!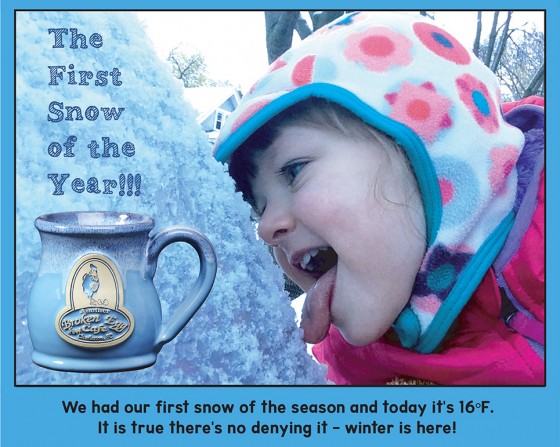 We had no idea how wintery the Powder Blue w/Blue White would be until the snow arrived…talk about a super cool color!
If you have any questions about our handmade mugs, our family pottery or Minnesota trivia just email.
Thanks for reading our blog!