Eloise's 1st B&B Stay – Captain Jefferds Inn
Glaze:
Industry: (We work with many different industries)
Most of the blogs that I write are about how awesome our handmade mugs are – this one has a different subject, our daughter's first stay at a B&B.
At the last National Innkeeping Conference sponsored by PAII, I mentioned to Sarah and Erik, owners of the Captain Jefferds Inn, that Annie and I would be coming to Maine right around Labor Day. "You have to stay with us," Sarah said. I shouldn't have been surprised because in 2005 I jumped out from our table at a B&B conference at the Mount Washington Hotel, and told Sarah, "you need to have our mugs!" We've been friends ever since.
Initially the plan was that just Annie and I would be coming and Eloise was going to stay home with Grandma and Grandpa… But when the dates of our trip approached Grandma and Grandpa weren't free so Eloise was going to come along. I thought this might be a problem so I called Sarah. "Kids are welcome (any age) and we have a pack-n-play, we'll see you soon."
What an incredible time we had, and Eloise was on her best behavior. Upon arrival we grabbed a parking pass, and beach backpacks and we headed to Mother's Beach to burn off some energy.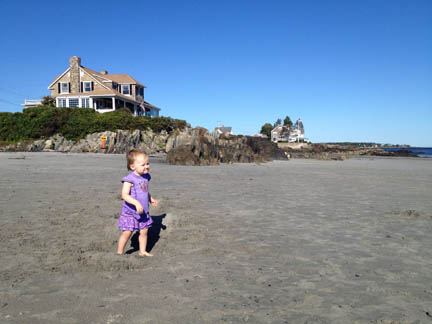 We had a nice dinner at a local restaurant and then caught up with Sarah and Erik that evening. Conversations in their yard were a favorite memory as Annie and I took turns chasing down Eloise as she wanted to keep exploring. Next morning breakfast was phenomenal – 3 courses for everyone including Eloise. Instead of the pear and yogurt starter Sarah gave Eloise Cheerios, scrambled eggs, and then toast.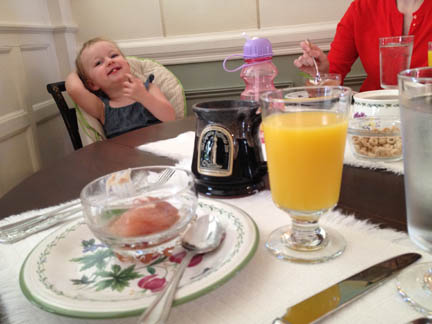 I think that Eloise might be a good fit, as her favorite spot after breakfast was the front door, where she charmed all the guests coming and going.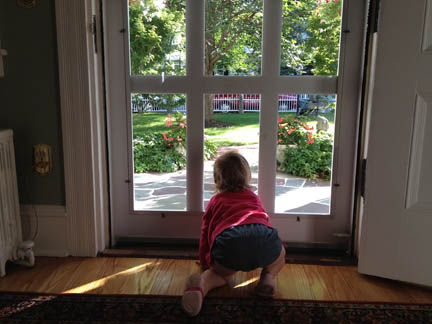 For the rest of our trip we stayed with our friends Chuck and Gay at their 'camp' on Popham Beach just south of Bath. The sandy beach at low tide was just heaven for the 3 of us to explore. Our first experience building sand castles.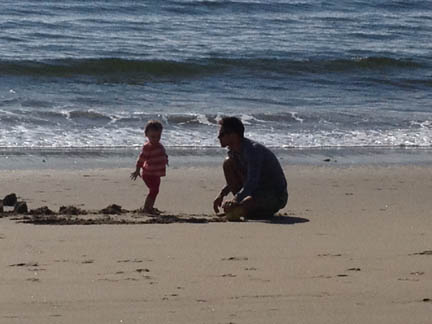 Eloise just loved splashing around in the tide pools where the water wasn't so cold.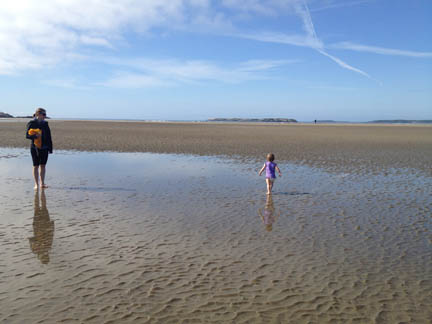 All that walking made for an early nap, and Eloise needed to be carried home.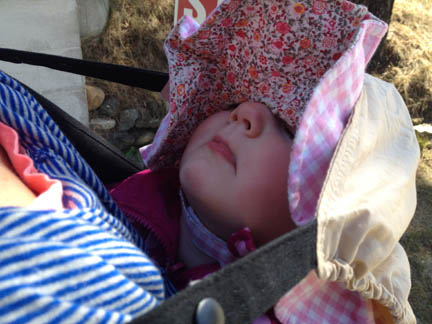 Not everyday was sunny so we took advantage of the Freeport Malls – Hello L.L. Bean.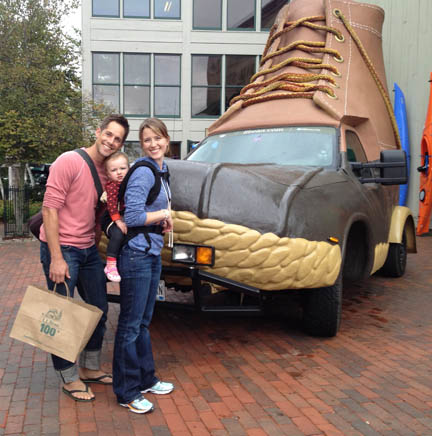 Here is the last picture from Maine standing in front of the Chuck and Gay's Ice House. We'll be back again soon and can't wait to spend our first night with Erik and Sarah again. Thank you for all the memories and for making this first family vacation such a wonderful experience.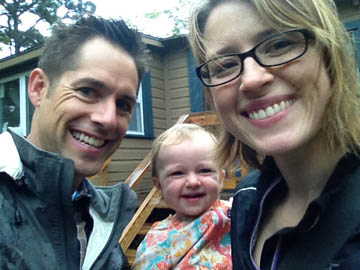 Current orders are now shipping out at the end of December and Pack & Hold invites will be sent out soon. If you have any questions about a current order, or a future order just give us a call 888-646-0238.
Thanks for reading our blog-
Niles Deneen – CEO, Marketing