Deneen Pottery in the StarTribune
Glaze:
Industry: (We work with many different industries)
We had the honor of being featured in a Star Tribune article that talked about the history of Deneen Pottery, what makes our products so great, and how we've continued to grow throughout our humble beginnings.
It's been an incredible ride so far and we're excited to keep working hard to continue to bring high-quality, handmade mugs to our customers around the country.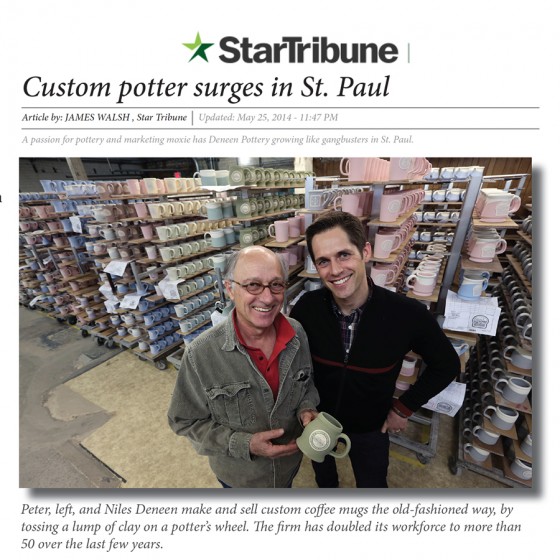 In an airy old warehouse tucked a few blocks north of the bustle of University Avenue, master potter Wade Scheel plopped one lump of clay after another onto his wheel.
In seconds, his muddy hands had formed a ­coffee mug — later to be fitted with a handle, ­finished with a custom name badge, fired, glazed, and fired again. It was one of hundreds he would create this day.
Scheel may work with the speed and efficiency of a machine, but no machine produces the handmade mugs of Deneen Pottery, located within St. Paul's growing Creative Enterprise Zone, which seeks to attract and promote artists. And that makes all the difference, say the family members who run this booming business that once neared extinction.
"Making pottery is soulful, joyful," said founder Peter Deneen as he walked through rooms filled with racks of custom coffee mugs. "It's creating something you can be proud of." It's also proving to be pretty successful.
In 1994, the company, struggling to stay afloat, made 200 clay mugs. Today, Deneen's collection of artisans like Scheel and potter Jonathan Conrad turn out 300,000 to 400,000 mugs annually. Over the past three years, the company has doubled the number of employees — to more than 50.
Niles Deneen, Peter's son and company CEO, said Deneen Pottery revenues should reach $3 million this year. There is even talk of expanding beyond its 16,000 square feet, he said.
Yet, despite the growth, 24 pairs of hands touch each piece during the manufacturing process.
"We are still artisans," said Niles Deneen, a former University of Minnesota track sprinter who has lent a sharp marketing focus to Deneen's artistic roots. Each custom mug carries — in clay — the name and logo of the bed & breakfast, hotel, coffee shop or restaurant that ordered it.
"We're putting out 1,500 pieces of permanent advertising every day," Peter Deneen said.
Lessons learned
Peter and Mary Deneen were freshmen at Luther College in Decorah, Iowa, when they met in a ceramics class. Peter had started as a business major, he said, "but I dropped it after Econ class."
They graduated from Luther with art degrees, and Peter went on to continue pottery studies at the University of Northern Iowa in Cedar Falls. They caught the bug to create pottery, Peter Deneen said, after studying in California with the late Marguerite Wildenhain, a master potter.
"She told me I could be a potter," Peter said. "She didn't tell that to everybody."
The couple started Deneen Pottery in 1972 in a small shop at Park Square Court, near Mears Park, in downtown St. Paul. There, they made their ceramics in the back and sold them in the front. Over time, the business grew into wholesale as well, providing one-of-a-kind pieces for department stores. By the late 1980s, the business had grown to about $1 million in sales.
Then, it crashed. When a wholesale customer filed for bankruptcy and defaulted on money owed the Deneens, they lost their lease. The Deneens later filed for bankruptcy as well.
Peter Deneen went to work for an investor who bought the company's assets. The relationship never felt right, he said. After keeping his skills, his wares and his methods honed by years selling pottery at the Renaissance Festival, he bought equipment from another potter and relaunched.
"The Renaissance was our renaissance," Niles Deneen said. "[Peter] is the most talented potter of any of our guys. That came kind of easy for him. The business side — that was a challenge."
Son Niles joined the operation and helped the company market its unique methods of personalizing — they won't say how they do it — by hitting the phones and calling prospective customers. At first, joining his parents' business was not an easy decision, Niles Deneen said. After the bankruptcy, "I wanted to get as far away from the pottery field as I could," he said.
But after considering ­pharmaceutical sales, Niles said a friend told him, "You're selling your dad's pottery. Don't be an idiot. Help your dad."
For their part, customers are more than pleased that Deneen Pottery has found its resurgence in St. Paul.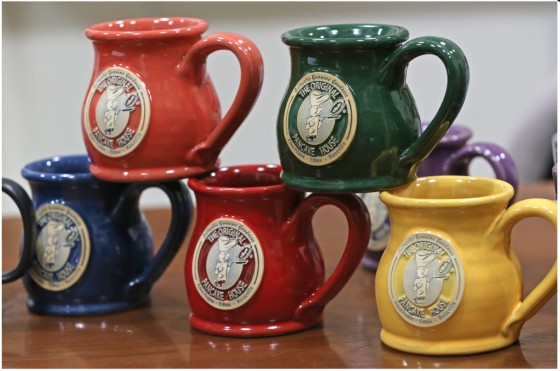 Jake Smalkoski manages the Original Pancake House in Eden Prairie. They have boasted custom Deneen coffee mugs for several years. "They're awesome. We love our Deneen," he said. "The stuff is handmade right in St. Paul and people eat that up."
Steve Pipkin runs the Original Pancake House in Roseville. They, too, are loyal Deneen customers."The first thing I like about Deneen is it's a small family business that has been around for a while and the family members are still doing the work," Pipkin said.
That loyalty goes both ways. To save on shipping costs, Niles Deneen will personally run an order of new mugs out to the restaurant. In exchange, his breakfast is on the house.
There was a time, Niles Deneen said, that Deneen Pottery sold many different things in many small orders. Now, it's mostly the custom coffee mugs.
"We know what we can do the best," he said. "And we love always having been a St. Paul company."
What's New With Deneen Pottery?
Since this Start Tribune article was published, Deneen Pottery has continued to grow. Not only have we added clients and teamed up with more awesome business and organizations, but we've also become much more sustainable in our operations.
We've always been committed to conserving resources, recycling, and reuse since we were founded over 45 years ago. Because of the success of our business, we've been able to increase and double down on our sustainability practices.
In 2017 we started working with All Energy Solar to bring solar power to our historic brick building. Today, we have 399 solar panels on top of our roof. It was a significant investment, but it will help reduce more than 2,170 metric tons of CO2 from being created over the next 25 years. So yeah, it was definitely worth it!
In addition to our environmentally-tricked-out roof, we also have added more recycling bins throughout our studio to prevent us from creating excess trash, compost bins in the lunchrooms so we can recycle organic waste, and biodegradable starch packing peanuts that quickly dissolve with water to our packaging.
For more information on how we 'Leave it Better Than We Found It,' read this article from our blog!