About Our Mugs: Handmade Mugs for Your Company
Any coffee drinker or beverage connoisseur knows that the mug you use every morning is much like a dear old friend. That's why Deneen Pottery puts so much care and effort into each individual handmade mug we throw. When you put your company's logo across one of our mugs, you're amplifying your message and your brand's style.
Featuring a number of different styles and glazes, you have many options when you order mugs from Deneen Pottery.
Corporate Mugs in a Number of Different Styles
You can achieve the look you're going for with any of the mug styles below:
Abby Mug

Camper Mug

Diner Mug

Flare Mug

Footed Mug

Junior Executive Mug

Patriot Mug

Pepin Mug

Ramsey Mug

Rancher Mug

Round Mug

Straight Mug

Tall Belly Mug

Tankard Mug
We Also Offer a Wide Variety of Glaze Colors
Here is just a sampling of Deneen Pottery's mug color glaze options. Colors can also be mixed and matched and are available in a variety of marblings:
Burgundy

Butter

Chocolate

Coral

Dijon Yellow

Federal Blue

Forest Green

Kiwi

Lilac

Peach

Pink

Plum

Sage

Sand

Sunset Orange

Sunshine

Teal

Wisteria

And many more!
About Our Custom Pottery Process:
It takes a whole studio of highly skilled individuals working in unison to produce the high level of quality and craftsmanship that goes into our products every day. Over two dozen pairs of hands touch each custom mug that we create, ensuring that each piece is given proper, individualized attention. Our mugs start as a hunk of clay and are transformed into a twice-fired piece of handcrafted artwork that are as functional as they are beautiful.
See Deneen Pottery in the News!
Throughout our history, we've been an integral component of the small business community in the Twin Cities and especially St. Paul. As such, we've received media mentions for the work that we've accomplished over the years. Take a look at some of the write-ups below to find out what the community is saying about us!
Deneen Pottery Featured in AIHA Innkeeping Magazine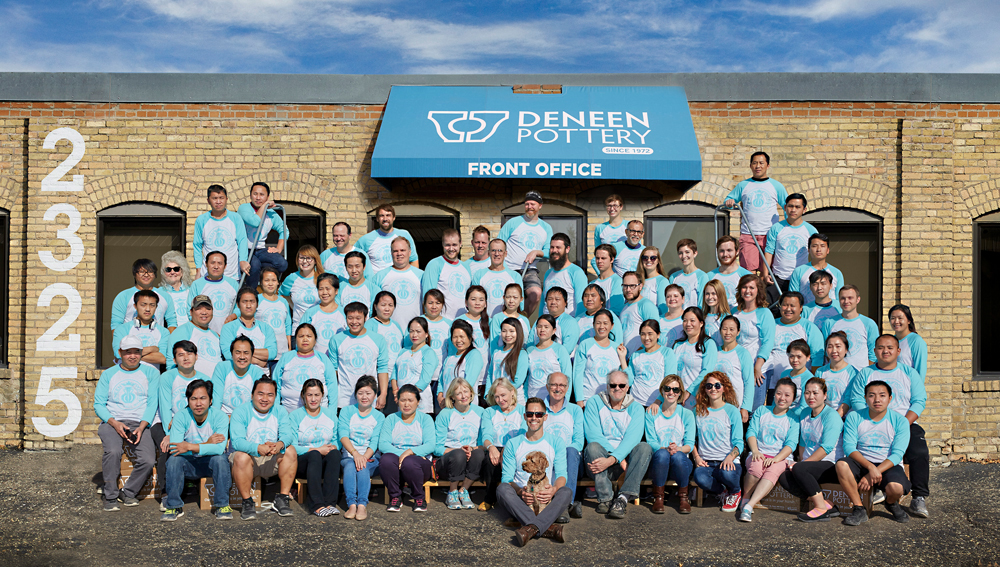 Excerpt from article:
With customers in every state, in B&Bs, inns, restaurants, national parks, and more, you could say Deneen Pottery is on the map – literally. Niles explains that a newly launched Mug Collector's Map on the Deneen Pottery website shows every innkeeping customer (among others) with a link back to their web pages.
"Prompted by our incredible following of mug collectors, what started out as a state list, has evolved into an interactive map that pinpoints the location of every inn, with directions to help you find your next property and collectible mug. This is free for all active customers for one year from the last invoiced order of mugs."
A guest at AIHP member property the Avalon Hotel, said it best in his testimonial to Deneen Pottery: "I bought two mugs from Avalon Hotel, Catalina Island. LOVE THEM. Interested in knowing more about your products. They have been a great reminder of a great vacation but also they are used all the time as they are so comfortable to use. I hope the word comfortable makes sense to you. Thank you."
The company's culture based on strong family unity extends to employees with parents, sons and daughters working together. With no signs of slowing down, the number of employees has swelled to 80. There is talk of increased productivity and possibly a larger space, to ensure they will be around for generations.
Deneen Pottery Featured in Star Tribune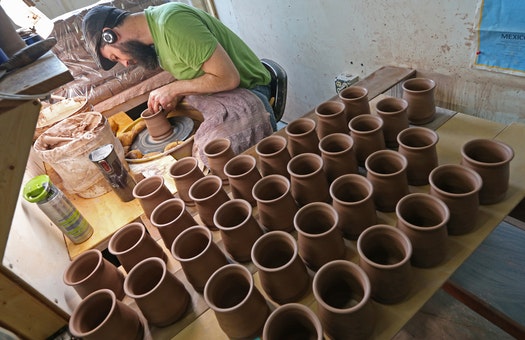 Custom Potter Surges in St. Paul
Excerpt from article:
In an airy old warehouse tucked a few blocks north of the bustle of University Avenue, master potter Wade Scheel plopped one lump of clay after another onto his wheel.
In seconds, his muddy hands had formed a ­coffee mug — later to be fitted with a handle, ­finished with a custom name badge, fired, glazed, and fired again. It was one of hundreds he would create this day.
Scheel may work with the speed and efficiency of a machine, but no machine produces the handmade mugs of Deneen Pottery, located within St. Paul's growing Creative Enterprise Zone, which seeks to attract and promote artists. And that makes all the difference, say the family members who run this booming business that once neared extinction.
"Making pottery is soulful, joyful," said founder Peter Deneen as he walked through rooms filled with racks of custom coffee mugs. "It's creating something you can be proud of."
"We are still artisans," said Niles Deneen, a former University of Minnesota track sprinter who has lent a sharp marketing focus to Deneen's artistic roots. Each custom mug carries — in clay — the name and logo of the bed & breakfast, hotel, coffee shop or restaurant that ordered it.
"We're putting out 1,500 pieces of permanent advertising every day," Peter Deneen said.
Deneen Pottery Featured in Pioneer Press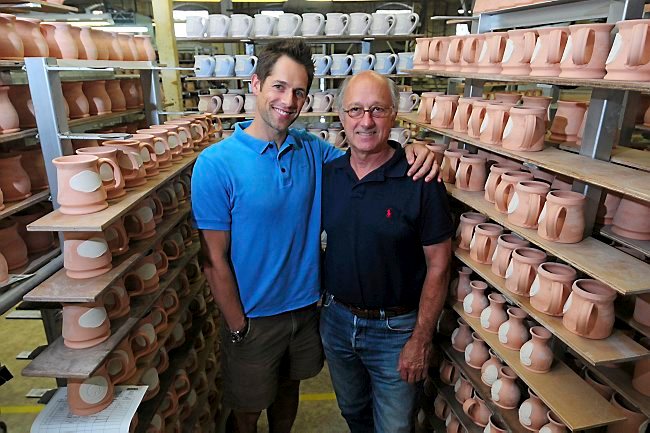 For Second Chance, St. Paul Potter Aimed Small
Excerpt from article:
Peter Deneen started throwing pottery as a student at Luther College in Decorah, Iowa, in the late 1960s. When he moved back to his native St. Paul in 1971 after graduating with a master's degree in pottery, he decided to open up a small pottery shop on Park Square Court in St. Paul's Lowertown.
Although he had no business experience, his skill at the potter's wheel propelled Deneen Pottery to early success. After about 15 years in business, he oversaw 40 employees and his company was doing about $1 million in annual revenue.
The bulk of that revenue depended on a handful of large, corporate clients. Companies would order thousands of units of clay goods emblazoned with their corporate logos.
Deneen's signature invention — an innovative plastic molding technique that allowed him to stamp custom art into clay — made it easy for the company to imprint a logo or a photo onto clay medallions that could be attached to a number of vessels.
The company even filled bulk orders for other pottery companies that would sell Deneen goods alongside their own.
About Deneen Pottery: Family-Owned for Over 40 Years!
We are a second generation family business established in 1972 by Peter and Mary Deneen in Saint Paul, MN. While our early days were in a two-car garage, today we occupy over 17,000 sq/ft and employ over 50 skilled craftspeople. It's our goal to create functional, beautiful, hand-thrown stoneware for each of our commercial clients. This journey has been remarkable and we truly feel fortunate to collaborate with businesses – both small and large, from coast to coast – through manufacturing handmade pottery mugs in the USA.
Ready to Get Started Growing Your Business with Custom Mugs?
Contact the team at Deneen Pottery today – we're standing by, ready to answer any and all questions that you may have!
Whether you operate a bed and breakfast, boutique store, tech startup or giant conglomerate, your company can stand to benefit from custom, handmade mugs. Selling or giving away unique ceramic mugs will only increase your brand's exposure and style. If you're searching for a one-of-a-kind way to enhance your company's swag and grow your business, custom mugs are the best choice.
Deneen Pottery offers custom-branded coffee mugs for stores, shops, companies, corporations and all types of businesses. It's our mission to collaborate with each of our customers to deliver the high-quality craftsmanship that's kept us thriving for 45 years. If you want to learn more about our company or order handmade mugs for your company, contact our dedicated staff today.