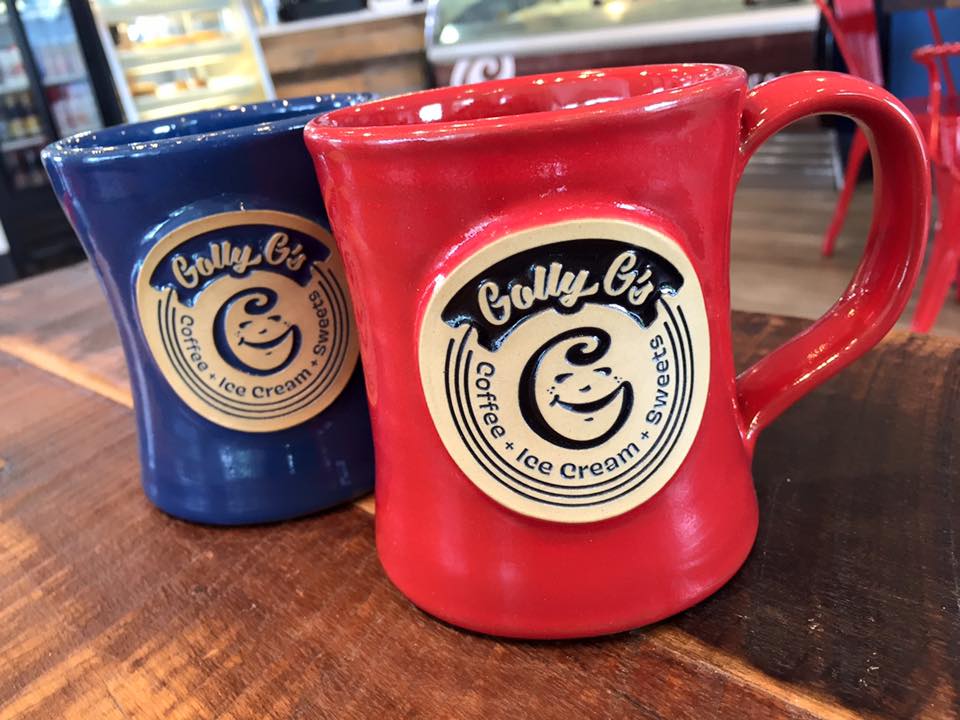 7 Reasons Personalized Coffee Mugs are a Must for Any Coffee Shop's Merch Stand
Glaze:
Industry: (We work with many different industries)
Personalized coffee mugs make a perfect addition to any coffee shop's merchandise stand. These functional, attractive and all-around fun pieces of custom stoneware offer great revenue and marketing opportunities for your café.
If you're looking to add some pizazz into your merchandise offerings, here are seven reasons why you need to sell personalized mugs at your coffee shop.
Gain a New Line of Revenue
Perhaps the biggest benefit to selling personalized mugs at your coffee shop is the revenue opportunity. Those companies that are serving up delicious roasts will undoubtedly have a loyal following of customers. Gorgeous, custom-made stoneware will fly off the shelves, as your favorite patrons clamor to take a little piece of your cafe home with them.

Build a Stronger Brand
People love souvenirs from their favorite businesses, so give them a chance to spread awareness about your brand with personalized coffee mugs. Whenever a customer buys one of your mugs with the logo branded across the front, you'll enjoy a boost in impressions every time the person uses it.  
Setting Yourself Apart
When you offer unique merchandise, you set yourself apart from your competition. Any coffee shop could serve up their roasts in a paper cup with a cardboard sleeve – you're giving them a chance to drink out of a one-of-a-kind, handcrafted mug that will soon become their favorite. When your customers brew up their own roast at home, they'll have a beautiful mug that's designed for tasty, relaxed sipping.
Adding to the Collection
There's no doubt that coffee drinkers have a cupboard filled with mugs from various places and occasions. Plenty of people collect coffee mugs as souvenirs and keepsakes. Collectors who are searching for their next piece of memorabilia will appreciate what you have to offer!
Positioning Mugs as Multiple-Use
When selling personalized mugs, you can emphasize the many different ways they can be used. For example, some custom stoneware is simply too beautiful to drink out of – try using them to hold flowers, plants or candles, instead. For office use, they can hold pencils or business cards, or even be given away to clients as a gift.
More Value in Your Marketing
Traditional forms of advertising, like radio, TV or print, can be costly, short-lived and ineffective. With personalized coffee mugs for sale, your café can bring real value to its marketing budget. You get a fantastic return on your investment with ceramic mugs – it's likely to be in use for years, keeping coffee drinkers happy at home or in the office.

Use Them to Serve Up Drinks
Not only should you display personalized mugs on your merchandise stand, you should use them to serve up coffee for those dining-in, as well. This will give the customer a chance to try the mug out before they decide to make a purchase. When they get to experience the difference firsthand, they'll be much more inclined to buy one for themselves.
Create a Quality Experience with Personalized Mugs!
Now that you know these seven reasons to sell personalized mugs at your coffee shop, you have zero reasons not to offer these beautiful works of art to your customers!
As a perfect addition to any coffee shop's merchandise offerings, custom stoneware is a great way to drive revenue and market your business. Let your patrons take a little piece of you home with them by selling personalized mugs on your merch shelves.  
Get Your Personalized Café Mugs from Deneen Pottery
Deneen Pottery offers the finest personalized coffee shop mugs on the market. We hand-craft every stoneware mug so that it's stylish, affordable and unique to your specific business. Each one of our mugs are touched by more than 24 workers to ensure that each and every piece we create is beautiful, durable and safe. It's our mission to create with integrity, collaborating internally and with our clients to bring stoneware craftsmanship and beauty to people throughout the world.
If you're ready to get started, contact one of our account managers today to see how we can provide you with an entirely new set of merchandising opportunities.