Birch mug display and increased sales
Glaze:
Industry: (We work with many different industries)
"We're selling a lot more mugs now and [Darlene] thinks it's because we've set up the 4 mug display, along with mugs in the presentation boxes, right in our dining room," Eric Johnston from the Ash Street Inn wrote in an email to me today.
If there is one thing that my dad and working at various Renaissance Festivals has taught me it's that the display can make a huge difference. At our old booth Mom and Martha would always cut fresh flowers for the vases, dust off and wash dirty mugs, and always make fun colorful signs. Making sure that people see what you have is the goal of merchandising, that and making your space welcoming.
No doubt the Ash Street Inn located in Manchester, NH is welcoming and now with the addition of the wall display mugs are selling better than ever. Eric wrote, "people look at the display when they come in for breakfast and then grab a mug or two on their way back to their room and the boxed mugs go right in their suitcase. Works like a charm! I've attached a picture so you can see what she's done."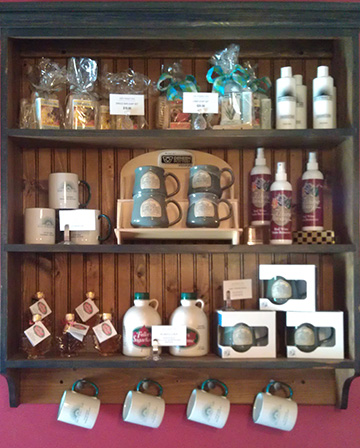 Eric and Darlene also lowered the price on their mugs and offer another discount if you purchase 2, which has helped to drive their sales, but the jump is just incredible when you look at the year over year growth.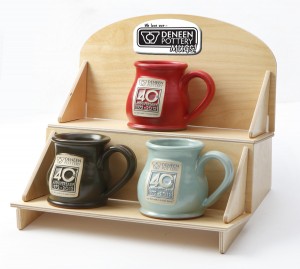 2006     23 mugs sold
2007    28 mugs sold
2008    18 mugs sold
2009    14 mugs sold
2010    17 mugs sold
2011    13 mugs sold
2012    44 mugs sold
About the four white hanging mugs on the bottom of the rack Eric wrote, "we also have some "give-away" grade mugs that we offer for sale – I think we've sold 3 or 4 of them in the last 10 years!!  But they're good for contrast!!" Contrast, display, and making your property or gift area welcoming are all winning ideas but getting to work with Innkeepers like Eric and Darlene everyday is the absolute best! We are so looking forward to the PAII conference in less than 4 weeks where my family will get to put all of these ideas into action while rubbing elbows with the best Innkeepers in the world!
For more information on our birch display or our single mug gift boxes just visit our 'extras' page under stoneware – You'll also see our beautiful handmade stoneware mugs!
To a blessed and brilliant 2013!
Niles Deneen – CEO, Marketing
Deneen Pottery