Big changes to coffee service = Big success
Glaze:
Industry: (We work with many different industries)
The Farmers Guest House, located in Galena, IL, shared a change. "We re-did our coffee service with Deneen mugs and Keurig K-cups. What a difference." Wrote Don and Susan Steffan, the owners and innkeepers. "The revenue in additional mug sales makes up the difference for the increased cost of coffee, not to mention customer satisfaction with quality coffee on demand."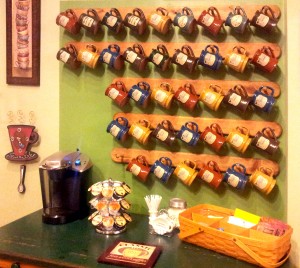 A similar story was also forwarded to me by Rick Wolf of The B&B Team, as he and his business partner Peter Scherman, had been working with the Steffan's, who recently acquired the Farmers Guest House. Rick and his wife Janet are both consultants, but used to own the Captain Fairfield Inn, in Kennebunkport, ME where they live now. "We, too, found that selling the mugs that our guests use was a great extra source of revenue…and for the guest a constant reminder of great times at our Inn!" Rick also wrote, "love to see and hear of ongoing success stories." And we love sharing these success stories with YOU!
Susan added "one of the biggest hesitations was the expense of changing out all our mugs for daily service…I thought these wouldn't be sold but would be unnecessarily replacing perfectly serviceable mugs that we now have stored. However, some of the guests want to purchase the one they drank out of so the stock will keep rotating." Susan also wrote that "once our guests experience [our handmade Deneen Pottery mugs] they have to have it!  We also have an excessive amount of mugs on the wall because it looks cool."
If you have comments or stories to share please do so – I'll repost them to see what other tales of success we can all learn from!
Thank you for reading our blog~