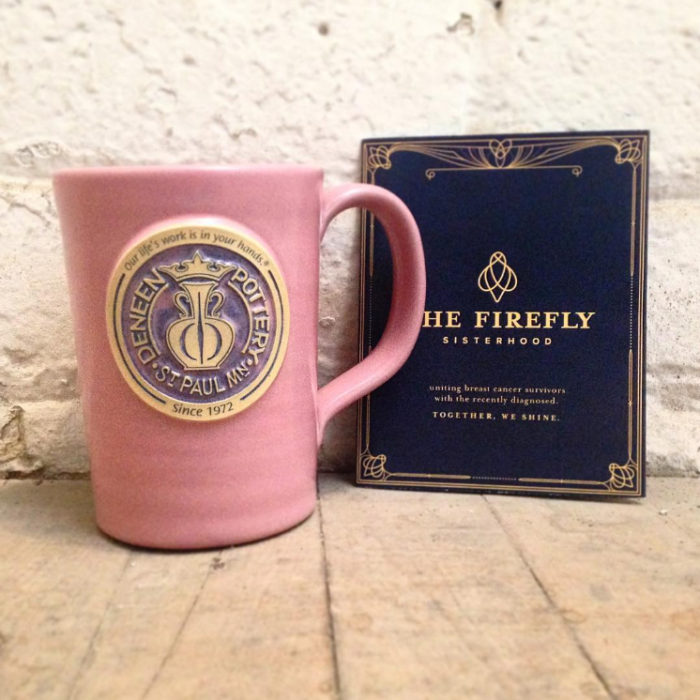 Pink Mugs for The Firefly Sisterhood
Glaze:
Industry: (We work with many different industries)
Deneen Pottery is proud to support Breast Cancer Awareness Month by once again selling pink mugs on our website! This year, we are featuring both a new mug style and a new organization to support. The Firefly Sisterhood of Minnesota and their cause will receive 100% of the profits from our pink, retro logo mugs! This limited edition run is now available for purchase here – grab one before they're gone!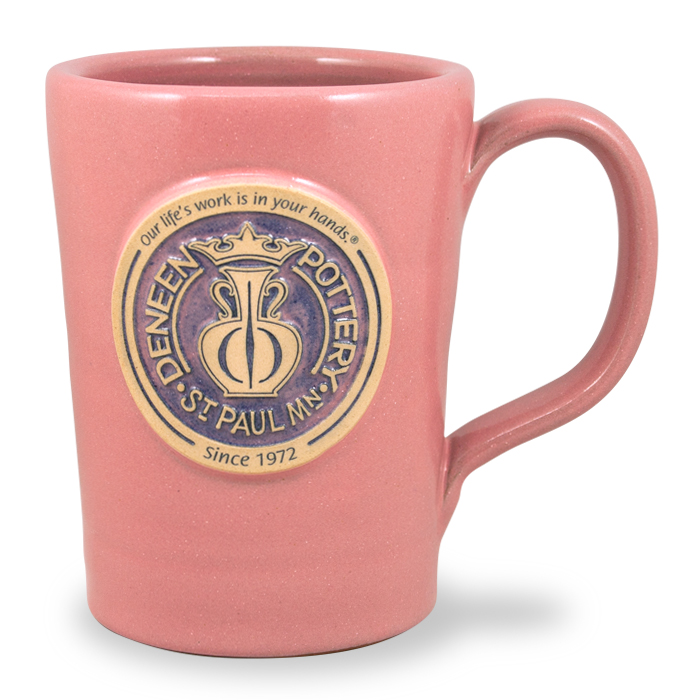 ABOUT THE FIREFLY SISTERHOOD
While researching local organizations to support, we couldn't help but feel connected to The Firefly Sisterhood and their mission: "…to foster one-to-one connections between women recently diagnosed with breast cancer and inspirational survivors". We know what can be accomplished through collaboration and connection and this mission statement hit the bulls-eye square in our heart! We eagerly contacted executive director Kris Newcomer who was pleased to stop by and tell us more about their non-profit.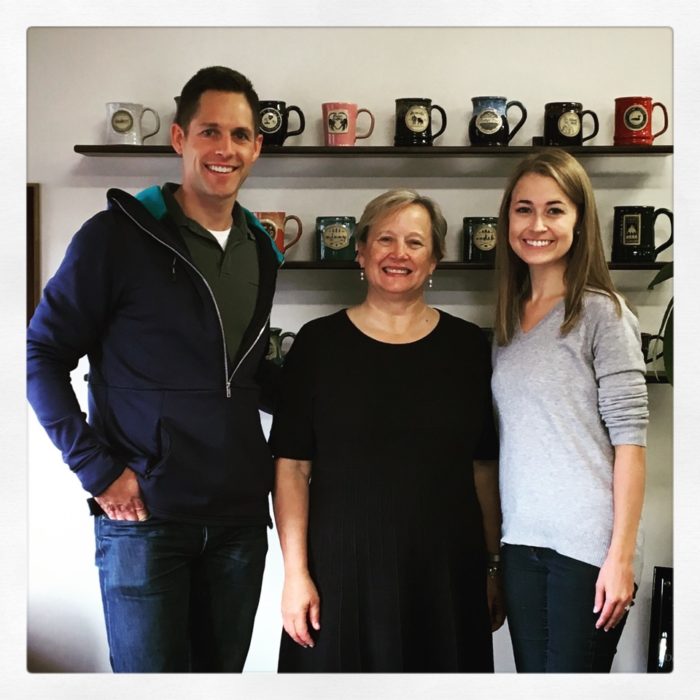 Launched in 2014, The Firefly Sisterhood has already served over 500 women in Minnesota. "In reaching out to our communities, we've learned that when it comes to breast cancer, emotional health and physical healing are linked, family and friend fatigue is real, and connecting one-to-one with someone who has walked a similar path has a powerful effect."
With over 140 trained volunteers, Firefly seeks to find a match to each new applicant. After a quick (45 min) on-boarding questionnaire, matches are paired by age, treatment, and life experience. Unlike traditional support groups, The Firefly Sisterhood has a "when it works for you" outlook. Women can make time to connect when and however they need – over the phone, by text or email, late at night, early morning, etc. "It may result in one reassuring phone call, or could become an ongoing, enduring friendship".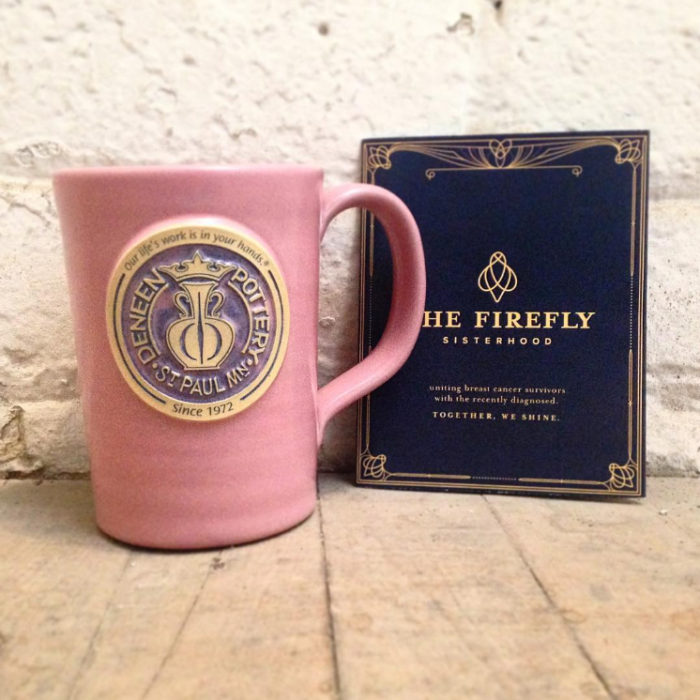 CONNECTING THE COMMUNITY
While they have various fundraising opportunities throughout the year, their largest event to date is Illuminight. An inspirational evening, Illuminight invites local female chefs and beverage entrepreneurs to share their talents while attendees mix, mingle, and have fun! This past summer, over 250 were in attendance to support The Firefly Sisterhood. The next Illuminight will occur in June of 2017 at Solar Arts in Minneapolis and we can't wait to participate!
In Minnesota alone, 4,000 women statewide were diagnosed with breast cancer in 2015. The Firefly Sisterhood's goal is to help at least 1 in 4 of those women. Kris hopes that this program can eventually be modeled in other states – helping women affected by breast cancer all over the country be connected to someone in their community that has been through similar experiences.
Besides donating the proceeds from the sale, we are also creating 24 free mugs for The Firefly Sisterhood with their logo! When we broke this news to Kris her face lit up and she said something that we wont forget, "If you're not having cosmic moments, you're not in the right place". We knew exactly what Kris meant.
cosmic: cos·mic
–
adjective

          1. of or relating to the universe or cosmos, especially as distinct from the earth.
Life is precious and finite and we are vulnerable creatures – yet when we are connected, we become something invincible! It's such an honor to have found The Firefly Sisterhood and we look forward to continuing to work with them this year. To learn more about this amazing organization, check out their
website
or
Facebook
.
Thanks for reading and helping us to support this cause.
Niles Deneen – CEO
Kim Pickett – Customer Service