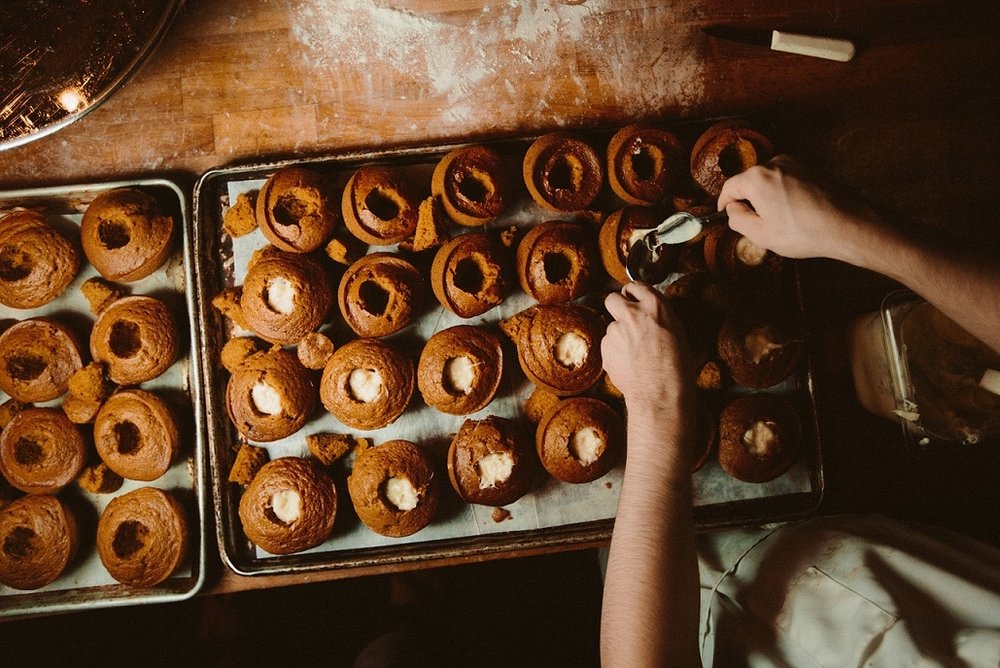 Featured Client: Neighbor's Mill Bakery & Café
Glaze:
Industry: (We work with many different industries)
Welcome to Deneen Pottery's featured client series – where we share stories about companies that we've worked with; their history, outlook and commitment to the communities they serve.
Today's post covers our friends Mike and Karin Nabors at Neighbor's Mill Bakery & Café in Harrison, Arkansas. We've been working with these down-to-earth restaurateurs for many years. Recently, we chatted about their story and how they came to operate a popular, family-run café that's now open in two states – and how they were an integral part of Deneen Pottery's history since the beginning.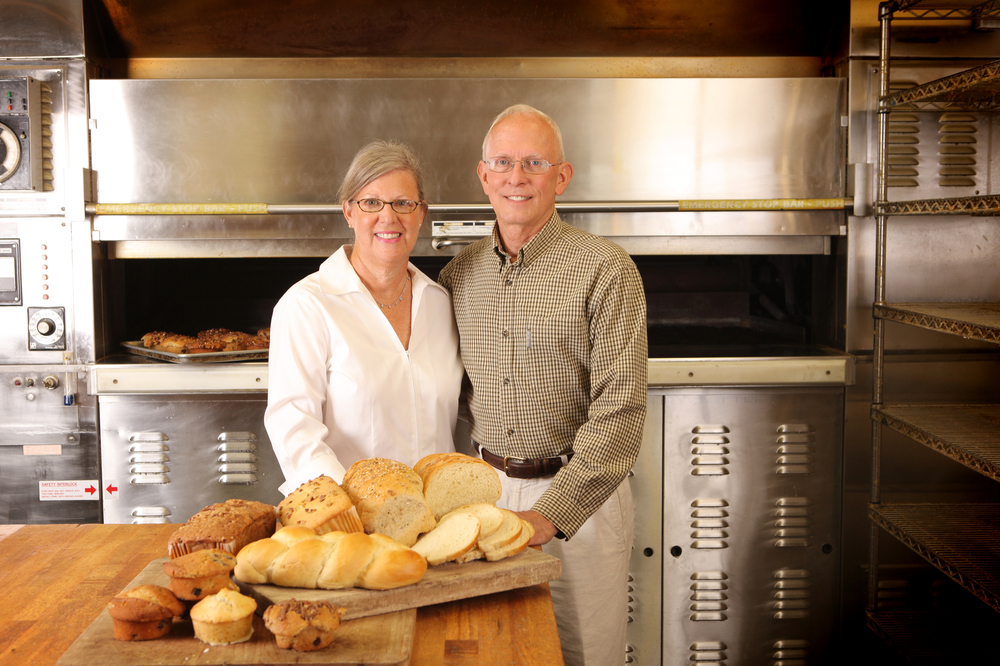 Background
Since 1989, Mike and Karin Nabors have been entrepreneurs in the hospitality industry, opening their first bed & breakfast in a pre Civil War-era cabin on Gaither Mountain called Mountain Pines Cabin. Mike Nabors, Mike Beuterbal, and a crew of men reconstructed the cabin piece by piece on top of Gaither Mountain after deconstructing and moving it from its original location. Nabors shared his memory of that exciting time in his life, saying:
"In 1988 a friend of Karin's dad bought a farm and wanted the barn removed because it blocked their view of Gaither Mountain, which lies immediately to the west. Her dad told us about the barn, so we went to look at it and fell in love. We bought it, numbered the logs, dismantled it, hauled it on flatbed trailers to a pristine location on top of Gaither Mountain which looks off into a beautiful wilderness valley, and rebuilt it as a bed and breakfast inn. We opened Mountain Pines Cabin in the summer of 1989 and by the time we sold it in December 1994 it was booked 80% of the year. Of course, those were the days before the internet, Home Away, VRBO and Airbnb!"
With one of the highest booking rates of any bed and breakfast in the area, the husband-wife duo started to think of ways to expand their revenue streams, as any good business does. In autumn of 1989, Mike and Karin went to an innkeeper's convention in Santa Fe, New Mexico and met Peter Deneen from Deneen Pottery. At that time, Deneen Pottery was still a small, local shop out of St. Paul, Minnesota and this was one of the first conferences Peter attended. On display at the convention were Peter's handmade, custom branded products and he had high hopes of attracting new customers just like Mike and Karin.
It worked – Mike and Karin fell in love with Deneen's gorgeous, branded mugs and placed an order for their own business. In fact, they were one of Deneen's very first clients!
Take a look at the Mountain Pines Cabin's first branded mugs below.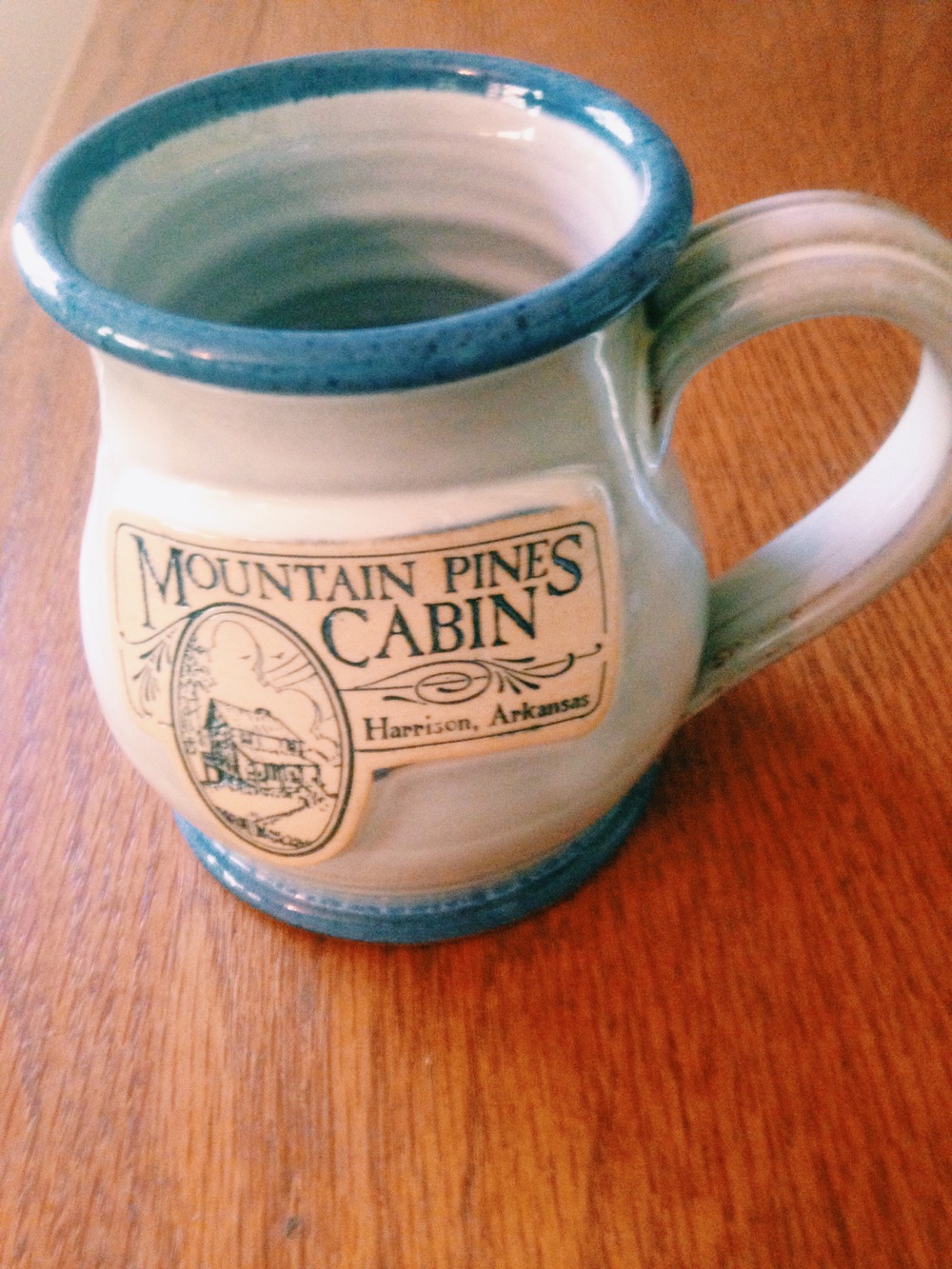 Past Journeys End; New Ventures Begin
Even though Mike and Karin were seeing success, the Mountain Pines Cabin was sold to an outside group in 1994. But the Nabors were not the type to give up on their entrepreneurial ways.
Mike says of the experience, "I lost my job as an executive VP of a large distribution company headquartered in Harrison in January 1994 when it was sold to another company. We wanted to stay in Harrison, so we began looking for a business to buy. We bought a Dairy Queen franchise, and with that experience, it launched us into the restaurant industry. In 2000, we opened Neighbor's Mill Bakery & Café in Harrison. And, naturally, we began buying mugs from Deneen Pottery when we met Niles [Deneen] at another trade show in Chicago in 2006."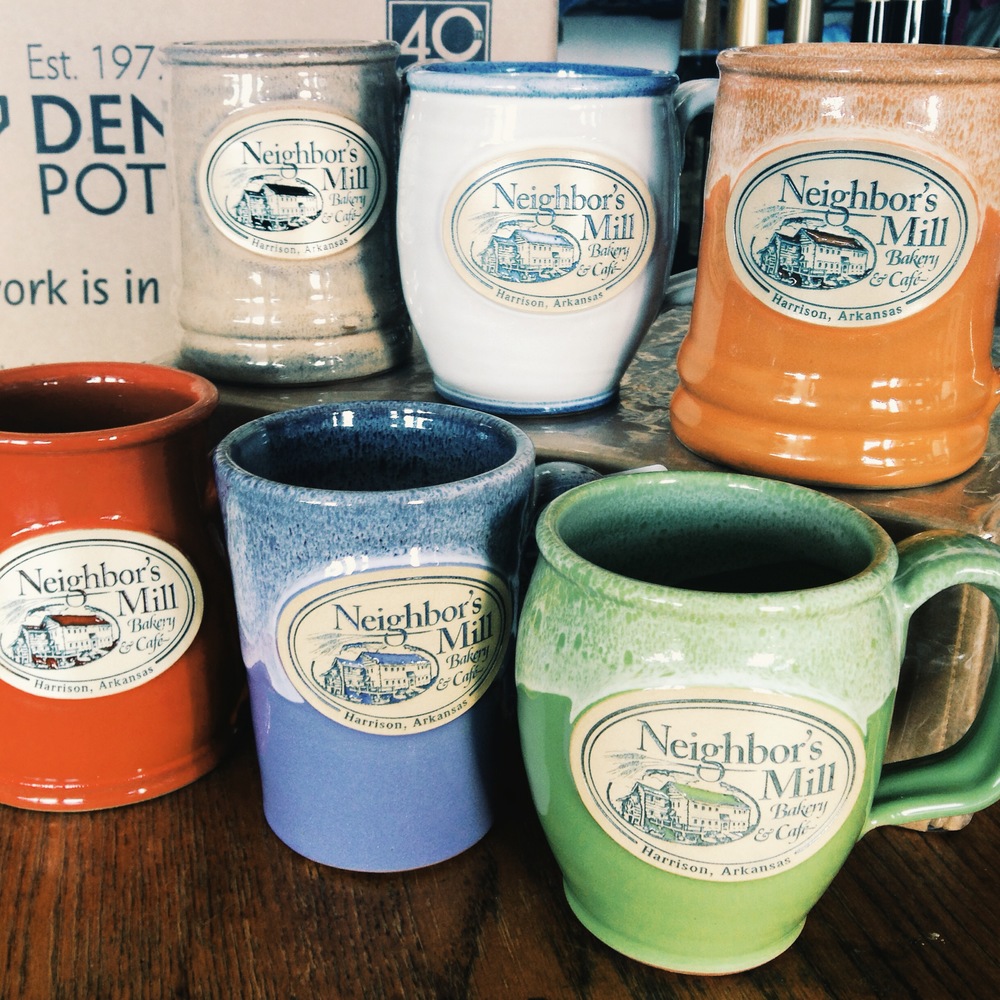 However, Mike and Karin noticed that there was still a nostalgic love for the Mountain Pines Cabin that they operated almost 24 years ago – not only from consumers, but also from themselves. Because of this, the two hospitality entrepreneurs bought back the cabin and are currently fixing it up to be rented out in the near future. With renovations underway, Mike and Karin reached back out to Deneen Pottery to produce the original mug design that was once featured on the Cabin's merchandise shelves. To Mike, it's a sensible move, saying:
"We saved a few of the mugs and some other items with the Mountain Pines logo. A dear friend of ours designed the logo so it was only natural for us to want to use the original. At some point we will want to make the cabin available again. Even after almost 24 years, we still have people call us to inquire if the cabin is available."
From their humble beginnings as a one-man pottery studio in St. Paul, Deneen Pottery now employs over 80 full time artisans and support staff and offers the highest quality handmade custom products to stores around the country. It's nice to know that the Nabors' family has been a key part of our history at Deneen Pottery and that they are still part of our continuing story.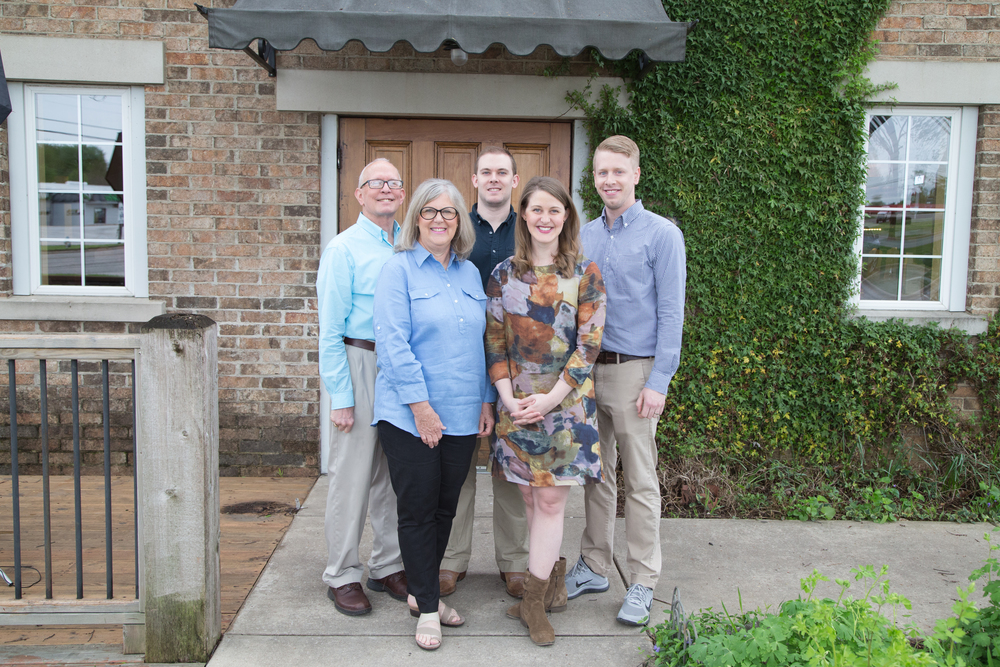 Check back soon for our next installation of Deneen Pottery's featured client series!