1. Generate Interest through Media
In order to capture the attention of new visitors, a media push may be necessary. If something exciting happens at your national park, whether you're offering a new access point on a hiking trail, you've added a new building or want to highlight particular flora or fauna, reach out to local and national news syndications to get press. Even one publication in a newspaper can increase your park's exposure and visitors.  
But, traditional media aren't the only publications you should pursue. Try to find bloggers and online influencers who support the parks. In today's world, some of the most far-reaching community influencers are online. Start by researching national park blogs and reach out to the editors of the site to see if they would be interested in a guest post, interview or showcase of your park.
2. Draw People In
Host events, treks, nature classes, class field trips, bird-watching sessions — anything to get people involved. Hand out flyers around your community that detail the schedule of events. Head to the local community centers, schools, universities, small businesses and anywhere else that you think it's appropriate.
3. Drawing-In Millennials to Your National Park
While baby boomers continue to visit national parks regularly, recent research has shown that the millennial generation isn't as open to the idea of being "unconnected".
It's well known that millennials are very open to new experiences, which includes a fondness for extensive travel to all sorts of places. Unfortunately, due to their connectedness, many are hesitant to take a trip into a potentially service-less zone. The graph below represents that statement.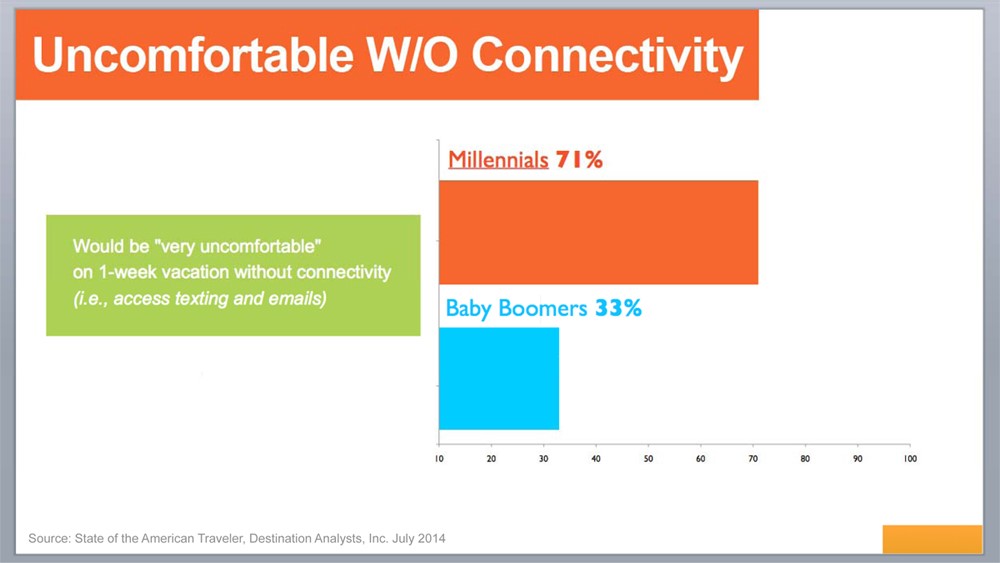 *Source: State of the American Traveler, Destination Analysis, Inc.
So, what are you to do? Thankfully, there are plenty of ways you can reach young adventurers.
a. Understand their spending power. The millennial generation is still young, with the majority still quite a ways away from the full buying power that comes in later stages of life. That gives national parks a unique opportunity in the form of affordability. Push the fact that national parks are an affordable way to take a vacation, often entry and camping fees costing a fraction of what a vacation to a city would cost.
b. Expand your presence on social media, Google and other digital platforms. Millennials are the first generation to be fully connected for most of their lives. As such, they operate and find information on non-traditional platforms, such as Snapchat, search engines and websites. A strong digital presence will go a long way in attracting millennials to your national park. Ensure you're consistently posting on a variety of social media platforms, keep your national park website up-to-date with optimal keywords and take advantage of review sites like Yelp. Making your park easily accessible online is key to driving a younger crowd to your park
c.Don't fight their desire to be connected. Millennials as a generation have been defined by their keen ability and strong desire to stay connected. if you're trying to attract this type of visitor, this should be at the forefront of your mind. Take the time to develop experiences that are exciting to millennials, such as gorgeous hikes, biking trails, dog areas and, yes, even WiFi zones so they can stay in touch with friends and families. They may even post on their social media accounts and tag your park, increasing your reach into their network. For those that are marketing national parks, don't fight their desire to stay connected, embrace it.

Use the resources below to learn more about marketing to millennials
4. Give Visitors a Memory with Custom Merchandise
Unique Memorabilia is perhaps the biggest seller in a national park gift shop. Visitors love to bring a little piece of your park home with them to commemorate their trip. Give them the opportunity to do just that by selling customized merchandise that they can't get anywhere else. Not only will you have more money to put towards conservation efforts, you'll enjoy a boost of impressions every time your merchandise is used outside of your park.
As a national park, there are a ton of merchandise opportunities — from branded clothing to posters and prints to ornaments and much, much more. Perhaps the most popular national park memorabilia is a custom-branded ceramic mug. A handcrafted mug with your logo prominently integrated on the front is an attractive addition to any tourist shop.
If you're looking for high-quality national park mugs, Deneen Pottery hand-crafts mugs that are personalized to your design, choice shape and glaze color. Not only will you create a new line of revenue, you'll also enjoy working with this second generation family business is dedicated to craftsmanship, quality and integrity. Not to mention the many marketing benefits that come from your visitors using a mug at home or in the office for years to come.
5. Partnerships!
Now that you know these unique methods to get more people to engage with you national park, you can start attracting more visitors. If you're looking for more ideas and resources to market your organization, get in touch with Deneen Pottery via their contact page, or call them today at 888-646-0238. Deneen's National Park Partnerships extend from coast to coast and beyond and they are always eager to share their insights and experience.