Hell's Backbone and Deneen Pottery Mugs
Glaze:
Industry: (We work with many different industries)
Hell's Backbone Grill is located in Boulder, Utah, population 180 – one of the most remote towns in the United States! The chef-owners, Jen Castle and Blake Spalding operate their restaurant following Buddhist principles, with a commitment to sustainability, environmental ethics, and social and community responsibility. They serve organic, locally produced, regionally and seasonally appropriate cusine and grow many of their own vegetables organically in the restaurants two gardens and on their six-acre farm! They feature dishes made with fruit from Boulder's heirloom orchards and rely largely on local ranchers for the natural meats. Every cup of coffee is served in a handmade mug, by (you guessed it) Deneen Pottery!
Now in their 9th season, their mission and passion have not gone unrecognized.
Hell's Backbone Grill enjoys one of the highest Zagat ratings in Utah and was selected as a Fodor's Choice 2006 recipient. The restaurant was also named Salt Lake Magazine's "Best Restaurant in Southern Utah" for 2007 and was awarded the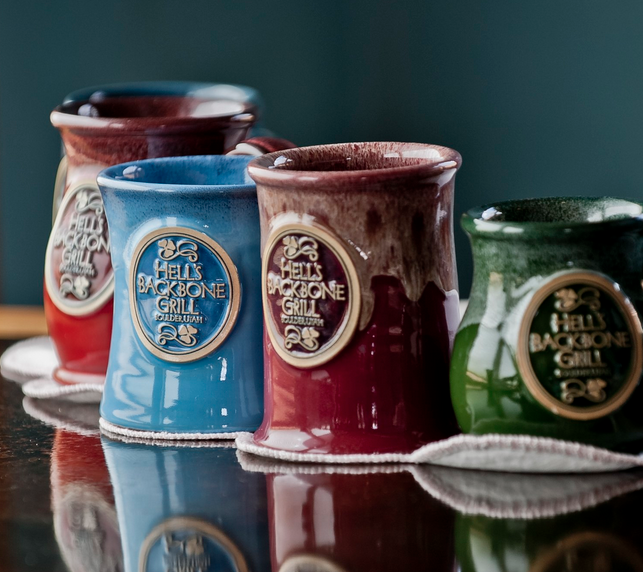 prestigious Utah Governor's Mansion Award for Culinary Artistry in 2006, presented by Governor Jon Huntsman. In 2005, Blake and Jen received an award from the Museum of Northern Arizona and the Center for Sustainable Environments for being "Culture Bearers of Sustainability in the Four Corners Region." Additionally, Hell's Backbone Grill was chosen as one of four restaurants representing Utah's Slow Food movement in an exhibit in the Smithsonian Museum in Washington, D.C. The restaurant has been featured in O, the Oprah Magazine, The New York Times, Sunset Magazine, Bon Appetit, Organic Gardening, Outside Traveler, Travel and Leisure, Washington Post, Men's Journal, and National Geographic Traveler.
Last week as we were just about to send out their latest order I had the chance to talk to Maggie McGuire, the Retail Manager… I was curious to find out more about how our mugs were working for Hell's Backbone Grill. Maggie suggested I email her a few questions. A few days later I recieved an email from Jen Castle – a big fan of our handthrown mugs – with answers to all of my questions. I thought it would be best to post those questions and answers here.
Q.) What do you like best about your mugs?
A.) They are wildly durable and incredibly gorgeous. Each time I order a different combination of the many shapes and amazing color glazes. The combinations are limitless, and the potters are so patient with my requests and it makes our mugs really collectible. Sometimes I'll bring an old combo back for kicks, sometimes I'll find an unstoppable seller that we can't keep in stock. When a customer orders decaf in the morning, I'll give them a green mug as a code to myself for easy refilling without having to ask which one they're drinking.
Q.) Don't you worry about theft or breakage?
A.) They are practically unbreakable. Sometimes we have a couple broken in transit, but not often (and not this time!). Even dropping them doesn't hurt them! They bounce and we're always stunned to see nary a blemish. We wash them in our dish machine where they rattle around, we carry many in one hand dangerously, it's hard to damage them. I don't worry about theft– our customers are here to support our small business and are stoked to find that we're selling these beautiful handmade mugs… if one gets out into the world because someone is a thief(!) it's still out there with our name on it, advertising our place, and when someone turns it upside down, they see the stamp telling where it was made. The name is still getting play.
And I have to trust that the universe will take care of the bad element. If they need it THAT badly… they can have it. Because really, so many people want to exchange money for art. I trust that those folks will make the stronger showing.
Q.) Do you do anything specific to prevent them from walking away with your patrons?
benefit of the doubt, good faith… electric cattle prod… Really, the uniqueness of the mug is a bit of a deterrent– our dining room is small and our staff keep and open eye and an open heart and interact so much with the customers so they'd notice one of the two mugs missing from the table. They create connections with the customer– most people want to steal from strangers, not from someone invested in their good experience.
We have a beautiful dining room and we want things to be *nice* — the mugs are so gorgeous and add a lot to the experience. The benefits of the satisfying cuppa, the unbreakability factor and the handmade by our talented friends factor all outweigh the sad possibility of losing them to an unenlightened being.

Q.) What do you sell them for?
$18. Maybe too cheap? Or maybe the right price for no stealing.
"We've used Deneen mugs for 9 seasons and they have been beautiful, popular, and durable!"
Thanks, Niles. I really love your products.
Jen Castle
Hell's Backbone Grill
Boulder UT
When you have the opportunity to share in the joys of life, with those who find joy in their work – making a living brings you a life that is bigger than just yourself! Thanks Jen for taking the time to write back and for helping to support my family's pottery company.
Niles Deneen