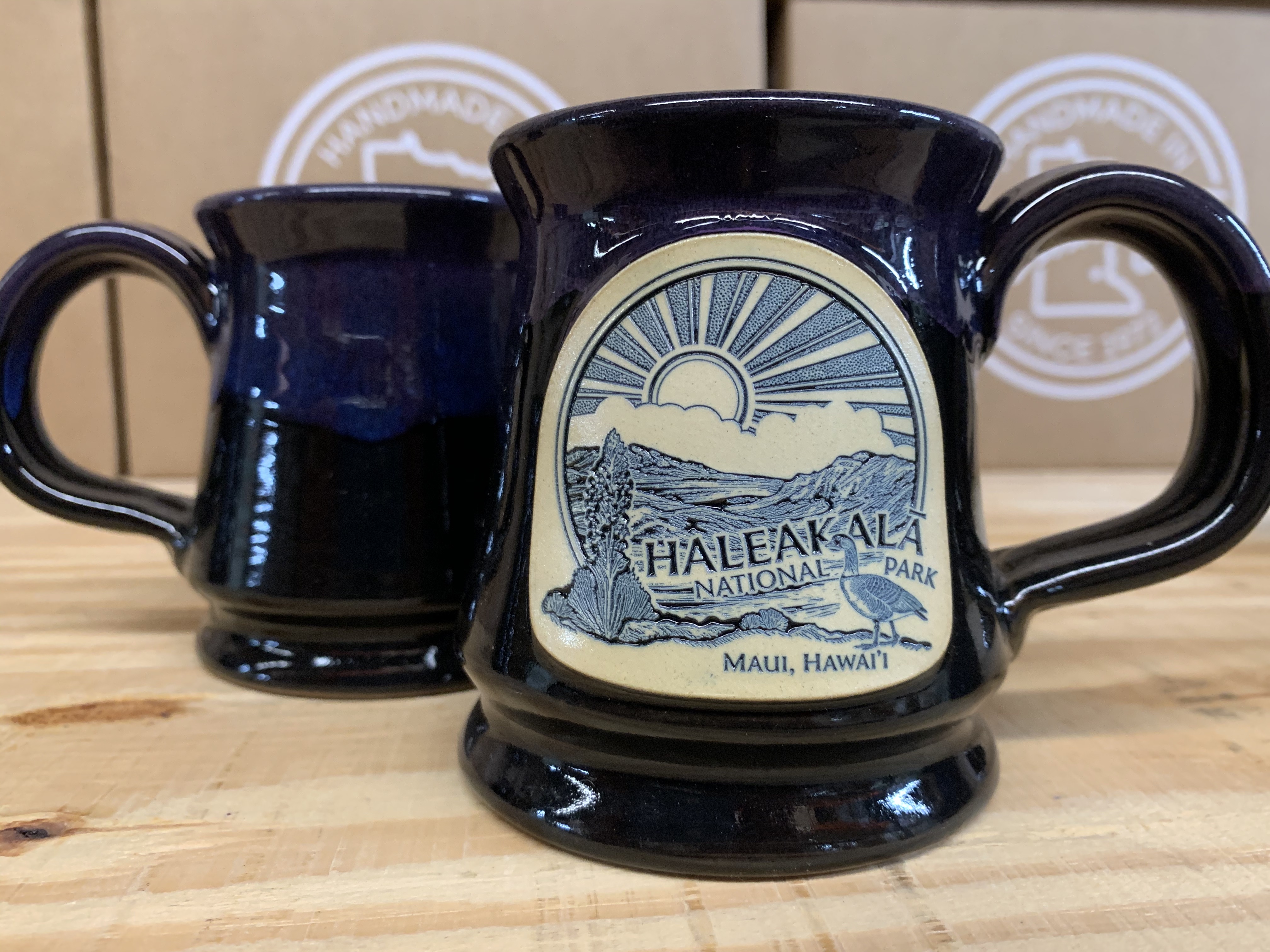 Customer Spotlight: Haleakala National Park
Glaze:
Industry: (We work with many different industries)
Hawaii: The land of both rainbows and volcanos. Never have two seemingly polar opposite natural phenomenons come together to create something so pleasant as the islands of Hawaii.
Yes, Hawaii is certainly one of the great places not just in the United States, but in the entire world. It also just happens to be our next stop on our customer spotlight series. Specifically, we'll be highlighting the good folks at Hawaii Pacific Parks Association and Haleakala National Park who we were fortunate to start making mugs for in the last six months.
We spoke with Kim Olsen, the Creative Services Director at Haleakala National Park, about her experience so far in working with Deneen Pottery. But, before we get to that, let's see what she has to say about Haleakala National Park and what makes it such a unique park to visit.
The Rare and Sacred Landscape of Haleakala
Ask anyone who has ever been to Haleakala and they'll tell you that one of the best parts about their time there.
"The sunrise and sunsets at the summit are spectacular…" says Kim. For reference on just how stunning this part of Hawaii can be, just take a look at that sunset.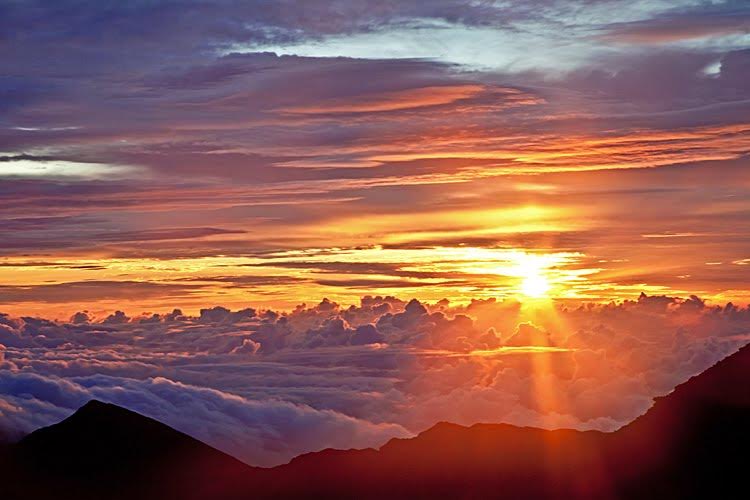 You'd be hard-pressed to find a better location for sunset and sunrise views. As we start to head into the dog days of winter here in the Midwest, it's difficult not to be in the warm Hawaii sun right now, taking in some of those magnificent views.
But, beneath the sea of clouds and hidden (sometimes in plain sight) throughout Haleakala, you'll find the area is teeming with wildlife. Kim lists some of the most prevalent wildlife you can expect to encounter while out on hikes throughout the park.
"The most popular plant is the silversword, and the most popular birds are nene (Hawaiian goose), pueo (Hawaiian owl), and Akohehoe (Hawaiian – Maui specific honeycreeper), and uau (Hawaiian petrel-seabird that nests in the high cliffs of Haleakala)."
But, wait, I know what you're saying — what about those volcanoes??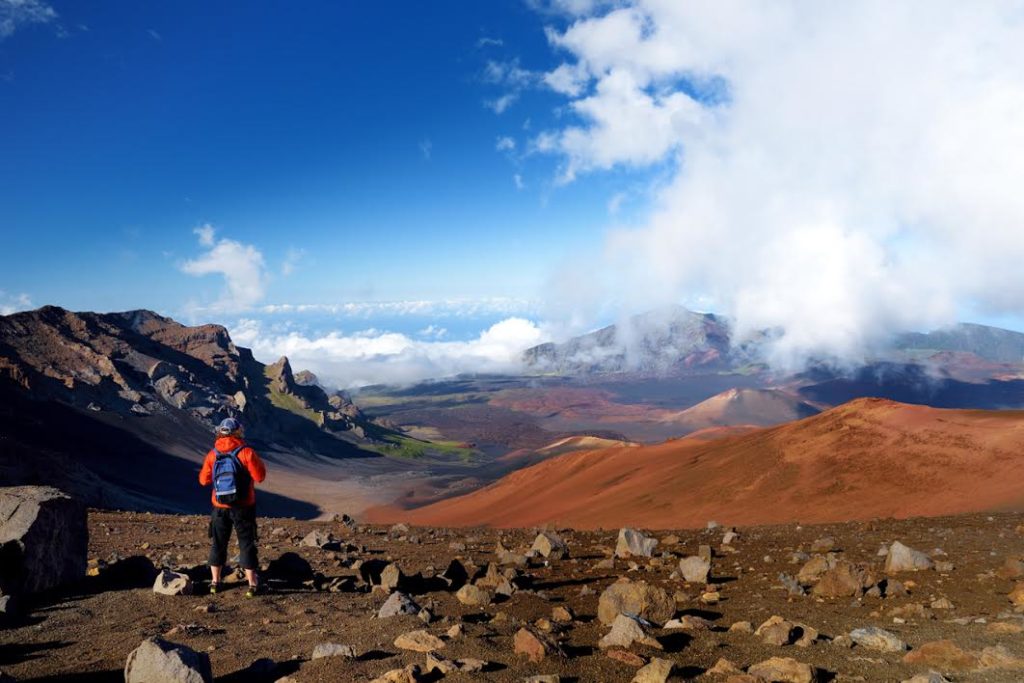 "At Hawaii Volcanoes, the summit view from Kilauea Iki is by far the most popular hike, has beautiful views of that eruption, across the summit caldera and usually includes slopes of Mauna Loa in the background," Kim says of the top hike in the area.
But, there is another part of the park that brings in a lot of visitors.
"… the sea arch is iconic at the coast," says Kim of the famous sea arch, which is another area of the park that is home to many different types of plants and animals. "The most popular plants are Ohia Lehua with its red blossoms that look like red fireworks, and the giant Hapuu fern that grow taller than rainforest trees, and a shorter Umau fern. The birds are nene (Hawaiian goose) and apapagne (Hawaiian honeycreeper), and the Hawaiian Tropicbird (seabirds that nest in the cliffs of the summit caldera and are often seen circling in and around the summit)."
If you've never been to Hawaii, it's time to start planning your trip today. You'd have to search far and wide to find a place anywhere on this earth more beautiful, with more relaxing, more calming, and with friendly people than the Hawaiian Islands. We are extremely fortunate to work with Kim and Co. to create awesome custom Footed mug in our Galaxy glaze and the design came out just perfect. As you can see we incorporated the silversword, the nene while keeping the focus on the the seeping views from atop Haleakala. The glaze on this beauty is our Galaxy in it's more subtle display of  Woo commingling with Lilac. This mugs should be available for sale direct from Hawaii Pacific Parks sometime after the holidays.
Speaking of our partnership with Haleakala National Park, let's see what Kim had to say about her experience working with us so far.
What Brought You to Start Working With Deneen Pottery?
We initially found Deneen Pottery at PLA, what was at the time the APPL conference and expo, where we were drawn to all Deneen stands for the small family business, supporting public lands, and beautiful end mug. We have been fans following their work with national parks/public lands for years, and finally found the opportunity to pair a project with one of our parks, and glad to be a part of the national park mug series.
What Has Been Your Experience Working With Us?
Working with the entire team at Deneen Pottery has been a positive experience.
What Aspects of Our Handmade Mugs Have You Found the Most Beneficial?
Consistent quality, handmade in the USA, amazing service.
What Have Been the Results of Our Collaboration?
Why providing our visitors with beautiful national park mugs, of course. : ) We are just bringing in our first national park mug so I can't speak to volume or visitor excitement but will do when we have that information to share.
Do You Have Any Helpful Tips for Those Looking to Travel to Haleakala (stay on the trails, bring water, etc.)?
Drive carefully on the long winding road to the summit. Stay on trails, carry water, prepare for the changing weather, bring rain/wind gear and sun protection, stop by the stores to pick up snacks and warm weather gear. If interested in sunrise, book up to six months early via recreation.gov.
Any Words of Wisdom to Ensure a Safe Trip to This National Park?
Don't feed nene and watch for them on the roads. Stay on marked trails to protect endangered plants. Weather changes quickly, obey all posted warnings and guidelines. Summit elevation varies from 7-10,000 ft. High altitude may cause breathing difficulties. Always bring water when hiking in the crater.
Looking to Partner With Deneen Pottery? Contact Us Today!
Whether you're a national park looking to expand on your gift shop offerings or a restaurant that wants to give its patrons something to remember them by, Deneen Pottery is the premier handmade, American-made coffee mug producer.
Take a look at our mug style offerings, colors, and glazes — and if you like what you see, reach out to us!
We look forward to hearing from you.
Niles Deneen