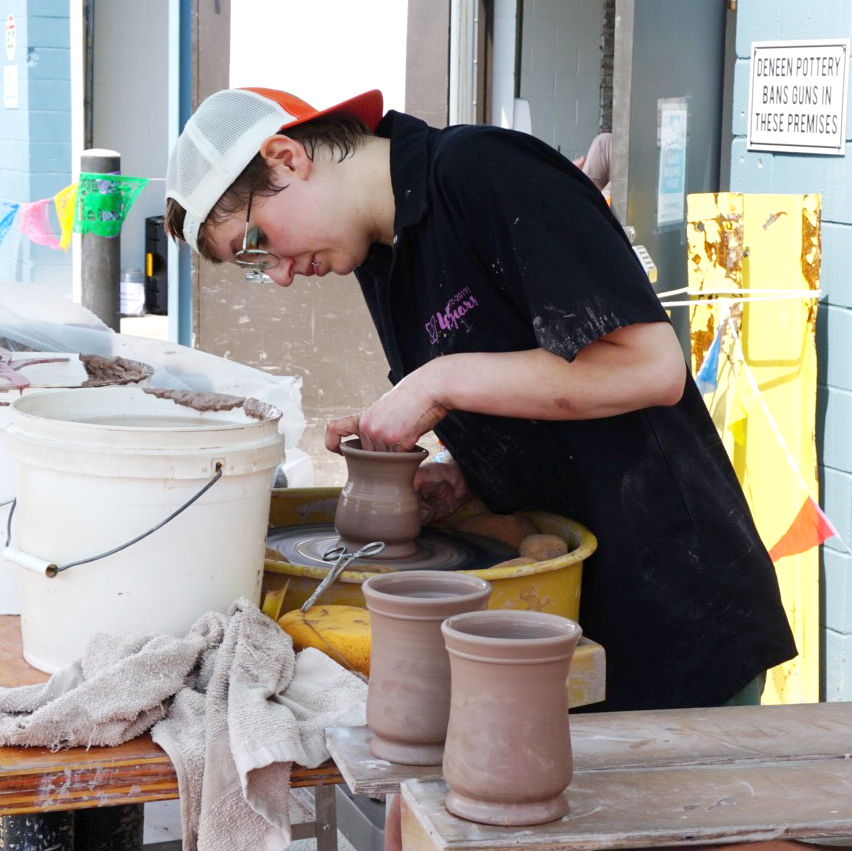 Get to Know Some of the Hands that Make Your Mugs!
Glaze:
Industry: (We work with many different industries)
We believe that the handcrafted nature of our mugs makes them stand out among the rest of your everyday mugs out there. Now is the time that we feature some of the people at the pottery wheels, the talent at the start of every mug that leaves our studio. We posed some pottery and non-pottery related questions to two of our potters, Corey and Katie, and here is what they had to say…
To start, how and when did you become interested in pottery and becoming a potter?
Corey:  It started with a break from college. I was working a job I didn't particularly enjoy. I kept going back to thinking about being in a ceramic studio. I missed it so I went back to school.
Katie: In the second semester of my freshman year, my college offered a class about the Japanese tea ceremony team taught by a Political Science and Ceramics professor. We learned about the origin and changing cultural status of the ceremony during the lecture portion of the class, and then the Ceramics professor taught us the history of the aesthetic periods and how to make the implements needed to perform the ceremony using Western approximations of the traditional firing methods. It opened my eyes to an entirely new medium, one that I hadn't foreseen myself developing an interest in, let alone dedicating myself to entirely. 
"The connection to elemental forces and tactile nature of clay drew me to the medium, and knowing that my creations are enriching people's daily rituals brings me joy."
What kind of education did you receive to become a potter?
Corey: I received a BFA from the University of Minnesota in Minneapolis.
Katie: I went to Albion College with the intention of studying Art History and photography, and continuing to work in academia. Though that is the degree I ended up completing, I took pottery classes every semester and even did a summer research project formulating cone 6 electric glazes. It took me a while to realize that I wanted to be creating art instead of observing and teaching others about it. 
What was the biggest surprise you encountered as you began working at Deneen?
Corey: How bad I was at throwing. I knew how to throw but not at that level. It was an astounding lesson in humility.
Katie: Even though all of our mugs are uniform, each potter has an individual method for creating them.
What is the biggest difference between studio throwing compared to production?
Corey: The throwing is a different pace. Think drawing; studio is like freehand but production is like stencil work. There are pros and cons to both.
Katie: In production, I make the body of the mug, and that is the extent of my involvement. Studio pottery requires a more diverse skill set and dedicated amount of time. There are 80 or so people working at Deneen to create our mugs, and in studio pottery all of those roles are performed by an individual. In that sense, production pottery is more collaborative, and I think that it is an inspiring model for the individual artist to find fellow ceramicists to enrich each other's process and output.
How many mugs can you throw in a day?
Corey: I average 300 a day.  Once threw like 512 in a day. It's a Deneen record.
Katie: My goal is always 240, and my personal record is 450. There are those who claim to have thrown over 500 mugs in a day, but that claim is outrageous. Tumblers are not mugs. 
(Editor's Note: The record remains a point of friendly contention amongst the potters.)
Favorite Deneen shape to throw?
Corey: I like the Footed. It was the first shape that everything started to click for me.
Katie: Right now, it is Round Tankards. The shape is unique and creating such a large mug in a minute is gratifying. Pepins, Footeds, Tall Bellys, and Campers are my mainstays.
Are there different levels of difficulty based on the shape of the mug? Which mugs are the easiest/most difficult?
Corey: More clay means it's more difficult. It's more to push and pull. Typically, if a shape is narrow at its base, it will be harder due to torque stressing the shape at the top.  The Hammer is a great example of this.
Katie: There are three levels of difficulty depending on the size and complexity of the shape. Every potter has a shape that is their bread and butter, and mine is the Pepin. The most difficult mugs are the simplest. Everyone learns the Round Belly at first, and even I struggle with it at times even though I've been doing this for five years. However, of all of the shapes that I know how to throw, the straight sided and elegant Abby is the toughest because clay likes curves.
What is something about being a potter that you wish more people knew?
Corey: WE HAVE ALL SEEN THE MOVIE GHOST!
Katie: People always want to know how long it takes to create a handmade piece, and the answer is complicated. Creating ceramic ware is so much more than throwing it on a wheel or creating a coil pot. Every artist has their own process, and the finished piece is the culmination of that process and the years of experience acquired through learning and testing different methods. Additionally, Patrick Swayze cannot be summoned to aid in throwing a pot. Yes, I tried.
Now to a couple more personal questions… What do you like to do when you're not throwing pots?
Corey: I work in my own studio @AVAIL.Ceramics. I also community garden, make and eat the food I grow, and bike.
Katie: Biking, cooking, photography, and soon I hope to be making my own ceramic work again. I spend my weekends racing local alleycats or mountain biking in the Cuyuna Lakes area.   
Favorite food?
Corey: Tacos.
Katie: There is an incredible Sichuanese street food called juntun guokui that I learned how to make from Fuchsia Dunlop's cookbook "The Food of Sichuan". It's a spiraled, flaky, chewy, spicy meat stuffed roll with the characteristic numbing flavor of Sichuan peppercorns.
We make mugs for a lot of National Parks, have you visited any of those parks and which is your favorite?
Corey: I have visited National Parks in Idaho and Ojai, California. I am a fan of the west coast personally. Good vibes out there.
Katie: I have not seen many of the National Parks and am excited to change that in the future. A brief stopover in Yellowstone to see Old Faithful is the extent of my National Park touring. Acadia National Park is at the top of my list.
And back to pottery for the last question, what is your favorite thing about being a potter?
Corey: Designing shapes and problem solving their issues.
Katie: The connection to elemental forces and tactile nature of clay drew me to the medium, and knowing that my creations are enriching people's daily rituals brings me joy.