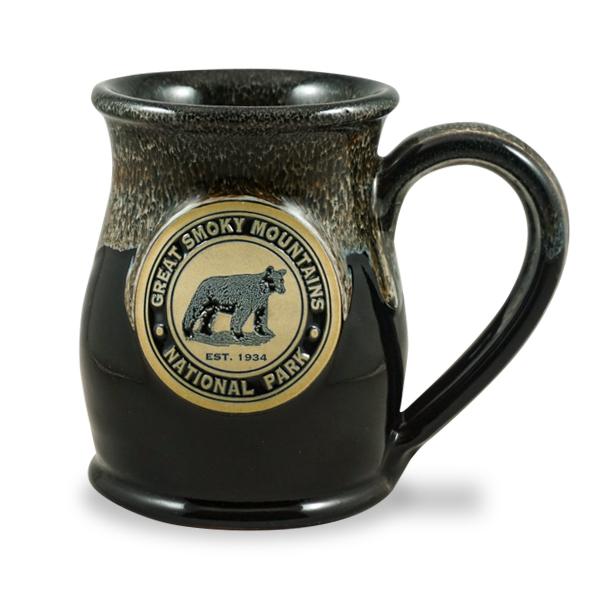 DENEEN POTTERY'S NATIONAL PARK MUGS MARK A SPECIAL MOMENT IN TIME
Glaze:
Industry: (We work with many different industries)
This week we were lucky enough to be featured by our friends in the Great Smokies on their web blog! Check out the story below…
By Martha Hunter
In their St. Paul studio, the Deneen family and more than 50 skilled craftspeople create beautiful and durable stoneware by hand—transforming lumps of Indiana, Kentucky, and Ohio clay into lifelong keepsakes.
Great Smoky Mountains Association members may know Deneen Pottery best for its line of national park mugs. From Acadia to Zion, Deneen ceramics line visitor center shelves and online stores of parks across the United States. Each mug sports a striking glaze and a medallion, engraved with park names and iconic imagery, like the Great Smoky Mountains black bear or a chickadee perched on a hemlock.
The Deneens are no strangers to public lands. "We've always loved national parks," said Niles Deneen, president and CEO at Deneen Pottery, of his family's camping trips out West. "My brother and I probably didn't appreciate it at the time, but each of those parks is a national treasure. If you visit later in life, you see why."
What started in a two-car garage with Mary and Peter Deneen has grown into a large-scale outfit. But the team has never lost sight of their passion for the craft. Their warmth is palpable. Spend any time on the Deneen Pottery website and you'll feel instantly welcomed by artists eager to connect with their customers.
In addition to working with national parks and small businesses, Deneen regularly partners with illustrators to release unique pieces as part of a limited series. Take their last design, for example: 'Space Pizza Dog' by Scotty Russell. Stamped on each medallion, the illustration looks just as quirky and endearing as it sounds: an astronaut dog floats through space, surrounded by stars, planets, and a slice of pizza just out of reach.
For anyone wanting to support Great Smoky Mountains Association and Deneen Pottery, buying a Smokies mug on Small Business Saturday is an excellent opportunity. As Niles Deneen explains, the need to support small businesses and nonprofits is more important than ever this year. And spending money locally doesn't stop with a business or organization. "Those dollars truly deliver," Deneen said. They go to employees who spend money within their communities, which helps local economies survive and thrive.
GSMA members can feel good about Deneen Pottery's eco-friendly practices as well. The business has installed more than 400 solar panels on its roof. That may sound like a lot, but the panels fully offset the electricity-powered kilns that fire each mug. With all its production and transportation done within the United States, the small business also works to push back against globalization and its negative impacts on the environment. And on a personal level, these reusable mugs can be enjoyed for generations.
Above all, Niles Deneen says he wants national park mugs to remind their owners of the place they love and support. "Every time you take a sip of coffee or hot chocolate from it, you can remember the time you had in the Smokies." So join GSMA today for a 15 percent discount in our online and visitor center stores. Then treat yourself or someone else this holiday season, and be transported to your favorite overlook or trail with every use.