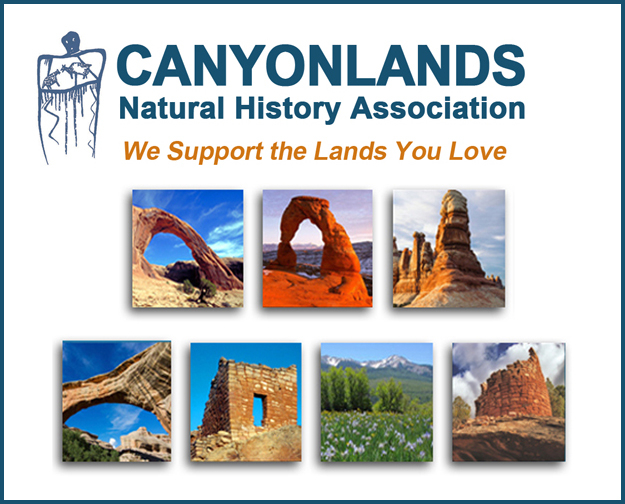 Customer Spotlight: Canyonland Natural History Association – Arches NP
Glaze:
Industry: (We work with many different industries)
What's a quarterback without his offensive line? What's a rally car driver without their spotter? Who is Garfunkel Without Simon? And what's a mug crafter without their customers? I'll tell you what they are: nothing.
At Deneen Pottery, we'd be nothing without our brilliant customers whose shops, restaurants, and schools bring joy to millions of people each year. We are fortunate to be a small piece of their work. We also believe that these organizations and the individuals that make them up deserve to be recognized.
In today's customer spotlight, we highlight the Canyonland Natural History Association in Arches National Park. We spoke with Sam Wainer, the Operations Manager at CNHA, about their experience working with Deneen Pottery.
About the CNHA

Canyonlands Natural History Association is a non-profit organization that assists the National Park Service, U.S. Forest Service, and Bureau of Land Management in their goal to raise awareness about parks and to bring in more visitors to experience what these beautiful lands have to offer.
Since 1967, the CNHA has supported the public lands of Utah. During that time, they've donated more than $14 million for both the research and educational efforts of their partners. In 2017, the organization's contributions nearly reached $1 million for the year. Some of the projects they fund include the Canyon Country Outdoor Education, Student Conservation Association intern program, and interpretive brochures for visitors.
If you ever find yourself in the Canyonlands of Utah, make sure you visit our friends at a Natural History Association store, as a lot of their funding comes from sales from their retail outlets.
The Beginning of a Beautiful Friendship
The Canyonlands Natural History Association wasn't always in the mug game. But, when they decided that it was an item they needed to introduce into their retail section, they knew exactly what they wanted: mugs that were not made in China. Instead, they wanted a handmade mug produced right here in the United States.
That's why Deneen Pottery was the perfect match for the CNHA.
"Your handmade mugs crafted in Minnesota…were the perfect solution for our needs," says Sam. He also mentioned that the price point of our mugs was another big selling point.
And the rest, as they say, is history. 
Incorporating the Canyonlands into Our Mug Designs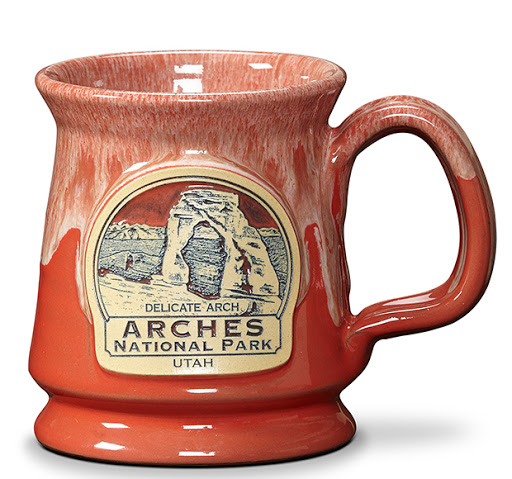 We love working with national parks, so we were extremely excited to begin our partnership with Sam and the CNHA. Our art department does excellent work with all park designs, and these mugs were no different. The Delicate Arch of the Arches National Park was both a perfect and obvious choice for the mug design.
"The detail you can achieve in the artwork still amazes me. Your art department is usually spot on with their designs," says Sam, "In several instances, I haven't had to make any changes what so ever to the original mock-up. When I've had to make changes, they were only slight. They've never missed on a design," he continues.
We also offer a large variety of colors, which is great for encompassing the tones and terrain you see within each park.
"The numerous colors and glazes offered are also a plus offering the ability for various combinations that make an attractive display in my stores," says Sam.
We knew that working with national parks was right up our alley, and we're glad that we ended up teaming up with Sam and his team to create fantastic American made mugs that their park visitors can cherish forever.
"The folks at Deneen Pottery recognize that my market is a specialty market and identify what my customer is looking for. They want to get it right and will work hard to make that happen," says Sam.
However, we know that when working with our clients, we have to do more than just deliver great products. We also have to treat our partners with respect.
"Deneen Pottery is a great family-owned company who understands business relationships and knows how to partner," explains Sam, "They provide a top quality product and appreciate me as their customer."
Stay tuned for more customer spotlights in the near future. If you are interested in adding tmore mugs to your National Park Mug Collcetion here is a link to our guide!
Thanks for reading our post and supporting our National Parks!
Sincerely,
Niles Deneen