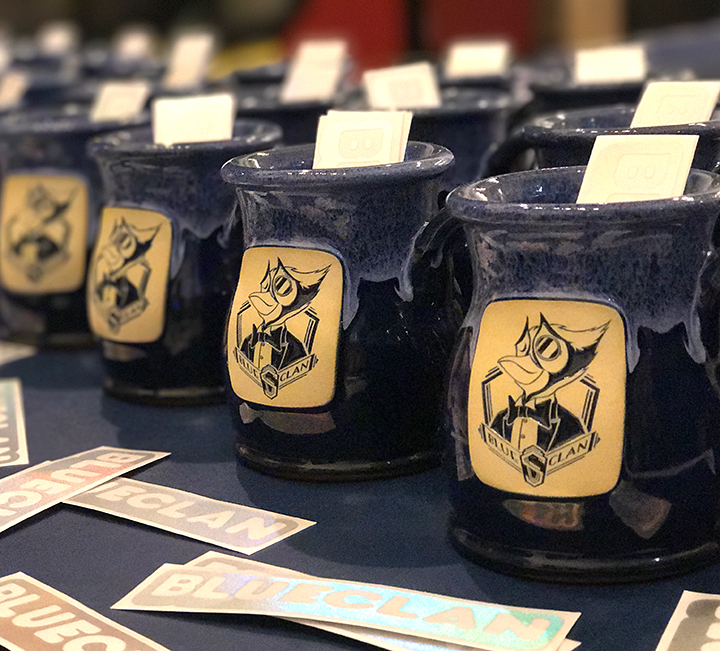 5 Tips on Choosing the Best Custom Coffee Mugs Wholesale
Glaze:
Industry: (We work with many different industries)
Are you ordering custom wholesale coffee mugs? You probably have a lot of questions as to the best way to choose the company to buy from. With so many things to consider, from quality to affordability, you can really get lost in all the noise.
Deneen Pottery is here to help! Here are five tips on choosing the best wholesale custom coffee mugs.
Quality
The primary factor you should consider when ordering wholesale coffee mugs is the overall quality and craftsmanship of the final product. You don't want a cheap mug that quickly breaks in the microwave or dishwasher – you want something that's durable, feels comfortable in-hand and provides an overall stellar drinking experience.
To understand the quality of a mug company, take a look at their website and find their design process. How many pairs of hands touch the piece before it's delivered to your door? How many quality assurance checks does each individual mug go through before it's fired in the kiln? Additionally, you can judge mug quality on the length of time the company has been in business. If it's only been a few months, you should probably pass. If it's been a few decades, well, you know that they provide value to their customers that have kept them in business for so long.
Affordability
While quality is key, affordability is most likely your other main consideration when purchasing wholesale coffee mugs. While you pay for what you get, some custom coffee mug companies need to markup their prices to pay for expensive buildings in high-end locations, a large sales team and other pricey overhead costs.
A customer-focused company won't charge you outrageous prices just because they can. The best coffee mug companies are those that are family run and serve their local community. Take a look at the wholesaler's blog before you purchase to see whether or not they're focused on the things that matter, and then browse their products page to see if the prices align with their competitors.
Style & Attractiveness
Stylish and attractive wholesale mugs are sometimes tough to come by. A company that offers custom options may be your best bet to avoid any cluttered or misappropriated designs. Submit your logo to the wholesaler to be branded across the front of your mug.
With hand-thrown ceramic mugs, you can get personalized mugs finished in specific glazes, colors and shapes. Whether you want your brand colors, logo and tagline in a particular font, or if you're looking for a more traditional look, stoneware will give you an impressive and impactful design.
Order Count
Determine how many mugs you think you'll need to order. This may be tough to lock-in at first, but try to scratch something down. If you're a business, not only will you want to give them away to clients, your employees may appreciate one as well, so consider that. If you're a restaurateur, you may want to offer custom mugs on your merchandise shelf, while also serving them up, providing warm beverages to thirsty patrons.
Delivery Time
Any custom mug wholesale company worth your money should define the turnaround time up front. This way, you know that your mugs will be delivered in a time that fits within your schedule. If your wholesaler is waffling on the amount of time it will take to finish your project, it may be a sign that your mug order is a low priority to that company.
You may be ordering for an upcoming restaurant opening, or just want to have a cool gift for office visitors – whatever you're preparing for, make sure the production timeline is set before your wholesaler starts work.
Best of Luck with Your Wholesale Order!
Now that you know these five tips on choosing the best custom wholesale coffee mugs, get out there and make an order with confidence.
If you're looking for an alternative to traditional, made in China, wholesale coffee mugs, try Deneen Pottery's custom and hand-crafted ceramic mugs, perfect for a variety of applications. As a company that's been offering personalized stoneware since 1972, it's our goal to partner with businesses and provide them with high-quality pottery products.
Ready to get started? Get in touch with our dedicated team of craftsmen today.