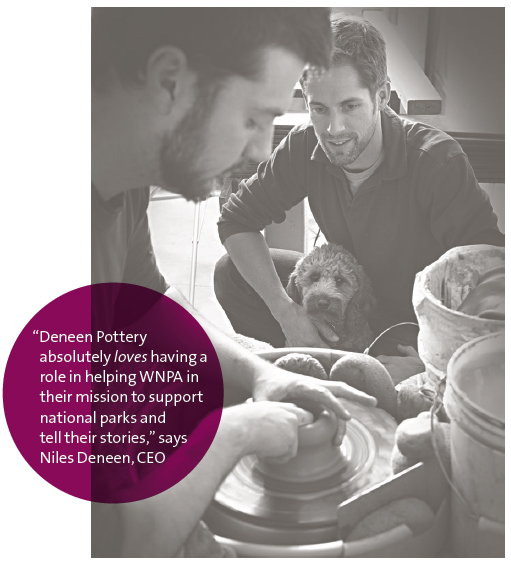 Custom USA-Made Products in the News
Glaze:
Industry: (We work with many different industries)
We are proud to share this story (which appeared in the Western National Parks Association newsletter) as it focuses on both our custom USA-made products and our shared values.

WNPA

is Committed to Developing Innovative Products and Publications for Our Partner Parks 
WNPA works with vendors whose values are in line with our own. We offer many custom- and USA-made products in our Park Stores that help extend the visitor experience. Read on to learn about [an] American company that helps us achieve our mission. 
Deneen Pottery is a family business started in 1972 by Peter and Mary Deneen with the simple goal of making beautiful stoneware for their clients. Today Peter and Mary's eldest son, Niles Deneen, is in charge of the day-to-day operations as his parents focus on creating one-of-a-kind pieces. Every single piece of stoneware that Deneen Pottery's skilled craftspeople make is entirely produced at the company's large studio in St. Paul, Minnesota.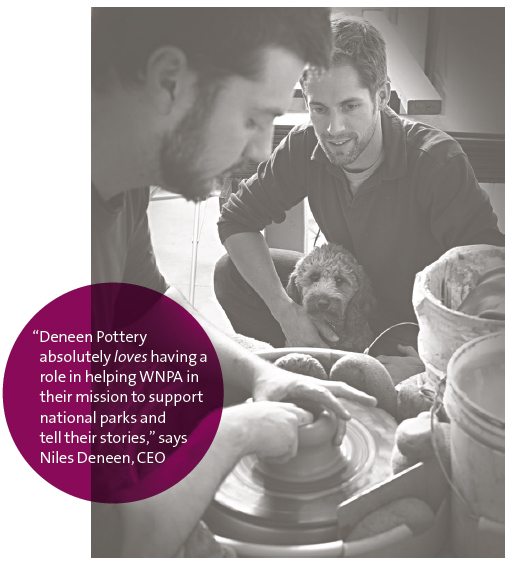 While coffee mugs continue to be the most popular items Deneen Pottery makes for WNPA, the company has also created magnets and ornaments, leather key fobs, and tankards, all of which feature custom-designed medallions.
Each mug starts out as a lump of clay before it is hand-thrown on a potter's wheel. More than 24 pairs of hands touch each piece during the production process. While every piece is almost identical, because each is handmade, no two are exactly the same. "Deneen Pottery absolutely loves having a role in helping WNPA in their mission to support national parks and tell their stories. We believe that national parks are not only tremendous resources, but treasures that everyone should enjoy, learn from, and visit! We hope that our products will be long-lasting keepsakes of the visits people make to the parks," says CEO Niles Deneen.
___________________________________________________________________
If you are interested in learning more just give us a call  888-646-0238.
Thanks for reading our blog!
Niles Deneen – CEO, Marketing