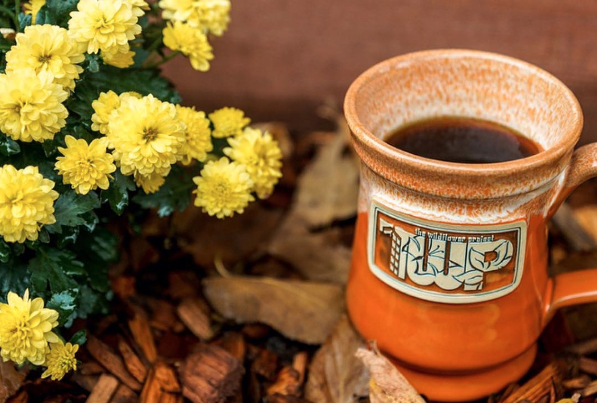 Coffee Statistics 2020 U.S. | How Many People Drink Coffee?
Glaze:
Industry: (We work with many different industries)
In case you didn't know, Americans love coffee. And while we still lag behind our European friends in coffee consumption (the U.S. ranks 25th in coffee consumption at 4.2 kg of coffee consumed per person per year, Finland ranks 1st at 12 kg per person per year – according to World Atlas), the U.S. consumption has increased by an entire kilogram in the last five years, and there is no sign of that trend stopping.
The National Coffee Association produced a study this year and found that 64% of Americans drink coffee. Furthermore, 79% of people drinking coffee within the past day brewed coffee at home, compared to 75% in 2017 and 84% in 2012. It seems as though more people are starting to move towards making their coffee at home as opposed to going and purchasing it at a coffee shop (sorry Starbucks, but people are starting to opt for being their own baristas at home).
In fact, past day consumption of coffee prepared outside the home dropped from 40% in 2017 to 36% in 2018, though it remains at higher levels than found in 2012-2017.
Coffee in the home has become a morning tradition for many people, and we all know 1 or 2 people who we don't dare talk to until they've had their first cup of the day. It's part of just about everyone's routine, and many Americans enjoy the process of making their cup of joe before they begin the day. With the rise of in-home coffee consumption and brewing, an increase in the need for mugs has also taken place.
Businesses are taking advantage of the increase in demand for coffee mugs by creating their own branded mugs. At Deneen Pottery, we work with many businesses, both large and small, to create mugs that personalized with their brand logo.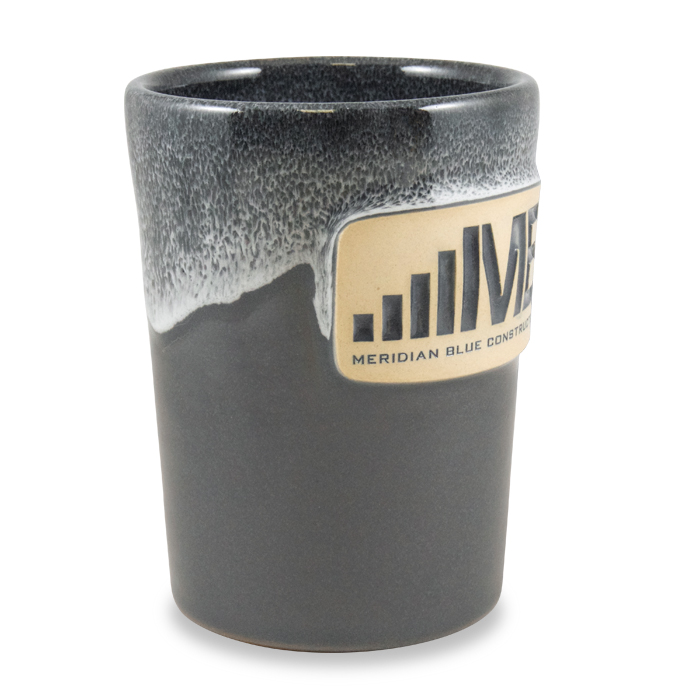 We worked with Meridian Blue Construction to create these Abby mugs in Grey w/Blue white, perfect for sipping coffee at home or on any of their numerous worksite across the US.  This certified woman-owned business has over 30 years of experience and a big goal; Excellence in all things! We're proud that our work fits with their values and expect to see big things from them in the future!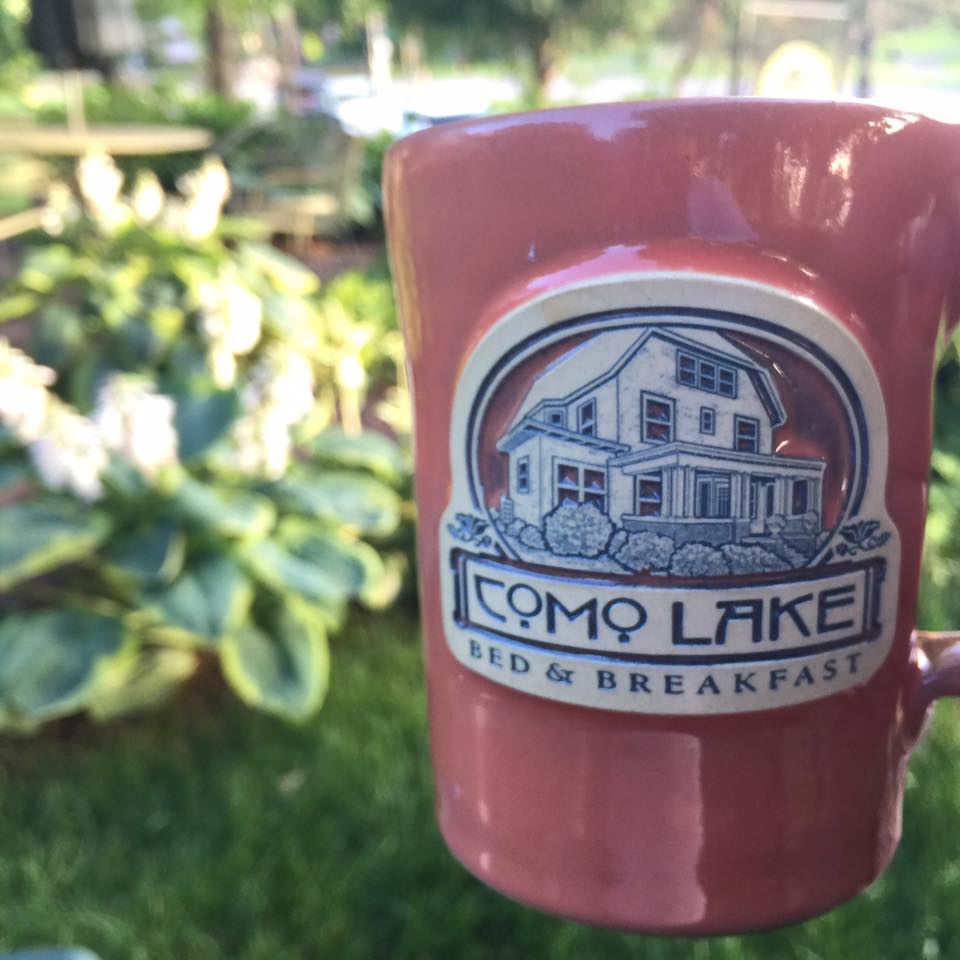 Bed and Breakfasts are businesses we love working with, and the services they provide lend themselves perfectly to coffee mugs like this one. By serving up coffee in beautifully branded mug each guest at Como Lake B&B is connecting their experiences with each sip they take. Many guests have collections from their travels and often times new mugs are purchased to remember each visit.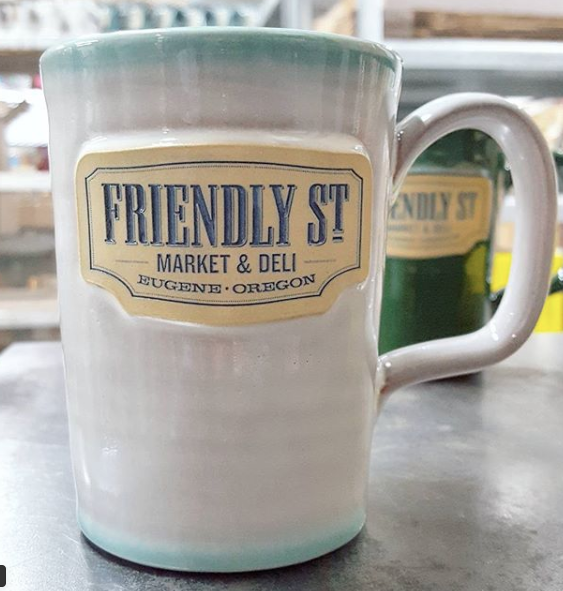 Although our base is in Minnesota, we work with clients all across the country, including the Friendly St. Market & Deli in Eugene Oregon. Besides having awesome handmade mugs for sale they also feature local, seasonal and organic foods and have a full selection of groceries!
By creating your branded handmade pottery mug with Deneen Pottery, you can be part of the morning routine.
Why Brand Merchandise is Effective
First off, it's important to make the distinction between a handcrafted coffee mug and a pen, USB drive, or other electrical items. Whereas with the latter items, most customers will lose them in a few weeks or even days in their couch cushions or junk drawers, a mug serves a very practical purpose.
We love working with businesses who go out of their way to create a positive, memorable experience for their customers and clients. The perfect medium for them to remember their time as your customer is through a mug that they will use every day.
Our goal at Deneen Pottery is to transform the gimmicky, cheap feelings that most customers get with brand merchandise. We do this through our high-quality, handmade products that customers will love.
If you're interested in creating strong, emotional connections with your consumers, then contact us today to get started! Also, make sure you take a look at our available mug styles, and we'll work with you to find the perfect fit for your brand.
So, How Many People Do Drink Coffee in the U.S?
To put a fixed number on just how many coffee drinkers there are is near impossible. That said, let's go with an optimistic approach – according to USA Today as many as 83% of US adults drink coffee and according to Wikipedia in 2017 there were about 245,300,000 adults in the US. So that means we're looking at roughly 20o million on the high end. Wow – that is a ton of cups per day and a huge opportunity.
We'd love to help connect you with your favorite coffee drinkers!
These coffee statistics are interesting to look at, and here are some other noteworthy statistics from the National Coffee Association:
Over the past six years, past-day soft drink consumption has dipped 15 points to 35%
56% of people reported drinking unflavored bottled water within the past day, compared to 49% for tap water
Last year saw the highest one-year jump in past-day consumption of espresso-based beverages. The number held steady at 24% this year
Past-day consumption of traditional "gourmet" coffee ("regular coffee" brewed from "gourmet quality" beans) remained at 16%
Traditional "non-gourmet" past-day consumption also held steady at 31%
The numbers similarly held steady in each of these categories for past-week consumption
The only espresso-based beverage to see a statistically significant decline in past-week consumption this year was cafe mocha, from 14% to 12%
Only 19% of respondents age 18-24 drank traditional "non-gourmet" coffee within the past day
Within that same 18-24 range, 37% reported drinking a gourmet beverage within the past day
For respondents age 60+, past-day consumption of gourmet was 38%, while consumption of non-gourmet was 42%
Thanks for reading ~
Niles Deneen