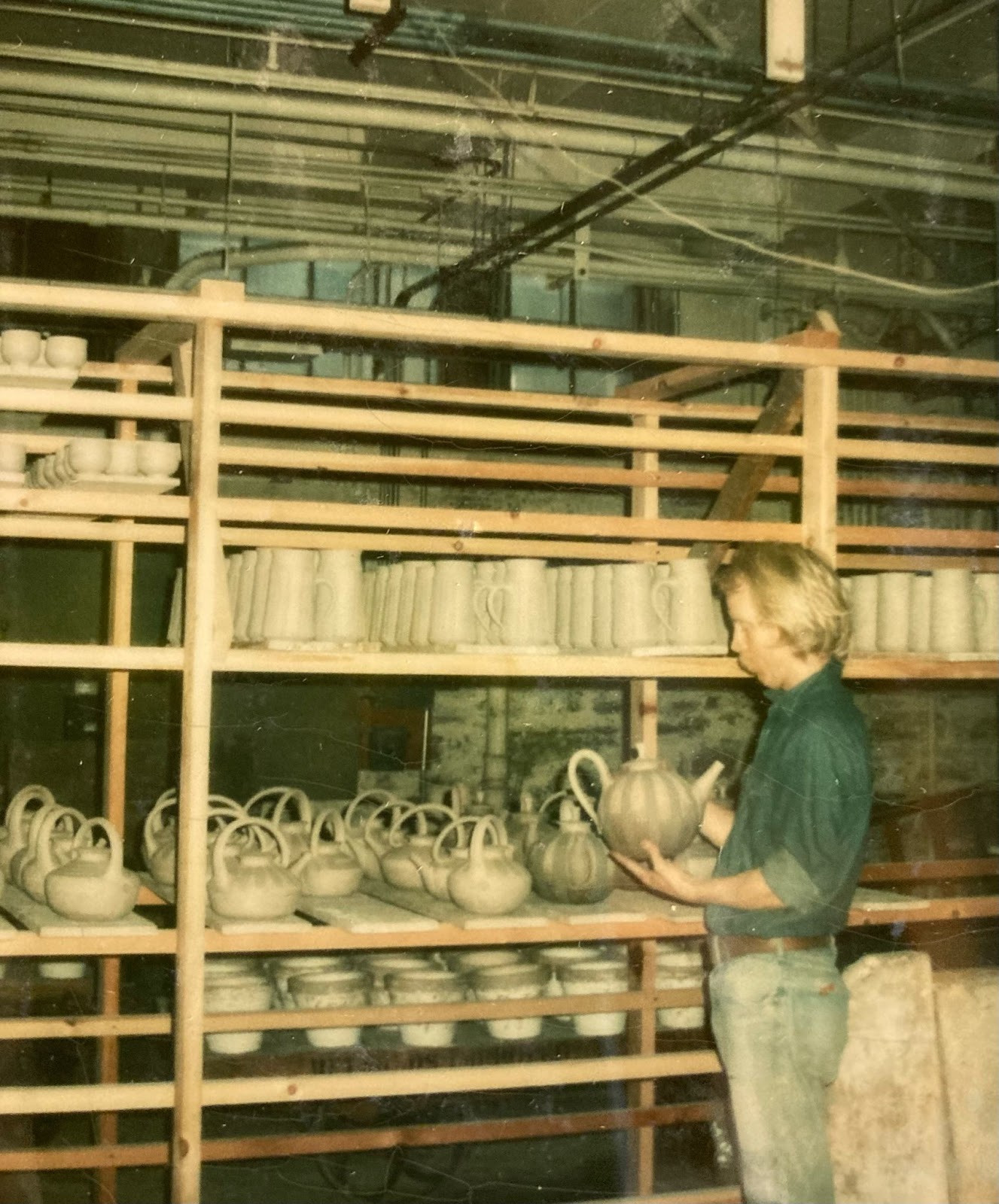 Celebrating 50 Years of Deneen Pottery: Stories of our Makers: Phil Docken
Glaze:
Industry: (We work with many different industries)
This year we are celebrating 50 years in business. 
Although it may seem like we are mug making machine – our future was never a sure thing.
Yes, we have an inspired leadership team, an incredible team of makers, an awesome list of clients, and a backlog that is over 10 months. But for our first 40 years, a celebration was found in simply keeping the lights on. Scrapping together enough capital to invest in used equipment was the hallmark of our first 4 decades. We relied on inventive, and intuitive measures and our only mission was to keep on making beautiful work. 
But through all of those ups and downs, an important part of keeping the lights on was and still is the people who make the mugs. There is an art to attracting and retaining the best talent to create the highest quality stoneware mugs on the market. For our anniversary, we are highlighting some past and present makers who have lent their hands to our process and helped build the business into the success it is today.
Anyone familiar with our business can tell you – no single person makes a Deneen Pottery coffee mug. It takes a team. Over 24 different pairs of hands touch each mug through the production process. We fire in electric kilns powered, in part, by a 137kW solar array atop our century-old building in the heart of the Creative Enterprise Zone in Saint Paul. Our pottery hasn't always looked like this…
"Here's a bit of early history" written by my father, Peter Deneen. This is an introduction to the first of a series of Q&A with our incredible makers of the past.
Mary and I were married in September of 1970.  We drove to Panama in January through April 1971 with John Coiner.   Returning in spring we started making pottery in the garage on East River Terrace where we were living in Jim Solheim's house.  During that summer we leased 800 sq. ft. of space in Park Square Court where we had 400 sq ft of retail and 400 sq ft of studio space.  
In 1972 we took our first order of spice jars for Watkins Spice company and hired my brother John to throw them.  in the fall of 1972, we hired Wayne Lee to help throw, glaze and fire them.  In 1973 we leased more space on the third floor and moved the spice jar production there and hired Dave Pluth to glaze and fire the spice jars.
Phil Docken must have started after we had the third-floor space.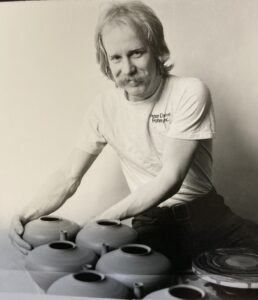 1975 we opened the Cloth & Clay retail store with Dennis Christain, and sometime that year we lease the basement level of 230 east 6th street.  
I think it was in the spring of 1975 we hired Peder Hegland and Chris Rummie right after they graduated from Luther College.  Sometime before the summer of 1976, Paul Wilkie started working with us after a fire destroyed his studio in Iowa.
In 1976 when Niles was 10 months old we took our 5 potters to Pond Farm to study with Marguerite Wildenhain, where I had honed my skills in the years before.
PAST MAKER Q&A with PHIL DOCKEN
We posed some questions to one of the original potters Phil Docken about the early days of Deneen Pottery. Here is what he had to say…
Q: What years were you a part of Deneen Pottery?
Phil Docken: 1974 – 1981. I started in 1974, worked about a year, and went to Pond Farm in summer '75. One memory I have is from Paradise Cove. Niles was very close to walking and I believe his first walking was about 5 or 6ft. into my hands on the lawn at Paradise Cove. I have many more memories from Pond Farm, of course. I don't remember your 3rd-floor spice jar production space. but that was a year before I showed up. so maybe that space use was short-lived?
Q: What was your role at Deneen Pottery?
PD: Designer / Production Potter
Q: Favorite thing about working at the pottery?
PD: Being able to focus exclusively on making pottery and developing a technique…without the distraction of managing other aspects of a pottery – buying materials, selling the work, etc. For 5 years I had the privilege of attending Marguerite Wildenhain's school Pond Farm during my time at Deneen Pottery. Moving from studio to school and back repeatedly for 5 years with no other distraction was ideal for a developing artist.
Q: Favorite shape you threw?
PD: I've always loved making teapots even though I never use teapots. The teapot presents a complex design problem. At least 3 elements: body – spout – handle need to perform their function while uniting in a pleasing configuration.  It has to be well balanced both in terms of ease of function and appearance. Exploring variations within those requirements is endlessly pleasing.
The teapot is a central element of daily life. making something that's at the center expresses much more than tea. It's an icon. One strives to show respect for its place over the millennia.
Q: What influence did the pottery have on your life?
PD: I knew instinctively that for me a technique, a skill, was a grounding step for a career in the arts. My early days at Deneen pottery provided that opportunity  
Q: Strangest place you've seen a Deneen mug.
PD: On the tabloid Daily Mail UK website.
Any fond memories that stick out?
PD: One genuine thrill of my time in the basement of Park Square Court was the day William Kunstler came into the shop. I introduced myself and said what an honor it was to meet him and shake his hand. He was Dennis Banks' attorney. Banks' trial was ongoing in the federal court building in St. Paul at that time. [Note: Dennis Banks was a founding member of the American Indian Movement (AIM), a celebrated activist, writer, and educator.]
Another pleasant memory from working in the basement of Globe Business College: Rich Meaux did a lot of work on the jigger machine. He would sing and crow the whole time while jiggering. Running commentary on any and every subject and singing when he wasn't talking.  
Since working at the pottery, Phil Docken's path stayed centered in the Arts. During the 1990s into the early 2000s, he was employed as an art installer and fabricator of exhibition furniture and occasionally fabricator of art replicas when the original was not available. Phil also built architectural models including the expansion of the new Walker expansion prior to construction.

Today Phil continues to work in film, video, ceramics, and invite you to follow him on his website. If you are interested in getting your hands on some of his latest ceramic creations check out Gallery360 and the Grand Hand Gallery.

Thank you for reading!
Mugs Up.
Niles Deneen