About our stoneware mugs
Thank you for finding us! We have been specializing in making custom hand thrown pottery, especially mugs, for 40 years now and we are a family business. You can use this site to select your custom pottery mug, the colors that those pieces are offered in, and the individual members of our office staff that are responsible for setting everything up. You can also request a catalog, read our blog, or send us an email. Below is the introduction that you will find in our latest catalog. Thank you for your patronage!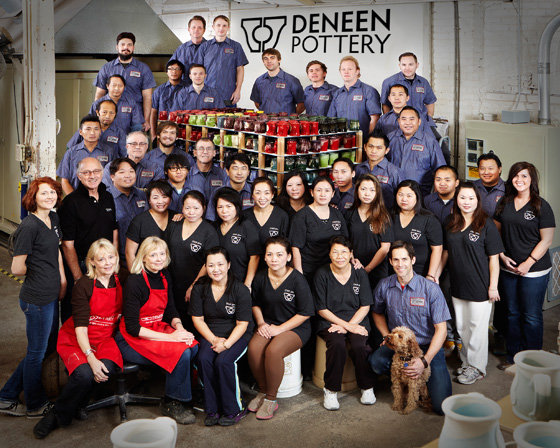 The year was 1972, and my parents, Mary and Peter Deneen, had been married for 2 years. They were living with a dear friend, Jim Solheim, on East River Terrace in St. Paul, one block from the mighty Mississippi. It was in a two-car garage behind Jim's house that my mom and dad started making functional decorated pieces of hand thrown stoneware.
My Mom worked as a secretary in downtown Minneapolis, while Dad spent his days throwing. That spring and summer they would find themselves in the cozy backyard, talking about their fledgling company as they decorated pots. This collaborative creativity, and love of family are still a driving force within our company's goal of  produce superior quality hand thrown stoneware.
Their first big order came from J. R. Watkins in the form of spice jars. When the orders went from the tens to the thousands, my dad knew that he needed help. This marked the birth of our production pottery company which has grown from that tiny garage into our current commercial footprint, which spans over 14,000 square feet.
What an exciting year so far! As our business continues to grow, so does our family. My daughter Eloise, now 2, is learning how to be a big sister to her new baby brother Theodore, born on May 10th.
We introduced a new color: Kiwi
We also have a change in the works for our Signature Mugs™. This will be the last year that we will be offering the Queen's Cup and the Colonial Mug. These styles will be replaced by two brand new models that we will be introducing in December, when the Pack & Hold program opens… stay tuned!
And most importantly, thank you for working with us! We value the opportunity of creating a piece of art with you that goes far beyond its everyday use. We are so proud of our handmade stoneware that stamp our name on each piece!

Niles Deneen CEO, Marketing